Commonwealth Games: Sir Bradley Wiggins focusing on the track ahead of Tour de France
Sky Sports News' Orla Chennaoui reports from Glasgow where Sir Bradley Wiggins is firmly focused on the track after apparently turning his back on any future success in the Tour de France.
By Orla Chennaoui
Last Updated: 25/07/14 12:01pm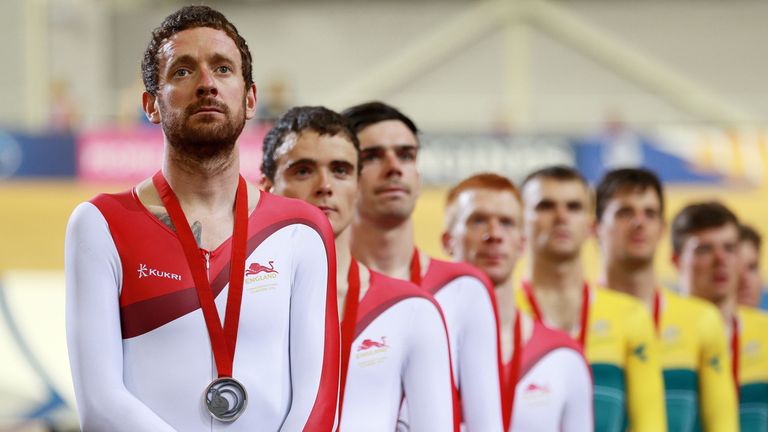 Before coming into these Commonwealth Games there were a lot of questions hanging over Sir Bradley Wiggins, if only in the public mind.
Could he slot back into the track programme after just one competition on the boards in six years? Did he still have the explosive edge required of track cycling after so many years dedicated to the road? And then there were all the 'could've, would've, should've' question marks over his non-selection for the Team Sky Tour de France squad.
From a performance point of view Wiggins believes he's answered what was being asked of him. As for the Tour and his future on the road? Well, he's left us in little doubt.
His plan, he says, is to go back to the track 'full time' and put "all road objectives...to one side."
That means no more Grand Tours. That means no more Tours de France. That means a clear intention to end his career as he started it - with track glory. You have to hand it to Sir Wiggins, he certainly doesn't bore with his predictability.
But for all the questions he's answered, there are two important ones left hanging in the air.
Can he still be on top of his game come Rio when he's the grand old age of 36? And what does this mean for his future with Team Sky whose entire purpose is road racing?
While a silver medal at the Commonwealths may seem disappointing, Wiggins points out the squad have only been on the track for a month.
He seems confident that he can be spurred by the defeat to take on the challenge head on. Such statements in black and white are difficult to interpret for authenticity, but his demeanour on Thursday suggested he was speaking from the heart. Joking before his interview with us, and chatting afterwards, this wasn't a man questioning his ability or his future. It was a man comfortable in the moment of the here and now, even if he'd rather it had come with a golden tint.
Future at Team Sky?
As an aside, he also alluded to the possibility of Peter Kennaugh and Geraint Thomas coming back to the track for Rio, which would be a huge boost to GB's medal chances, but again that throws up more question marks. Do either of them want to commit to the track as they'd need to when both are being tipped for great things on the road? It is after all a time when Team Sky will be scouting around for other potential 'Plan B's' in their GC ambitions as well as any future 'Plan A's.
Perhaps the biggest question is over what this all means for Wiggins' future with Team Sky. 
Wiggins' contract is up at the end of the year, and many have been quick to point to his Tour de France non-selection, and his comments over a lack of loyalty within road racing as evidence that he's ready to move on.
But that would be to ignore one major factor - the symbiosis between British Cycling and Team Sky.
As Shane Sutton pointed out to me in June, before Wiggins had committed to his Commonwealth track return, Team Sky is still the squad who would support Wiggins' long term ambitions on the boards. What other Pro Tour team would pay a professional wage to a rider who's all but admitted he'll never ride another Grand Tour, and instead will spend most of his time ensconced in a velodrome? Orica Green-EDGE? They've been the most credible alternative thus far but their relationship with the Australian cycling programme would be enough in itself to put the brakes on those discussions.
Whatever the future for Sir Bradley Wiggins, and with whom, he has always said he'd like to be the best all-rounder the sport has ever known.
No Tour de France champion has achieved what he has away from the road, none have taken the Yellow Jersey and gone on to win track Olympic gold.
As Shane Sutton said to me in that interview in June, "Brad doesn't have to do any more. He's a legend. He wanted to leave the sport a legend and if he walked away tomorrow he leaves a legend."
He won't of course - and he'll have us watching his every move until he does.