Rider blog: Josh Edmondson
In the first of a regular feature this season, first-year professional Josh Edmondson fills us in on his campaign so far in his opening rider blog.
Last Updated: 05/03/13 6:21pm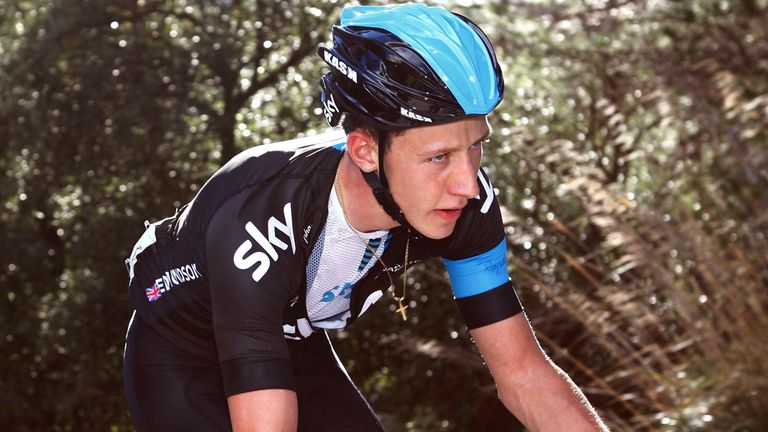 In the first of a regular feature this season, first-year professional Josh Edmondson fills us in on his campaign so far in his opening rider blog. There is plenty for Josh to talk about with the jump up to WorldTour level, a new team, new races and an impressive result already in the bag.
March 1 2013
We're now two months into the year and I feel like I'm settling into Team Sky well. I really like it here. It's a really good team - the best team I think. The first couple of races – Challenge Mallorca and the Tour of Algarve – have gone pretty well. The first one was a bit of a learning curve straight off the back of the training camp but I think Algarve definitely went a bit better.
In the Algarve I was able to get up there on the queen stage and finish seventh on the climb. The initial plan wasn't for me to go for the result, I was just trying to help Kosta [Siutsou] and the two Colombians. As it turned out we got disconnected with five kilometres to go. I ended up coming back round with about a kilometre to go until the climb and I never lost position because I was already there.
Riding up there amongst the big names on a climb like that was surreal. Most of the time you don't really notice who you're riding with because it's just a bike race and you're all riding along at the same speed and everything's fairly normal. But when you're on a climb and everyone is going flat out and you can see the likes of [Andreas] Kloden out of breath and all over the bike – it was a weird feeling. The race finished with a 34.8km time trial. That was my first time trial in three years and my second one ever I think! I had a few little issues but I don't want to moan. It was funny that [Denis] Menchov caught me during the TT as I'd been able to out-sprint him on the climb the day before. So I think he was quite happy about that!
All things considered I was really happy with 16th overall. Now I've got a couple of weeks of training which should hopefully put me in good stead for my next race at the Tour of Catalunya. It's a very good team that's going there and it's a great race. I'm really hoping to go well there.
Encouraging signs
The performance in Portugal has given me some confidence. Going into the year I had no idea how I'd go really. You can get a bit of a gist on camps but you never quite know.
I was really pleased with how the Mallorca camp went. It's fair to say I did a lot more than I'd ever have normally done. Towards the end it took its toll a bit. In the races in Mallorca I was more tired than I realised. I thought I was fine and that I was handling it okay but I was just tired. But I got back from Mallorca, had a bit of a rest and I was much better off the back of it.
Obviously it was a serious training camp but I think it's good for me that everything is so regimented. It's nice that there is a group to ride with every day. You can just wake up, eat and it's all there. Everything is set up for you and you can get a massage and things like that. It's the best way to get into shape.
When it finally came to racing and making my debut it was a cool feeling - heading to the start in the massive bus. It was the first time I'd seen the bus. Standing there at the start was the first time it sunk in that I was in Team Sky kit. All the rest of the time when you're training just doesn't feel the same as when you're in a race and everyone is together in a group. So that's when I realised I was really on this team. It's fair to say I was a bit nervous before the start. I don't tend to get that nervous normally but I think there, because it was my first race and everyone was wondering how I was going to go, that was probably natural. Another cool thing is getting the jersey with your name on it. To be out training and to realise you have it there is definitely a nice feeling.
Stepping up
It's still early days but at this level I'm finding it's a different way of racing in terms of how it plays out. You can feel that it is more professional and that there are a lot of guys who have done it for a long time. There are riders on the team like Danny Pate, and it's impressive to see how assured he is with the racing. He just instinctively knows how it's going to go and what you need to do and where you need to be.
I think the level will step up again in Catalunya. Even in Algarve there were a few smaller Portuguese teams and Continental squads. They do have an influence on the race. They might not make it slower necessarily but they do change the way that it is. I think having pure WorldTour teams there in Spain is inevitably going to be more competitive.
When it comes to the rest of the season and my aims I think we're still just seeing how it goes really. It's still early. I think after Catalunya we'll look to re-assess things and see what we want to do for the middle-to-late part of the year.
One thing for sure is that turning pro is a completely different world. When I was an amateur in Italy I just went out and rode my bike and that was all I had to do with my day. I could just relax but if I do that for too long now I'll have forgotten to upload my training or call (Performance Manager) Rod [Ellingworth]. I need to be doing my stretching and hip exercises and things like that. It's a whole new challenge but I'm loving it.