Year of progress for Edmondson
Josh Edmondson believes he made great strides as a professional cyclist during a successful first season with Team Sky.
Last Updated: 12/12/13 12:42pm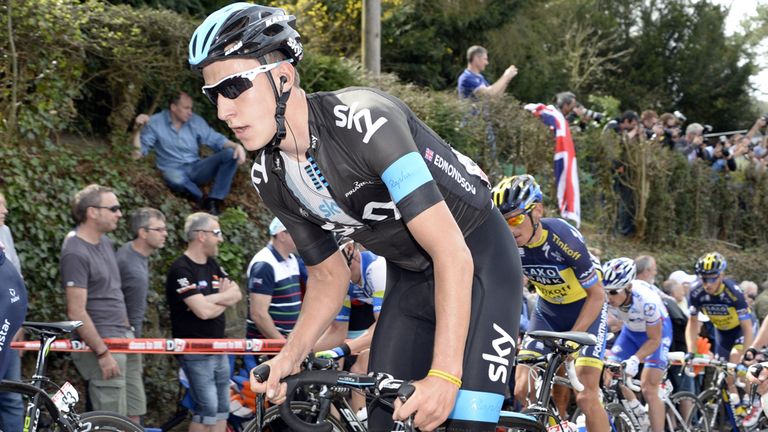 Josh Edmondson believes he made great strides as a professional cyclist during a successful first season with Team Sky.
The 21-year-old Yorkshireman impressed team-mates and coaches alike with a string of impressive performances in his debut campaign at WorldTour level.
He figured prominently in some of the biggest stage races on the calendar, delivered fine displays at the Ardennes Classics and also travelled as far afield as the United States and China as he built up his experience of life in the top tier.
"My first year went well," Edmondson said. "I really enjoyed it. I have learnt a lot, at every single race, through spending time with the other guys and riding alongside them.
"I think I have come a long way this year in every respect as a rider – improving how I conduct myself and how I am in the team. As an amateur you race to win all the time, but as a pro you have to learn that you have a job to fulfil and I think I have done that this year."
Stepping up
Edmondson joined Team Sky last winter and although he admits to initially being star-struck at riding alongside the likes of Chris Froome and Sir Bradley Wiggins, his transition from the amateur to professional ranks was a seamless one.
"The transition to turning pro was done really well because when a new young rider joins, they join in the winter when everyone else is working their way back to fitness," he explained. "Everyone gets to know each other and it is a good atmosphere.
"That said, it was a little bit overwhelming going from being all alone as an amateur in Italy to training with Bradley Wiggins and Chris Froome in Mallorca in the space of a week."
Edmondson ranks the Tour of Britain, where he helped Wiggins seal overall victory, and the Tour de Romandie, where Froome triumphed, as the stand-out races of his 2013 campaign.
"One of the biggest highlights was definitely helping Brad win the Tour of Britain," he added. "It was so nice to see him back winning again, especially in front of his home fans.
"The Tour of Britain was a great experience. I led the team over Honister Pass on the stage through the Lakes after Dan Martin had attacked and it was amazing going through that crowd. There were so many people I knew and so many familiar faces, which was odd because normally fans are strangers.
"And then of course I was with Chris when he won the Tour de Romandie – seeing him prepare for the Tour de France and seeing how focused he was."
Year two
Edmondson is now turning his attention towards 2014 and, buoyed by his performances over the past year, he is setting loftier goals.
"This year has made me see that I can be more ambitious," he said. "As an amateur you cannot start saying 'I would love to win this race and this race' because you don't know if you are ever going to ride them.
"But this year I have done so many races that I would love to one day win, and that in turn has made me more ambitious.
"My main goal for 2014 is to ride a Grand Tour. I would ride any of them – I am a massive fan of all three Grand Tours.
"The Tour de France starting in Leeds is obviously going to be the biggest race of the year for any British rider, and that would be my main aim, to start that race.
"I realise it is going to be very difficult to get in that team, but I would like to think it is a realistic ambition."