Wiggins happy to help Cav
Bradley Wiggins has admitted that leading out team-mate Mark Cavendish to victory at the Tour de France filled him with pride.
Last Updated: 20/07/12 7:06pm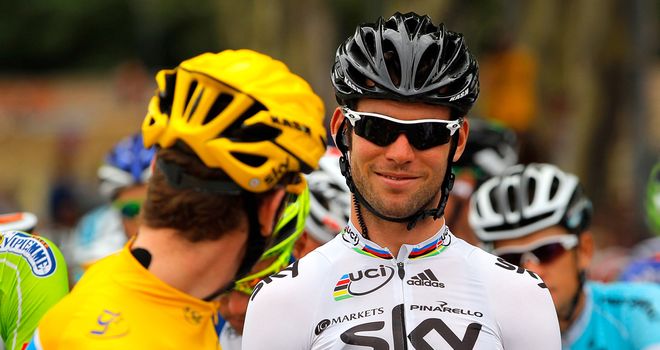 Bradley Wiggins has admitted that leading out team-mate Mark Cavendish to victory on stage 18 of the Tour de France filled him with pride.
Despite being on the verge of claiming a historic overall victory in the great race Wiggins still hit the front in an action-packed finale to Friday's stage, lining out the bunch on the run into Brive to set up the world champion.
Wiggins had already vowed to work for Cavendish in the French capital, but began to pay his friend back early, the 32-year-old Londoner punching the air in delight behind Cavendish as the Manxman celebrated the latest win of his stellar career.
After the stage Wiggins said: "It was the plan today but we thought we might have to work harder for it. Fortunately all the other teams who didn't have sprinters decided to ride today which was strange. But it worked into our favour and at the end the plan was always to hit the front with Mark at 3.5km to go.
Perfect scenario
"It couldn't have gone any better. There was a bit of a group off the front but he proved today who the fastest man in the world is if there was any doubt. You saw how far he went, 600m from the finish, and left them for dead. It was fantastic to be a part of.
"It's been a great three weeks and I've always wanted to be able to do that for him. It's the first time I've led him out for a Tour stage. It's great."
With the victory taking Team Sky's Tour total up to four, as well as the fifth British success of the race following David Millar's (Garmin-Sharp) solo success on stage 12, momentum continues to build with the Olympic Road Race little over a week away.
Before then Wiggins needs to cross the line in Paris to make sure of a historic victory, but his Sports Director Sean Yates was happy to see Team Sky continue to make an impact at the highest level of the sport.
"Brad delivered him perfectly," commented Yates. "Cav had to go early with the breakaway still up there. It worked in his favour as he got a gap and then there was no way of pegging him back once he'd opened up so early. On these long, super-fast sprints he is on another level to everyone else.
"It just gets better and better. It worked out fantastic today. We set out to have a bunch sprint, but when the break went and Lotto and GreenEDGE had someone in there we knew they wouldn't chase. Edvald (Boasson Hagen) went across on the climb and it turned into a 16 man group.
"A lot of teams knew it was their final chance today. They chased down the break even though they had very little chance of taking the stage with no sprinters. It almost stayed away but when it didn't we took up the challenge of delivering Cav like the boys talked about in the meeting this morning. It all worked out to perfection and Cav was really happy."
Inspired to get on your bike by Bradley Wiggins, Mark Cavendish and Team Sky at the Tour de France? Then visit www.goskyride.com for rides for all ages and abilities.