Singapore GP: Pole-sitter Sebastian Vettel under threat from Red Bull
Ricciardo warns Red Bull have better race pace than Ferrari; Hamilton just fifth; Race underway at 1pm on Sky Sports F1
By Pete Gill
Last Updated: 30/09/17 8:39am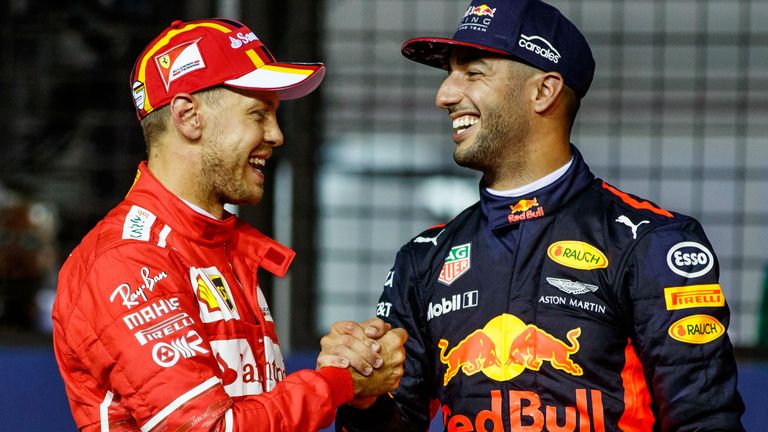 Sebastian Vettel has predicted a close battle in the Singapore GP with Red Bull warning they have nothing to lose in their battle for victory against their former driver.
Vettel, who has won on all three occasions when he has previously qualified on pole in Singapore, will start Sunday's race just in front of Red Bull pair Max Verstappen and Daniel Ricciardo with title rival Lewis Hamilton a distant fifth.
"The Red Bulls are very quick, it will be a very close race," predicted Vettel.
And Ricciardo warned: "I'm still confident we will get victory.
"Seb turned it on today but I think we have better race pace."
Vettel driven to excellence and beyond
Red Bull started Saturday's qualifying hour as the marginal favourites to claim their first pole position of the season but were left to rue a lap of near perfection from their former employee in the closing moments of Q3.
Vettel's inspired lap, driven on the edge and then beyond when he clouted the wall on his final run, secured the Ferrari driver the perfect response to losing the title lead to Hamilton two weeks ago at Monza.
Qualifying report: Vettel on pole, Hamilton just fifth
It was the dream result for Vettel and the nightmare outcome for Mercedes and Hamilton as the championship leader slithered and struggled to just fifth around a circuit that offers little attraction to their package.
But, as betrayed by his brush with the Singapore barriers, Vettel will start Sunday's race under intense pressure from the Red Bulls with team-mate Kimi Raikkonen unable to keep Verstappen and Ricciardo at bay.
"We've got nothing to lose. Seb's got a championship to think about," warned Red Bull boss Christian Horner mischievously.
In the nine previous races held at Singapore, the pole sitter has won seven times. But on a weekend when Red Bull have topped every session other than qualifying, the threat from Ricciardo and Verstappen can't be ignored.
"They will be aggressive, they will try to do something different on strategy," predicted Sky F1's Paul di Resta.
However, Red Bull's attempts to leapfrog Vettel may well be exclusively dependent on those strategy opportunities given their straightline deficit to Ferrari on a circuit which is any case notorious for its restrictions on overtaking.
"We just don't have that last little bit," accepted Horner. "They are 5k quicker than us on the straights."
And Verstappen, who was thwarted in his final attempt to become F1's first-ever teenager pole-sitter before turning 20 next week, admitted: "During the race it will be difficult to pass him [Vettel] so we will have to see in the first lap."
A predictably tough day for Mercedes
The Silver Arrows were predicted to struggle around the Marina Bay circuit this weekend and those expectations were realised during a tough qualifying session for both Hamilton and, in particular, team-mate Valtteri Bottas.
Over half a second separated Hamilton from Vettel on a track where Mercedes' established power advantage over their rivals counts for little.
"It's what we expected," said boss Toto Wolff. "You always hope for better, but it's probably where realistically we are in Singapore."
Hamilton added: "We knew coming here it would be difficult. Every year it's been difficult for us generally. We knew today would be tough but I didn't anticipate Ferrari would be as strong as they were. I thought Red Bull would be as quick as they were."
But Hamilton's struggles weren't as pronounced as Bottas'. Whereas the Finn had the better of Hamilton at Monaco and Hunary, the two other low-speed tracks where Mercedes have faded this year, Bottas was nearly seven tenths of a second behind the sister Merc this Saturday.
"The gaps are too big for us," he admitted. "Two weeks ago in Monza it was pretty good for us, now we are struggling.
"It just highlights we have issues producing enough downforce and enough mechanical grip at a track like this. So that is an area we really need to work on."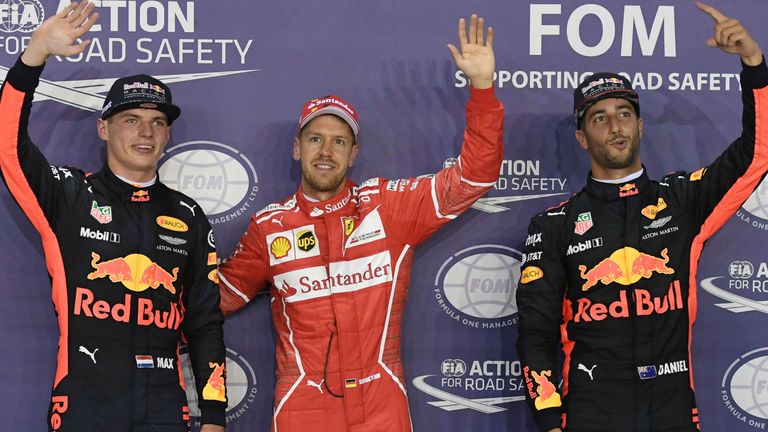 A potentially pivotal day in the title race?
Analysis from Sky F1's Damon Hill:
"Kimi could play an enormous role [keeping the Mercedes behind]. Lewis has a major problem...he has to dispose of Raikkonen and then the two Red Bulls.
"That was one of those mega pole positions you see from a great champion. Vettel is amazing around this circuit and very, very important to him.
"He's already lost the lead of the championship and he wants to get that back on track."