How Red Bull nearly stole the Singapore GP from Mercedes
Sky F1 analyse the Mercedes-made chain reaction which almost enbaled Red Bull and Daniel Ricciardo to snatch an unlikely victory
By Matt Morlidge
Last Updated: 18/09/16 6:32pm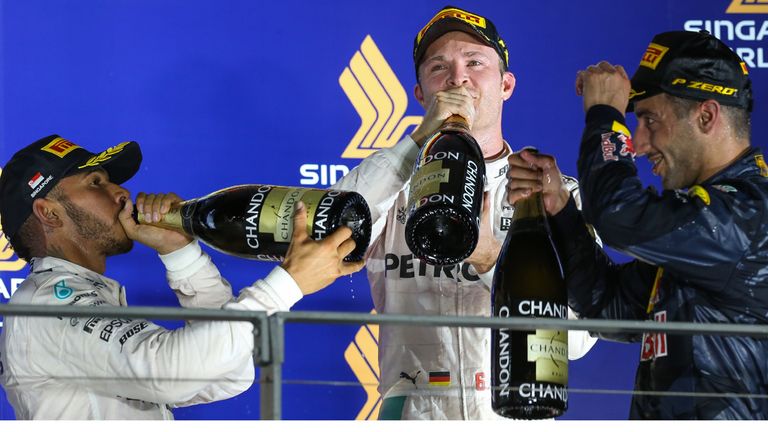 Nico Rosberg secured his third consecutive victory by winning the Singapore GP, but with Daniel Ricciardo just 0.4 seconds behind at the chequered flag, the outcome could have been very different with just one more lap.
For all the gruelling hard work, mechanical expertise and many practice sessions in Formula 1, it is still a sport that can be decided by split-second decisions and tiny margins.
And here, Sky F1 looks at the chain reaction that nearly saw Red Bull steal an unlikely victory off Mercedes.
Setting the scene
Pole-sitter Rosberg had maintained a comfortable lead over Ricciardo throughout the first half of the race and with all of the top four running on the soft tyre, seemingly set on running until the end without stopping again, Mercedes' attention switched to Lewis Hamilton on Lap 39 of the 61-lap race.
The world champion had lost third place to Kimi Raikkonen and subsequently fell further behind through the second pit-stops.
"We're going to switch to Plan B," Hamilton was told. "You just need to pull Raikkonen in."
Plan B, on this occasion, was to turn the engine mode up and close in on the Ferrari before pitting for a new set of supersofts, which he did on Lap 45.
Ferrari had a decision to make and appeared to come to it at the last possible moment, still unsure of what to tell the Finn on the very lap he was brought in. Used ultrasofts were fitted to Raikkonen's car on Lap 46, but when the Ferrari returned to the track it was Hamilton who was ahead.
The undercut, and Mercedes' plan, had worked.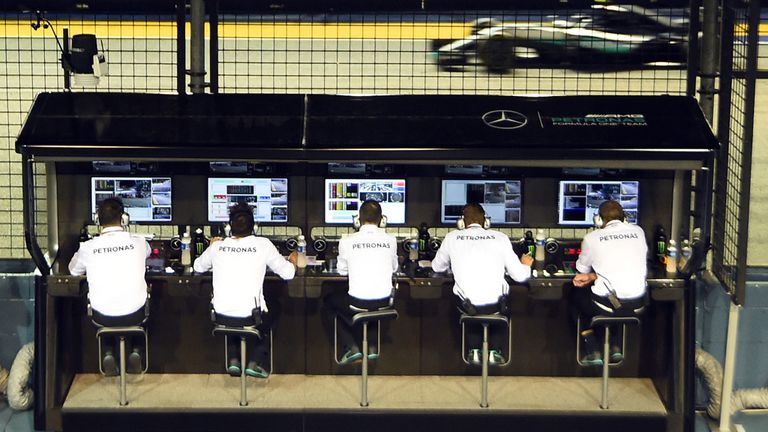 The chain reaction
But by simultaneously eliminating both Hamilton and Raikkonen from top-two contention, Mercedes had opened a door for Red Bull to opt for a similarly aggressive strategy. Without the fear of dropping back to third or lower, they had nothing to lose on Lap 47 by putting Ricciardo onto fresh supersofts of his own and attacking Rosberg.
"Rosberg was sitting out in front feeling extremely comfortable about life," said Martin Brundle during Sky F1 commentary. "But suddenly the pressure is on."
The pit crew were ready for Rosberg to follow suit and Mercedes seemed set to copy Red Bull's move but again, the slender margins, and advanced technology of F1, came into play as Rosberg ran into time-costing traffic.
"They abandoned the idea two corners before the end of the lap," reported Ted Kravitz. "And then they said the two most important words for Mercedes in Singapore: 'Stay out'.
"The team have a screen on the pitwall which says 'position now' and 'position if pit', and that suddenly changed. The 'position if pit' said P2, so it was an easy decision with that clever bit of software."
And so, Mercedes were stuck in a chain reaction which they created. They knew Ricciardo would get close on fresher rubber towards the end of the race but they had no choice but to hope that Rosberg's 28-second gap was going to be enough in the remaining 13 laps.
How close was it?
Ricciardo had the wind in his sails as he chased an elusive first win of the season, buoyed by the outside chance of catching the leader and in the knowledge Rosberg had been managing his brakes since the start. Three seconds were taken out of the German's lead per lap in the immediate aftermath of Ricciardo's third stop and suddenly the gap was under 14 seconds with eight laps to go.
"How much more can I take out of the brakes at the end of the race?," Rosberg tentatively asked his team. Red Bull, on the hand, were pumping their driver with adrenaline. "At this pace, you'll catch him with four laps to go," they said.
Brundle: Lewis on the back foot
Rosberg's advantage kept on slipping away as the Singapore GP edged towards a thrilling conclusion. 9.4s with six laps to go, 5.2 with five. But then another of those critical variables put a dent in Ricciardo's hopes. 
Like Rosberg, Ricciardo had to lap Esteban Gutierrez and Felipe Massa's 11th and 12th-placed cars, costing him crucial time. With Rosberg momentarily matching and even bettering Ricciardo's pace, the gap was 3.4s with two laps remaining.
Yet more traffic was to get in Rosberg's way on the final lap and Ricciardo's RB8 was haring in. The final sector saw a Red Bull entering corners just metres behind a Mercedes and even as they approached the last corner, the winner of this race wasn't a foregone conclusion. In the end, however, it was just too big an ask. Ricciardo's race was up.
"As soon as we did the pitstop we thought Nico was going to come in so I pushed really hard on those tyres," the Australian explained. "In the end they were a little bit dead."
As for Rosberg, a first Singapore win is finally his, while he was able to look back at a titanic battle from his position at the top of the championship, eight points ahead of Hamilton.
"Hats off to Red Bull for such an awesome attempt to try and get us," he said.
Don't miss the F1 Report for all the reaction and analysis from the Singapore GP. F1 technical expert Craig Scarborough joins Natalie Pinkham and Marc Priestley in the studio at 8:30pm on Wednesday on Sky Sports F1.
Watch Man Utd v Leicester, the Ryder Cup and the EFL Cup as part of our three months' half-price offer.