Super 6 marches on
Soccer Saturday Super 6 jackpot is a bumper £175,000 as our March rollover heads for its climax.
Last Updated: 22/03/13 2:56pm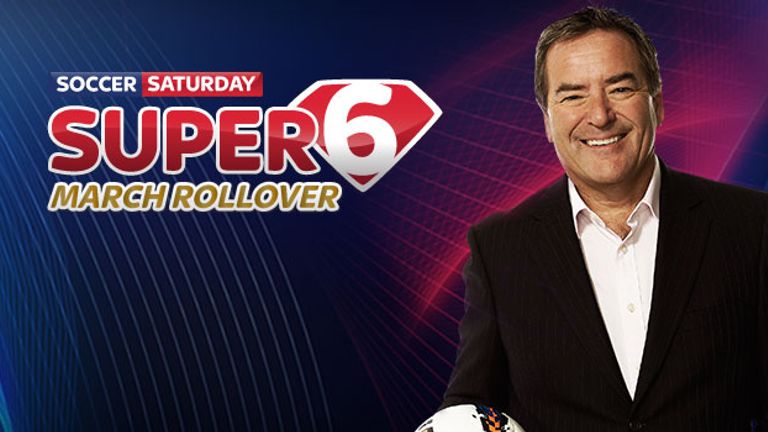 The Soccer Saturday Super 6 jackpot has reached a bumper £175,000 as our March rollover heads for a thrilling climax.
This month we have been bolstering the prize money by adding a whopping £25,000 to the jackpot for every round that the usual £100,000 isn't won.
If the jackpot isn't won there is a guaranteed pot of £8,000 for the entrant with the most correct scores instead of the usual £5,000 prize.
The stakes could well be even higher by round 34, which closes March 30 at 3pm, when the jackpot could be as high as £200,000 - if there are no winners - while at least one lucky entrant will benefit from a huge £9,000 guaranteed pot for the best effort.
This week's competition will provide a sterner test of your football knowledge as the Premier League takes a break for the latest World Cup qualifiers. Instead we have six League One clashes for you to ponder over before the entries deadline of 3pm on Saturday.
Sky Bet's Dale Tempest says: "This week's Super 6 will really test out your footballing knowledge or, just as likely, your lucky dip skills!
"I have done my homework though and have plumped for home wins for Bournemouth v Bury (3-1), Colchester v MK Dons (2-1) and Swindon v Notts County (1-0).
"But I only see a 2-0 defeat for Hartlepool - who have failed to score in five games - at home to Walsall and 1-1 draws for Preston v Orient and Shrewsbury at home to Oldham."
Soccer Saturday host and Hartlepool fan Jeff Stelling may be letting the heart rule the head as he goes for a 1-1 draw at Victoria Park!
Jeff also goes for home wins for Bournemouth and Colchester (both 2-0) and 1-0 for Shrewsbury plus a 1-0 away success for Orient and a goalless draw at Swindon.
But it's your choice that really counts so make sure you enter before 3pm on Saturday for your chance to win, and, remember, it's completely free to play!