Jamie Carragher on why Jose Mourinho can inspire Chelsea to title
Sky Sports expert Jamie Carragher tips Chelsea for the title and Arsenal for the top four.
Last Updated: 28/06/13 1:29pm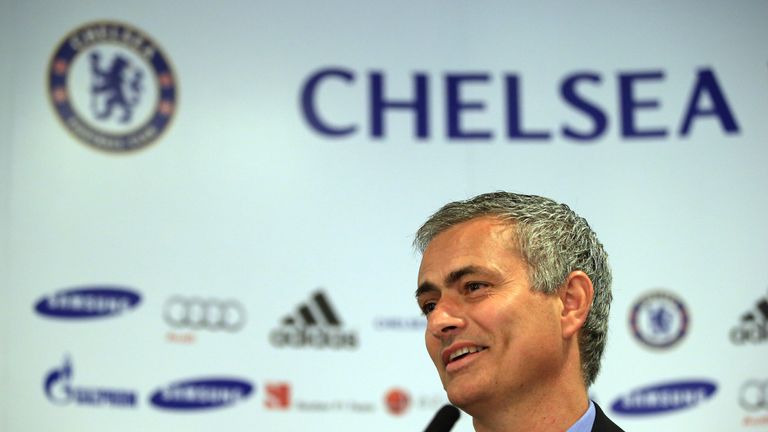 The former Liverpool and England defender joins our team of experts alongside the likes of Gary Neville, Jamie Redknapp and Graeme Souness for a season where you can watch 116 live Barclays Premier League matches, more than ever before, in HD and on mobile and tablet devices only with Sky Sports.
As we count down to the new campaign, Jamie shared some of his thoughts on how some of the big clubs are shaping up.
Read on for his views on why Chelsea are the side to beat in the title race this term and which sides he is tipping to finish inside the top four.
If I had to pick one side to win the league I would pick Chelsea. I just think they are a very good team.
You look at last year and Luis Suarez, Gareth Bale and Robin van Persie were the top three players, but numbers four and five were Juan Mata and Eden Hazard - and they could, this season, go on to be the best players in the Premier League.
So I think they've got two of the top players in the league, I'm sure they'll spend money as they always do and they've got the Mourinho factor as well.
The players absolutely love and adore him. They all talk about that and you would imagine they would go the extra yard for him. Mourinho has got that thing about him, he's a special manager and he gets special results. I think he could make the difference.
Chelsea under Mourinho is box office for the Premier League, for Sky and for all of us really. I really see them fighting for the title now this season.
The obvious three will be Chelsea, Man United and Man City. I'd expect those three to be up there, but if Arsenal spend well again - they look like they're going to invest a lot more into it - I'd expect them to get that fourth spot. I see the top three the same as it is now, but I'd expect Chelsea to make a much stronger challenge for the title and maybe just pip Man United.
But the top four is not set in stone and it's something Liverpool have got to look to do. Tottenham as well have got to be looking to make a challenge there and Bill Kenwright has mentioned that Roberto Martinez can get Everton there, so they will be looking to make a challenge. They've been there or thereabouts in the last few years.
It's very competitive now, the top four in England, and it's good for the Premier League. Before the top four was set in stone and that's not as healthy as it can be for the league.
You want the Premier League to be as competitive as possible at the top.
CARRA ALSO ON...
MAN UTD
"I don't think Wayne Rooney needs to move on at all. He's playing for one of the biggest clubs in the world in one of the best leagues in the world and I think the Premier League suits the way he plays the game."
CLICK HERE FOR MORE
ARSENAL
"They'll bring a few players in, as Arsene Wenger always does, but they've got to start getting that winning mentality back as they've had in the past and get over the line in big games."
CLICK HERE FOR MORE
LIVERPOOL
"It's important that Liverpool get back into the top four or certainly make a better fist of it than they have in the last two or three years; I'm sure Brendan Rodgers is well aware of that and is looking to get players in early."
CLICK HERE FOR MORE