Golden opportunity
Colin Montgomerie gives his take on Luke Donald and Tiger Woods as he answers your questions.
Last Updated: 12/06/12 4:55pm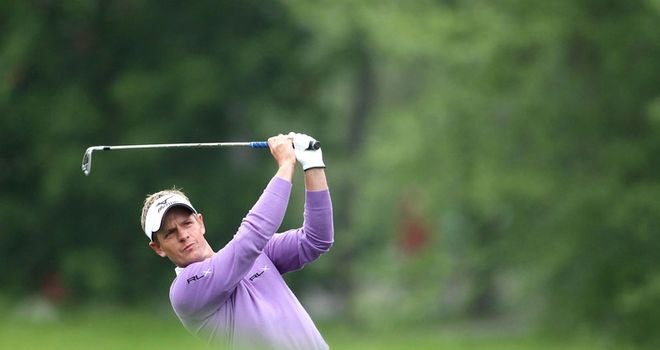 Colin Montgomerie expects British golfers to turn up the heat when the US Open begins later this week.
Fresh from carrying the Olympic torch in Aberdeen, Montgomerie has teamed up with the Sky Sports golf team that will bring you comprehensive coverage when the tournament gets underway at The Olympic Club, in San Francisco.
The action begins at 5pm on Thursday on Sky Sports 1 HD - the start of 10 hours of live golf on each of the first two days. Click here for full schedule details.
As part of the build-up, Monty answered your questions...
BLASTED HEATH
Hi Monty - sorry you didn't qualify for the US Open this time around but I noticed that at least you're in good company as Jose Maria Olazabal didn't make it either! How disappointed were you after you didn't quite make it at Walton Heath? Steve Halfpenny
MONTY: This tournament means a lot to Jose and me, particularly as neither of us have won it. We are both great believers in the fact that if you don't enter, you don't win so you've got to give it a go. The day you don't want to qualify for US Opens or British Opens, is the day you have to question what you are doing it all for, so you've got to try at all times. It's very easy to say 'no' - particularly as the Monday of qualifying is a very busy day; they call it 'the longest day in golf' and it certainly is.
MILES BETTER
Monty - nice to talk to you. Is it really true that you drove all of the way to Scotland to get a new putter to use at Walton Heath and were you gutted when it didn't do the job for you? Fair play though, Dominic Clarke, Nottingham
MONTY: Hi Dominic, yes I did do that but the press made a much bigger deal of it than it actually was! What actually happened was that after playing in the PGA Championship at Wentworth I simply thought I'd go home. I'm very lucky - I've got a lovely car to do it in; I wouldn't do it otherwise! The bottom line is I do drives like that regularly, so it wasn't a big deal. I just wanted to get a different putter and unfortunately my family didn't know which one it was, so they couldn't meet me halfway. I got to Manchester and just decided to keep going.
STEADY AS LEE GOES
Hi Monty - I was delighted to see Lee Slattery qualify for the US Open. How do you think his game is progressing? Sam , London
MONTY: Sam, Lee's been back and forth from the School a few times so it will be good if he can have a steady run in the top 115 - then he can relax and refine his schedule. When you don't have a full Tour card, you can't fix your schedule and you're always waiting for calls to see if you are in a tournament or not. With the best will in the world, that is never going to be the best preparation which is a problem if you believe that preparation is everything. I'm delighted that Lee's game is coming back and he followed up his successful qualifying effort with some good early form at Celtic Manor. I never like to rule anyone out before a tournament. Remember Michael Campbell won the 2005 US Open after securing his place at the last hole of qualifying at Walton Heath. Lee is going over there and I've no doubt he'll give it a good go.
NO HALF MEASURES
Alright Colin - I seem to remember that only a handful of players finished under par at the 1987 Open. My question is this: just how difficult a course is the Olympic Club and what makes it so difficult? Lewis, Bolton
MONTY: As a general rule, the US Open is usually played on courses with narrow fairways and deep rough. That's true of the Olympic Club, but hitting the fairways isn't enough as many of them slope severely from left to right or right to left. So let's say you hit the middle of the fairway with a slight draw but the slope runs right to left - there's a good chance you'll end up in the left-hand rough. The reality is that you have to aim at half of a narrow fairway. Hitting the ball straight simply isn't enough. People also don't appreciate just how severe the greens are, Lewis. I remember that the late Payne Stewart four-putted the last green from four foot. It can be that difficult. I've played in two US Opens there and performed ok - I made the cut on both occasions but didn't really contend. But it's a beautiful place - how could it not be? San Francisco is one of American's best cities without a doubt.
WOODS WOE?
My question is about Tiger. I recall expert after expert saying before the Masters that Tiger would do really, really well - even that he was the favourite - and what do you know it all came to nothing? No doubt the same 'experts' will be banging on about Tiger's chances at the US Open after his victory in the Memorial but personally I think it's more of a blip than a comeback and I can't see Tiger coming anywhere near to winning the US Open. Monty - do you agree???? Rob, Cardiff
MONTY: The simple answer, Rob, is who knows? After all of the build-up, the Masters was a bit of a damp squib for Tiger and Rory, wasn't it? Let's say from the outset that the competition facing Tiger from the rest of the field is really good. In addition, this course will be very tight off the tee and that will be the telling factor in proving whether Tiger is really back or not. Muirfield Village, where Tiger won recently, is a Jack Nicklaus-designed course; they tend to be wide open off the tee in the way that The Olympic isn't and then they become very narrow, second-shot golf courses. With that in mind, I'm still on the fence about whether Tiger is back or not. Yes, he has won twice this year and that's fantastic but if he can perform well in this US Open - which will test every aspect of a player's game - then I'll be convinced. If Tiger finishes in the top five, then he is back. The signs suggest that he is regaining his mental strength. We saw what happened last week at 16 when he chipped in - that was pure mental strength, that was the Tiger of old, much more so than it was when he won at Bay Hill, where he strolled to victory. The competition at the Memorial was much stronger and he had to finish strongly and he did. Let's hope for the good of golf that he is back because we've missed Tiger as a golfer.RORY READY
Just wondering what you make of Rory's recent form? Got to say I'm pretty worried about it despite that top-10 finish in the St Jude.Colin, Cornwall
MONTY: Colin, the first thing to say is that I'm absolutely convinced that it was the right decision for Rory to play in the St Jude Classic and if you'd offered him a birdie to tie beforehand he would have taken it. Let's face it, after missing three cuts in a row his confidence must have been at a pretty low ebb so he didn't have much to lose. He went for it at the 18th and you have to give him credit for that - you'd expect nothing less from a champion player, which he is. Rory has more distractions in his life now, which happens as you grow older. You find over time that you can't necessarily give 100 per cent to your game due to off-the-course commitments and relationships that become more time demanding. It happens to most if not all players. You have to re-evaluate and work out what got you to the top and focus as much time as you can on that. That process isn't easy but I've no doubt he'll come out better for it. Rory's playing with Graeme McDowell and Padraig Harrington over the first two days and that won't be easy for him because he'll want to impress; I believe that's a poor draw for Rory. But he's that talented and that good that he'll come back. Whether the Olympic Club suits him as Congressional did, I'm not sure. Congressional was long, damp and suited a draw - it ticked all three boxes for him; at Olympic you have to manoeuvre the ball every way. But he's not in the top three in the world for no reason so he should be able to cope and I wish him well!
DON AND DUSTED
Hi Monty - good to chat with you. My question is about Luke Donald. He's at the summit of the game now. How do you rate his chances against the other Brits this week?Andy Turnum
MONTY: Hi David. Thanks for the question. Luke's course management is second to none and he has to start as favourite along with Tiger, which you wouldn't have said for the Masters. I sometimes compare with tennis where you have clay-courts specialists, grass-court specialists and hard-court specialists. The Masters is a very different tournament from the US Open, while the British Open is something else altogether! You'd have to say that if anything Tiger and Rory favour the Masters, that Luke Donald is a US Open specialist and that Lee Westwood would be favourite at the British Open, where the greens tend to be a little flatter and the gusting wind makes his accuracy all the more important. Let's be honest, though, European golf is in a great place right now. Luke's last outing ending in victory, as did Lee's and I see no reason why a Brit can't reign supreme this week either.
HAVE A CART
Monty - can't understand why there seems to be so much criticism of the decision to let Casey Martin play the US Open - he did qualify, after all didn't he??? Ok he has to use a cart but come on the guy does have an illness! I say let him use a cart and let's get on with it. Anyone who says otherwise surely can't have golf's best interests at heart. Why deny someone the chance to play in a Major because they've got a problem? He's there on merit alone and I hope he goes really, really well. Yours, very annoyed Jeff
MONTY: Over the years there has been all sorts of debate about how great a part physical exertion plays in golf - in the sense that the further you walk the more tired you are likely to become! But come on, there are instances where we have to use some common sense. This guy is seriously ill and it's great that he's able to play the US Open. So long as he keeps up with the pace of play and can walk with his caddy, I've got no issue with him using a cart to get from A to B. It's a great story and I wish him the best of luck because anyone in that situation deserves it.


LUKE'S GOOD
Simple one for you Monty, whose going to win? Steve, Edinburgh
MONTY: I've a simple answer for you, Steve. I think Luke Donald is going to come through and win his first major.