Irish Open 2014: Champ Mikko Ilonen inspired by Martin Kaymer's US Open victory
Last Updated: 22/06/14 8:49pm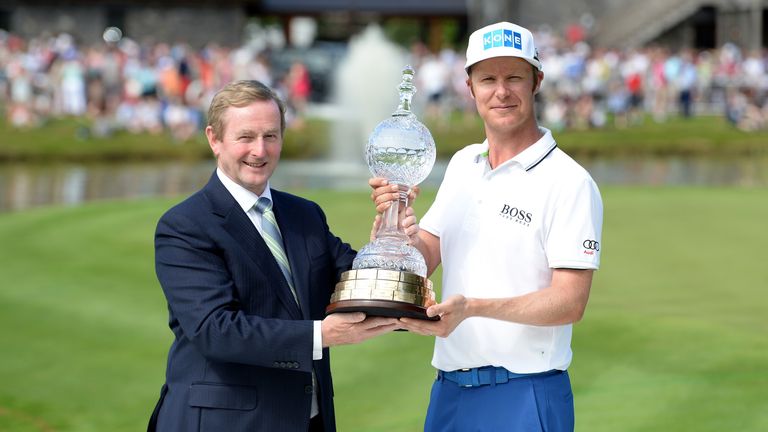 Finland's Mikko Ilonen followed in Martin Kaymer's footsteps by pulling off a wire-to-wire win in the Irish Open and said later the German's US Open success had inspired him.
Ilonen carded a final round of 70 at Fota Island to finish 13-under par, one shot ahead of Italy's Edoardo Molinari, with Sweden's Kristoffer Broberg and English duo Danny Willett and Matthew Baldwin another shot back in third.
Ilonen, who led from the moment he established a new course record of 64 on Thursday, said: "It was very much a Martin Kaymer-inspired win.
"I sent a message to him last week that I really enjoyed watching the US Open. I very rarely enjoy watching it, I would rather play, but Martin's win inspired me.
"I was thinking about winning this tournament from midday Thursday basically. Somehow the course looked easy to me and I felt we were going to see some crazy scores.
"I had a low one on Thursday to start with, and it was something that I was expecting, but I could see from the faces and comments of other players that they weren't expecting it.
"I had a number in my head all week that I tried to get to and I missed it by a mile."
That number was 21 under par and having fallen eight shots short, Ilonen added: "It's been a hard day's work to keep that lead and luckily no-one really made a run out of the last couple of groups. I played good enough to make some birdies and I did not have to."
Victory also takes Ilonen to the verge of a coveted place inside the world's top 50, which would secure entry into major championships and WGC events.
Hoylake return
He won the Amateur Championship at Hoylake in 2000 and was 16th in the Open there in 2006, so was understandably excited by the prospect of returning to Royal Liverpool for the Open next month.
He added: "I've been thinking about it a lot since I qualified off the Order of Merit last year. I am looking forward to it and hope I can keep this run going. I would like to go in between those big crowds on Sunday, so that means I need to be a little bit better than 16th."
Molinari, Willett and Baldwin will also be at Hoylake after securing the three available places via the new Open Qualifying Series, with Baldwin edging out Broberg due to his better world ranking.