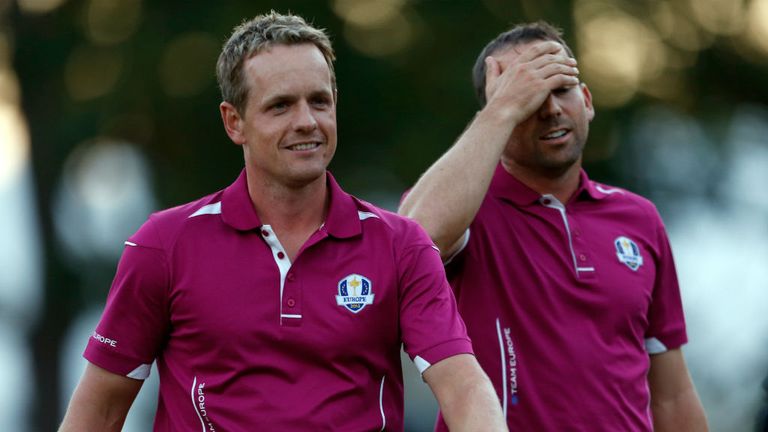 Ian Woosnam believes Paul McGinley's decision to overlook Luke Donald for a Ryder Cup pick was down to instinct as well as form.
McGinley awarded captain's picks to Stephen Gallacher, Ian Poulter and Lee Westwood on Monday, with Donald left out despite his superb record in matchplay competitions.
Gallacher's form warranted a selection, particularly in his native Scotland, while Poulter has been inspirational for Europe in each of the last three contests.
McGinley also handed Westwood his ninth Ryder Cup cap ahead of Donald, who has never been on the losing side in his four appearances in the showpiece.
Woosnam incurred the wrath of Thomas Bjorn in 2006 when he named Westwood and Darren Clark as his captain's picks at the K Club.
The veteran Dane, who has qualified for this year's team on merit, branded Woosnam "pathetic" after learning of his omission, although he later offered a full apology to the Welshman for his outburst.
"It is a shame you have to leave out someone like Luke Donald but that is how it goes, I don't think he's holed enough putts all year to warrant a pick," said Woosnam.
"In my time I had three people in my mind: it came down to either Thomas Bjorn, Westwood and Clarke and I'd already picked Clarke.
"It was a hard decision but what persuaded me was I felt Westwood would go better with Clarke, especially in the time of grieving Darren was going through (having lost wife Heather to cancer weeks earlier), and everything worked out.
"Lee partnered Darren in two matches and Darren won all his points that week. You have a gut feeling, you feel who is going to play well under pressure.
"I think with Thomas at the K Club he had a couple of issues with a hole there (the previous year he drove into water at the 17th three times to run up an 11 when leading the European Open) and that sometimes put bad memories in your head."
Woosnam also insisted that man-management was crucial to Europe's resounding victory at the K Club, and that McGinley still faces plenty of tough decisions.
"When I picked the team on the first day I think I left out Henrik Stenson and Luke Donald and they were whingeing a little bit as to why they were left out," he added.
"But I went up to them and told them they were playing in the (afternoon) foursomes and that cheered them up then.
"A captain has to get it into their heads quickly that they are all there to win the Ryder Cup.
"All they are is team members, nothing else. You are all as equal as each other, it doesn't matter who wins the points as long as we win as a team."
Woosnam also believes the absence of Tiger Woods, who has been on the winning team only once since his debut in 1997, could benefit Tom Watson's American team reather than be a hindrance.
"How many times has Woods been in a winning team?" Woosnam said. "I think Europe are fearing more that Woods is not in the team because the USA might be without him.
"The Europeans will be looking at the American team and seeing how they are as unit and how they play together."