Martin Kaymer in class of his own at US Open, says Ewen Murray
Last Updated: 17/06/14 2:01pm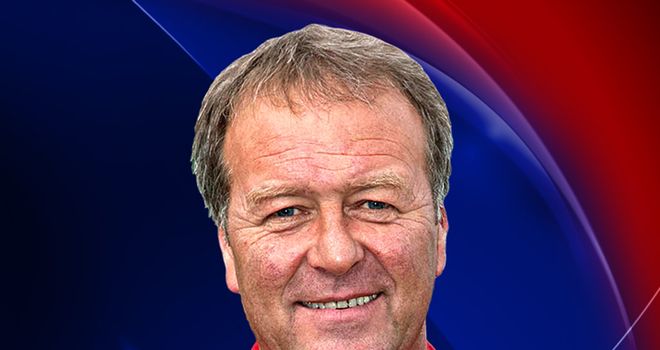 For the fans, the television viewers and the USGA, the US Open at Pinehurst in North Carolina would not go down as a classic. That was down to one man, the new champion of the United States, Martin Kaymer.
When Tiger Woods won by fifteen shots in the millennium year, many said nothing like this would ever happen again. It happened in the Nation's capital in 2011 when Rory McIlroy won by eight and again last week in the year's second major. This goes to show that when the best players in the sport have every department of their game in top shape in one given week, they can destroy the rest.
It was easy to run out of superlatives as Kaymer led from start to finish. He led the Players Championship from day one and won that also. He did the same twice in the HSBC Abu Dhabi Championship.
The former world number one had dropped alarmingly down the rankings, but his wins in Jacksonville and North Carolina have him now in 12th position and rising.
It was easy to run out of superlatives as Kaymer led from start to finish.
Ewen Murray
It was a pleasure to see the game played so well and on each and every day, Martin was in a class of his own. It was perfection at Pinehurst.
There were some good stories over the week. The joint runner up, Erik Compton, has had so many medical problems but, after a heroic performance, perhaps now people will focus on his golf and recognise just how good a player he is. His story is one of great courage for sure, but I'm sure Erik wants to look forward rather than back.
Fellow American, Brooks Koepka, a four time winner on our Challenge Tour, needed to finish in the top seventeen to secure his USPGA Tour card. He did better than that, so is now exempt for this year, and having won enough money, he is also exempt for 2015.
For some of our Ryder Cup hopefuls, it was a poor week. Paul Casey started well only to fade, Lee Westwood never got going, Sergio Garcia took one step forward then two back and Rory's wedge play was not up to scratch; despite driving the ball as well as anyone, he simply did not take advantage. Luke Donald's championship, meanwhile, was over after just 18 holes.
Victor Dubuisson, though, once again showed he will be an asset at Gleneagles. The Frenchman is looking increasingly comfortable on the big stage.
As for Ian Poulter, he had a nearly week. His run to the turn in 32 on Sunday had him inside the top ten, but a three over last nine sent him back into the pack.
Course debate
As always the way the course is set up in a US Open is the main talking point. For the first time in many years the fairways were generous and there was no rough. The weather was all but perfect, yet only three players finished under par.
I don't know what you made of it, but there would be two schools of thought. One: It was too severe. Two: It's a major event, so it should be tough. I imagine the mix could well be close to 50%.
When Pinehurst was designed at the start of the nineteen hundreds, their "turtle back" greens would run at no faster than six on the Stimpmeter, so the ball would not run off them. With the huge strides in Agronomy down the years, the average tournament speed today is between eleven and twelve.
In many cases last week, only a third of the green was flat. Realistically, that's all the players had to aim at. My own opinion is that the US Open should be a stern test, but I felt, watching last week, too many of what I thought were excellent shots were served the same punishment as a poor shot.
Nevertheless it was, as always, a huge success and the women's US Open will be played there this week in what is a new innovation by the USGA. It will be interesting to see if the set up varies from last week to this.
The 115th US Open will be from Chambers Bay in Washington by America's west coast.
Irish Open
I'm writing this from 39,000 feet en route back home, but it will only be to unpack one case and then pack another.
The European Tour returns to Fota Island for the Irish Open after a gap of twelve years. Situated just outside Cork by the rugged, yet beautiful South western coastline of Ireland, this is one of the Tours' favourite stops.
Much of that is down to the Irish fans who are truly wonderful to play in front of and down the years the Irish Open has been contested over some of its great courses. On the Links side, Royal Portrush, Portmarnock, Royal Dublin, and inland, visits to Killarney, Druids Glen and Carton House.
One thing you can guarantee in Ireland is that the welcome and the appreciation of good shots will never change. Last year, their major stars all missed the cut after 36 holes. Let's hope this year their players are contending down the stretch and in the end they have an Irish Open to remember.
Charley absent
My moan of the week was for somebody to tell me why Charley Hull is not in the competitors list for the Women's United States Open?
The Solheim Cup is surely the jewel in the ladies golfing crown in Europe and America. Charley played in the last one in Denver when Europe created history by winning on US soil for the first time.
Charley Hull, at the age of 17, beat Paula Creamer 5 and 4 in the Sunday singles. I would have thought being in the Solheim team would be enough to exempt you for the period between the biannual matches.
However, it's worth stating that Charley could have chosen to pre-qualify and she didn't. Dame Laura Davies, winner of nearly 100 tournaments did. She qualified at the Buckinghamshire, she will tee it up at Pinehurst and I wish her a good championship.
Maybe an early lesson there, Charley?