European Tour to allow players to wear shorts in practice and pro-ams
By PA Sport
Last Updated: 20/01/16 12:19pm
Players will be allowed to wear shorts in practice rounds and pro-ams after the European Tour's tournament committee unanimously voted in favour of the proposal.
Chief executive Keith Pelley approved a request from European captain Darren Clarke to allow his team to wear shorts in the oppressive heat and humidity ahead of last week's EurAsia Cup in Kuala Lumpur.
Clarke and Lee Westwood also wore shorts in practice ahead of the Abu Dhabi HSBC Championship on Tuesday, before the issue was debated that evening by the committee.
Ian Poulter, who was also part of the victorious EurAsia Cup team, wrote on Twitter: "It's 2016 not 1990. Get rid of the stuffy old rules that hold golf back. Make it more fun (for) everyone."
Tournament officials will consult with local promoters to ensure players wearing shorts will not cause offence and if there are any objections, shorts will not be allowed that week.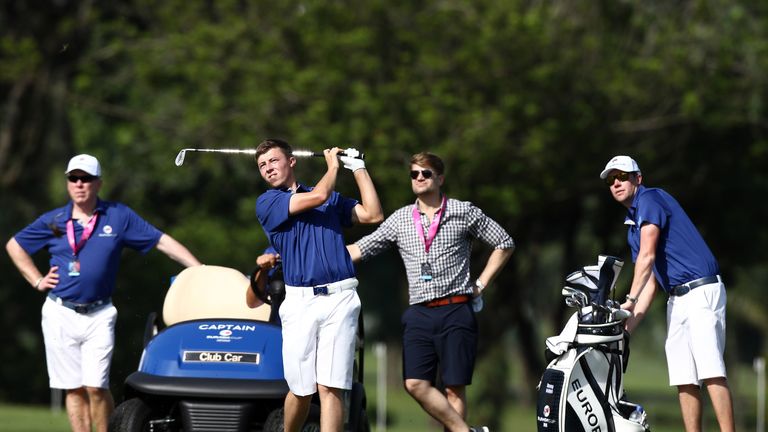 Players cannot wear shorts during tournament play, but Rory McIlroy is among those open to a change in the rules.
"Why not? It really depends if guys are comfortable or not," McIlroy said. "I don't think it takes anything away from the tradition of the game or etiquette or how guys look on the course."
Caddies can currently wear shorts on the PGA Tour but not players, which is something world No 1 Jordan Spieth would like to see change.
"It will be something that I would love to see on the PGA Tour, as well," Spieth said. "Guys seem to all love it over here and I've not heard one person complain about it."