GMac and Rose lead British charge
Graeme McDowell and Justin Rose were the leading British contenders after the first round of the 112th US Open.
Last Updated: 15/06/12 9:25am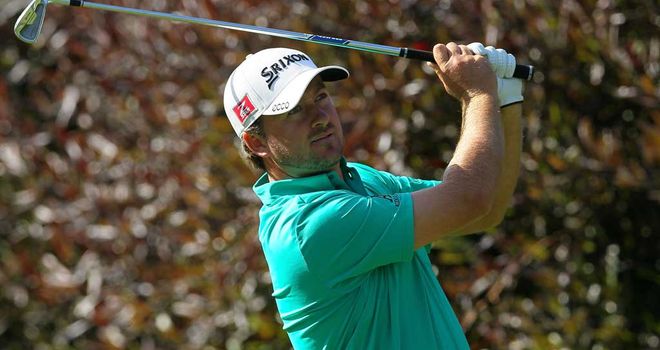 Graeme McDowell and Justin Rose led the British challenge at the US Open after both overcame the tougher afternoon conditions to break par on the first day.
Both players birdied their last two holes at the treacherous Olympic Club to return one-under 69s and finish the day three behind early pacesetter Michael Thompson.
"I've always enjoyed the US Open, even before I won Pebble I always enjoyed the US Open set-ups," said McDowell, who is eight shots ahead of defending champion and compatriot Rory McIlroy.
"And if you would have asked me before I won Pebble where did I fancy my chances, which majors did I like the best, I probably would have always said to you the US Open and the British Open.
"Those are the two that I would always choose," added McDowell, who refused to write off McIlroy's chances despite his opening 77.
"Seven over's a big hole for any player. Rory McIlroy's a pretty good player though, so if anybody can come back from it, he can," he said.
Rose described the Lake Course as "sadistic fun" after the world No 7 carded four birdies and three bogeys, but he sounded a note of caution afterwards.
"Obviously it's just a good start, not getting too wrapped up with that," he said.
"I think this golf tournament more than any other you just have to stay in the momentum, you can't get ahead of yourself for one second out there.
"So as of this second now I'm not even thinking about round one anymore, it's just about my first tee shot on Friday. It's going to be a long hard week ahead of all of us and that's really my mindset."
Punishing
McIlroy faced the prospect of missing his fourth cut in five starts after opening the defence of his title with a 77.
"It's just so tough here if you put yourself out of position at all," said a devastated McIlroy, who needs to be among the top 60 and ties to make it to the weekend.
"Too many times I just was in the wrong position off the tee or with my second shot.
"When you're trying to play catch up on this golf course it's very hard. I was able to make one birdie - I need to try to make more on Friday and limit the mistakes.
"But you have to be so precise. Anything just a little off and it really punishes you. I tried to approach it like any other tournament I play and tried to go out there and shoot the best score I could.
"It wasn't my greatest day, but hopefully I can come out Friday morning and try and shoot a good one and at least try to be here for the weekend."
Cold putter
Donald failed to hide his frustration after barely managing to break 80, and he blamed his poor performance on bad day with the putter.
"In the US Open the margins are that much smaller and if you're just a little bit off it's tough.
"My putter kind of went cold, otherwise I could have probably ground out some more respectable score.
"The top three in the world and we make three birdies between us - it shows how tough it is.
"I tried to stay patient, tried to stay positive, but when I had those opportunities on the greens I couldn't take them.
"The US Open demands your full attention and obviously Lee had a good back nine (one under after all three turned in four over), but Rory and I both struggled."