European Tour: Jimenez claims Ye is 'too young' to be playing this week
Miguel Angel Jimenez does not believe 13-year-old Ye Wo-cheng should be competing in this week's Omega European Masters
Last Updated: 05/09/13 9:48am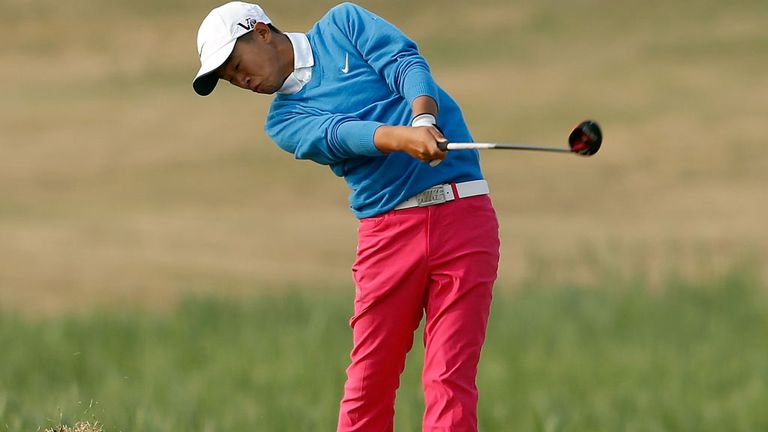 Ye has accepted a sponsor's invitation to tee-up at Crans-sur-Sierre in the Alps but Jimenez says his appearance could harm the youngster's long-term development.
Yet this is not the first time that Ye has been mixing it with the big boys.
Back in May, when still 12, he became the youngster player to tee-up in a European Tour event when he appeared in his own national open at Binhai Lake.
Jimenez, 48, said: "For me, a 13-year-old competing against professionals is a little bit too young.
"People want to start things too early and a 13-year-old should be playing alongside other 13-year-olds and not players averaging 33 years of age.
"No doubt the sponsor wants publicity for the tournament but, I'm sorry, this should not be allowed.
Disastrous effect
"They should not be pushing kids his age too hard as it could have a disastrous effect on their careers.
"I hope he enjoys himself this week but then I saw him hitting practice balls this morning and he looked very nervous, and he should not be in that position."
Ye will play the opening two rounds in the company of 35-year-old Martin Wiegele of Austria and 43-year-old Mathias Gronberg of Sweden, the champion at this event in 1995.
However, Gronberg disagrees with Jimenez saying: "It's going to be awesome playing with the young fellow and I will look forward to it.
"We are in the entertainment business and it's a sport there for the crowds.
"I am sure there will be hundreds of thousands of Chinese people that will tune into the golf on TV this week just to watch and follow Ye. So it would be absolutely silly not to market that opportunity."