Open Championship 2014: Ian Poulter cleared to play after injury scare
Last Updated: 15/07/14 5:20pm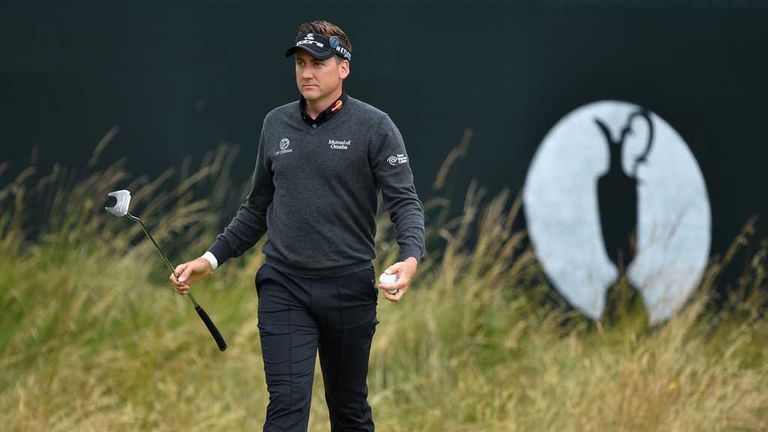 Ian Poulter has been cleared to play at this week's Open Championship after scans revealed a wrist injury was not as serious as feared.
Poulter, who finished joint third at Muirfield last year, underwent an MRI scan on his wrist in Leeds on Monday after injuring it during last week's Scottish Open at Royal Aberdeen.
However, after receiving the results on Tuesday, the 38-year-old took to Twitter to confirm he would be fit enough to compete at Hoylake.
Poulter stated: "Great news with the wrist. On impact I've Jared (sic) it and an old ganglion cyst has shown itself. No tendon or damage. Painkillers and crack on."
After returning to Hoylake on Tuesday, Poulter told the press he was ready to play through the pain barrier this week.
He said: "By jarring it, some fluid has come out of the joint and into the cyst sac there. It's touching on the nerve so I'm just getting a little bit of pain. I'll be chewing some anti-inflammatories and some painkillers for the week but it's good news, there's no tendon, joint or bone damage.
"At least I can rest assured if I'm in the rough, I can have a go at it 100 per cent and know that I'm not going to do any damage.
"The pain is bearable. It's an acute pain, but I played a lot of golf with the first cyst so I'm not worried about it and I wouldn't withdraw because of it. I've just got to wait until I get back to America to see my doctor, shove another needle in there."
Poulter missed the cut when the Open was last staged at Hoylake in 2006 but insists he has no memories of that tournament.
"I've erased all of them," he said. "I really don't pay any attention to missed cuts. I get rid of them. I don't like them. I detest them and I erase them. Sorry to cut that one really short!
"But honestly, there's no good coming out of 2006 so I really don't need to waste any of my brain cells thinking back to a bad week. It's a totally different golf course. It's not quite as firm and fast this year so I treat this week as a new week, albeit a course that I've played, where I know what I need to do."