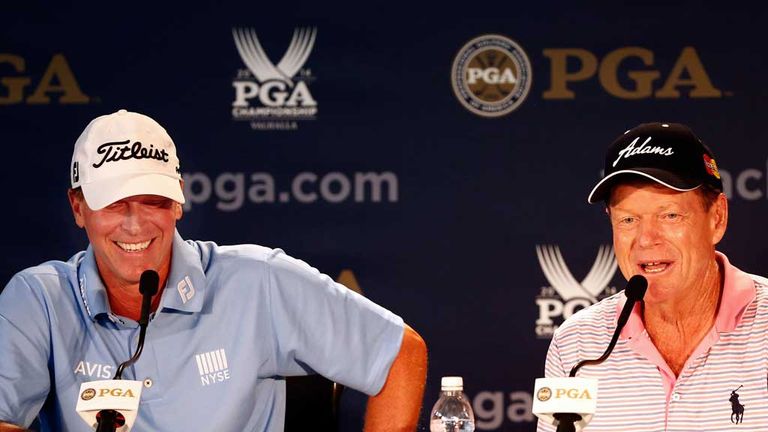 US Ryder Cup captain Tom Watson has named Steve Stricker as his third and final vice-captain for next month's showdown with Europe.
Stricker will join Andy North and Ray Floyd as Watson's assistants at Gleneagles from September 26-28. The 47-year-old played for the United States in the last three Ryder Cups.
Watson said: "Steve has been on the Ryder Cup team three times, he's been on five Presidents Cup teams.        
What Steve brings here is a great familiarity with the players who are on the Tour right now.
Tom Watson
"Steve, when I called you, it was a pretty simple response from you: 'I'd love to be the vice-captain'. I appreciate that very quick and simple response that you made.              
"What Steve brings here is a great familiarity with the players who are on the Tour right now. He brings a great deal of understanding of who these players are and their capabilities."              
Stricker, who could still qualify for the team as a player if he wins this week's US PGA Championship, said: "I feel old! It's a sign of the times, I guess, that you're moving on in your career.              
"But it's rewarding, too, to get a call from Tom, and to be a part of Andy and Raymond; to be a part of the whole team is pretty special.              
"It makes you feel like you've been out here for a while, but also the respect of Tom and these other guys to even think about having me on the team."
Watson will seek out the advice of his three assistants before he confirms his 12-man team by announcing three captain's picks on September 2.              
"Steve's been out there; he's played against these guys," said Watson. "Andy has been out there watching the guys. Raymond has his thoughts.              
"I'm going to use every bit of information available to me to make those picks. Now, ultimately it's my decision to who is going to be there."
Stricker formed an effective partnership with Tiger Woods in the Ryder Cup and is hopeful his former playing partner will be available.at Gleneagles as the US attempt to win back the trophy following their defeat at Medinah in 2012.
Woods has been troubled by a back injury this week but arrived at Valhalla on Wednesday for a practice round and later declared himself fit to play in the US PGA Championship.
Stricker said: "I think he wants to show he can play, he's going to get healthy, because he was on that last Ryder Cup team and we didn't get it done.
"I think that's his underlying reason why he's here and we need Tiger on that team. We know how important he is in the game of golf and how good a matchplay player he is."