ECCO strike perfect mix
We test ECCO's new BIOM Hybrid, golf's first-ever performance shoe built atop a hybrid outsole.
By Dave Tindall
Last Updated: 25/04/12 11:32am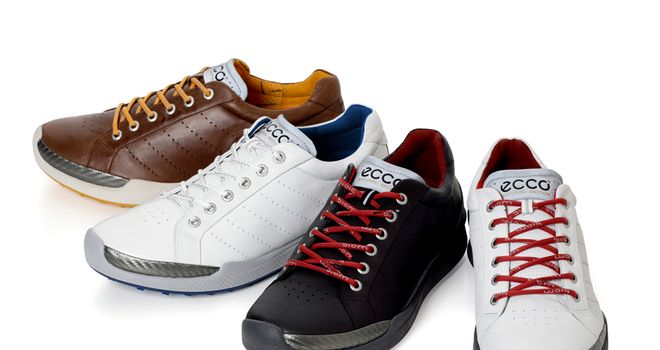 I've never quite been able to find the perfect golf shoe.
Either they've not quite suited my fairly particular and clean-lined fashion tastes or they've rubbed. So, one way or another, there's always been a compromise involved.
But, at long last, I've finally discovered the golf shoe that I've long been looking for.
They look great, they feel great, I can wear them off the golf course and, although I don't particularly understand the science, I trust it given that they've been made by Danish shoe specialists ECCO.
These swish new shoes (the white pair in the top right of the picture) arrived just as I was setting off for The Masters earlier this month and Augusta National, with all its vastness and dramatic undulations, proved the ideal testing ground.
And I can say that these new BIOM Hybrids passed with flying colours.
They were comfortable, I even wore them at the hotel I was staying in and I got plenty of "nice shoes" comments followed by requests about where they could be purchased.
The unique selling point, stress ECCO, is that the BIOM Hybrids are golf's first-ever performance shoe built atop a hybrid outsole. In other words they're the best of both worlds.
Here's what ECCO say:
Showcasing a completely anatomical last developed by scanning more than 2,500 feet, BIOM Hybrid combines ECCO Natural Motion technology with the company's patented, award-winning Golf Street outsole. The result pairs the human body's evolutionary system for absorbing impact with a non-cleated shoe bottom that provides superior durability, comfort, traction and stability on or off the golf course.
"ECCO has revolutionised golf footwear by pioneering new trends and technologies like the hybrid and Natural Motion categories," says Michael Waack, Head of Global Golf at ECCO. "With the market still chasing Golf Street, BIOM Hybrid is an innovation that takes the next step forward."
Initially developed for the premium running market, patented ECCO Natural Motion technology encourages players to land more toward the mid-foot than heel. Additional features of the ultra-lightweight BIOM Hybrid include:
* Extremely Low Profile - Brings a golfer's weight closer to the playing surface for unmatched stability, ground feel, traction and swing power
* Advanced Outsole Technology - 100 molded, wear-resistant TPU traction bars create more than 800 traction angles and have been shown to last five times longer than rubber
* Direct Injection - A process unique to ECCO in the golf industry provides superior cushioning, stability and comfort via a one-piece shoe that's built without glue or stitching
* Superior Weather Resistance- Proprietary ECCO Hydromax¿ leather treatment keeps a player's feet dry and comfortable in all conditions
* Climate Control - Triple-component ECCO Comfort Fiber System insole guarantees a cool, dry shoe interior
* Tibetan Yak Leather - Naturally soft, durable, smooth and breathable uppers made from Tibetan Yak leather that is three times stronger than ordinary leathers
Retail price
I expect you're suitably impressed by now but I guess the final question you're asking is 'how much do they cost?'
The SRP is £160 which isn't cheap of course but, remember, you're paying for absolute top quality.
Oh, and don't forget, these work! A brand new £320 driver may not!
* The ECCO men's golf collection is worn in competition by scores of international Tour stars, including Graeme McDowell, Fred Couples, Thomas Bjorn, Stuart Appleby, Thongchai Jaidee, Thorbjorn Olesen, Andreas Harto and many others.