Lee Westwood's Masters plans on track, says Kirsty Gallacher
Kirsty Gallacher catches up with Lee Westwood as Special Report returns to the Masters.
By Oli Burley - @SkySportsOli
Last Updated: 10/04/13 3:21pm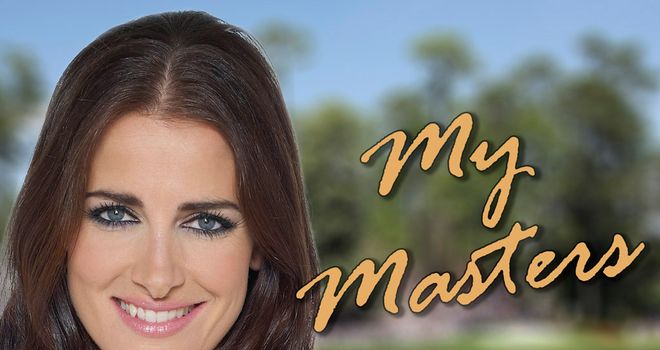 From the rain-ruined Par 3 contest to Bubba Watson's inspired victory, Sky Sports News presenter Kirsty brought you the big, breaking stories and the best analysis.
Kirsty returns to Florida this year to guide you through all the build-up, starting with Monday's Special Report - which features an in-depth interview with Lee Westwood - and the tournament itself. But there's only one place to start...
skysports.com: Tell us a bit more about Monday's Special Report and Lee's hopes for this year's Masters...
Kirsty: Lee has begun a new life in Miami. He's moved his family there and seems really happy, so he's not going to play much in Europe this season sadly, which I think is a big loss for the European Tour. But at the age of 40 he clearly feels it's the best thing to do at this stage of his career. He has a great life, as you'll see on Special Report, and that has rubbed off on his game.
He's had a few well-documented problems with his short game but he now feels much more confident with it and I think he feels happier in himself. Lee is a really nice, down to earth guy and he understandably gets annoyed when people continually mention that he hasn't won a Major because it annoys him, too. Winning one remains his priority and he feels that this year he's got a better chance than ever. As he says, 'there's nothing I can do about it but play well and try my hardest'.
skysports.com: Last year you tipped Justin Rose to do well and he obliged by picking up three birdies and an eagle on the back nine on the final day to finish joint eighth. So who should we watch out for this time around?
Kirsty: I'm going to go with Justin again because I think he's got even more of a chance this year than he had last year! Justin has really matured as a player in the last 12 months and he's now No 3 in the world, his highest ever position. He is much more confident after having such a great Ryder Cup and I just get the feeling that he could pose a real challenge. Like Lee, Justin is playing more and more in America and that is definitely paying off.
skysports.com: What was the highlight of your first trip to Augusta and did it live up to your expectations?
Kirsty: Absolutely. I was really excited when we went to do a recce the day before our coverage began because it's like stepping into another world. When you walk through the gates you are taken aback by its beauty - from the wildlife and birds to the course itself, which is pristine. It's then that you realise that this is what you've waited for as a golf fan for years. Not many people get to go, so it was very special to be there for the whole week. I was in heaven. The clubhouse is very special - as is the area outside the clubhouse where all the members congregate. Going there was a dream fulfilled.
skysports.com: We were all ready for the Par 3 tournament only for the rain to arrive. What problems did that pose you as a presenter?
Kirsty: It was really, really frustrating for everyone and annoying for me too because our coverage was going so well. The Par 3 tournament signals the beginning of the Masters and everything was going to plan but then the wind began to swirl and we got a bad feeling, particularly as the weather forecast hadn't been good. Obviously you are not supposed to move around on the course when the weather is that bad but we had to get back to the studio as quickly as we could and come up with a 'Plan B' because suddenly we had an hour-and-a-half to fill. It was live TV at its best and most scary! Looking back I can laugh at it now.
skysports.com: The tournament itself went down to the wire. Did you get a glimpse of Bubba Watson's incredible shot to the second play-off hole?
Kirsty: Although I was there on the course I couldn't quite see him hit the ball but I was near a monitor and experienced all the drama as it unfolded before me. He had a terrible lie and showed an immense amount of bravery and guts to attempt the shot, let alone succeed. When I saw the place he was hitting from I thought 'if he can get out of that, he deserves to win the Masters' so the victory was thoroughly deserved.
skysports.com: We're running a poll on skysports.com to find the greatest Masters shot of all time - so would Bubba's shot get your vote?
Kirsty: It would come a very close second because I'd have to choose Sandy Lyle's shot from the bunker on 18 which put him on track to win the 1988 Masters. I was around eight years old at the time and was absolutely gripped as Sandy, who is a family friend, played that shot. We were all gathered around the TV and it was almost unthinkable that he would birdie the last from where he was, but he did it and his reaction and our happiness for him will stay with me forever.
Kirsty will be live in Augusta for Monday's Special Report: The Masters on Sky Sports News at 7.30pm when she'll take an in-depth look at this year's tournament and the title chances of Lee Westwood as he settles into his new life in Florida.
The Masters on Sky Sports
Sky Sports will show all four days of the Masters (April 11-15) live and in high definition, while there will also be special 3D coverage for certain portions of the event. Check out our Augusta microsite here for more details, as well as news, features, blogs, player profiles, and videos.
Watch last year's Special Report - Mastering Augusta by clicking here.