McIlroy revels in another title as he claims Harry Vardon trophy
Rory McIlroy was a contented man after claiming the Harry Vardon trophy for the first time in Singapore on Sunday.
Last Updated: 12/11/12 7:55am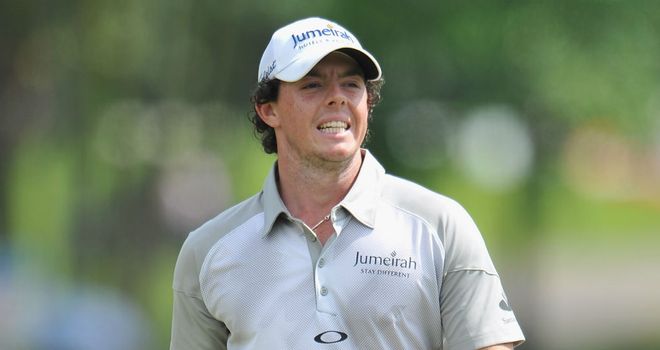 A 30-foot eagle putt on the final green at the Barclays Singapore Open made the 23-year-old world No 1 the youngest money list winner since Sandy Lyle in 1980.
But it was only when 19-year-old Italian Matteo Manassero also eagled the same hole more than two hours later that McIlroy could crack open the champagne.
Already with the PGA Tour title in the bag, McIlroy emulated the double achieved by Luke Donald last season when Manassero beat South African Louis Oosthuizen with a 12-foot putt at the third play-off hole.
If Oosthuizen had won he could still have caught McIlroy, but instead Manassero became the first player to win three times on the circuit before the age of 20. Not even Seve Ballesteros managed that.
McIlroy stormed through to third place with a closing six-under-par 65. "It really is hugely satisfying to finally become the European number one, especially after finishing second two of the last three years," he said.
"It has always been one of my goals ever since securing my Tour card five years ago, but then to also end the year as both European and PGA Tour number one is just amazing.
"I feel so proud and humbled to join so many fabulous names in Europe who have won the Order of Merit.
"To be able to accomplish this goal with still two events remaining means that I can head to my UBS Hong Kong Open defence and the DP World Championship Dubai without that added pressure and just really enjoy my golf.
"Winning a second major championship already made it a fabulous season, but then to follow Luke Donald in becoming number one in both Europe and the States is the icing on the cake after a fabulous season.
"I set myself a number of ambitious goals at the start of the year, and to have ticked so many of the boxes feels great."
"A lot of hard work went into this and I am really proud of what I've achieved in 2012. I would like to give special thanks to the team around me for all the support they have given me throughout the year.
"I've still got two events remaining this year and the goal is still to try and win at least once more before the end of the year. Beyond that I'm looking forward to a good break over the winter!
"I've got a healthy lead in the world rankings, but with so many very good players on both sides of the Atlantic it will not be a time to be resting on my laurels. My goal is to push on in the new year.
"Monty (Colin Montgomerie) won eight Order of Merits in his prime and I have won one, so there is plenty of ground to make up.
"Also Jack Nicklaus won 18 Majors and I now have my name on two, so targeting the majors will still be my main focus next season."
Adrenaline
Tournament winner Manassero said: "It's been an extremely long day. The adrenaline kept me going and fortunately the key, I think, it was starting really well this morning after coming back on the course. I started with some birdies in a row which was very good."
Much has been expected from the Italian following the records he set when he burst on the scene several years ago: youngest British Amateur winner ( aged 16), youngest golfer to play in the Masters and make the cut (16), youngest European Tour winner (17).
Still a teenager, Manassero admitted that his third year on tour has been a struggle. He has not been back to the Masters since his debut and he failed to qualify for this year's Open Championship. His last title had come last April at the Malaysian Open.
"It's been very frustrating at times," he said. "I had to be more clear in my mind thinking that I started my career really well, but it's very early. I've got many years. This is the time in which I really need to step my game up, make technical changes and adjusting myself.
"I didn't have some great results for something like a year, a little ups and downs. Obviously, it was frustrating."