KLM inside track
Ahead of the KLM Open at Kennemer Golf Club, we speak to Dutch journalist Ruben van der Zaag.
Last Updated: 10/09/13 3:04pm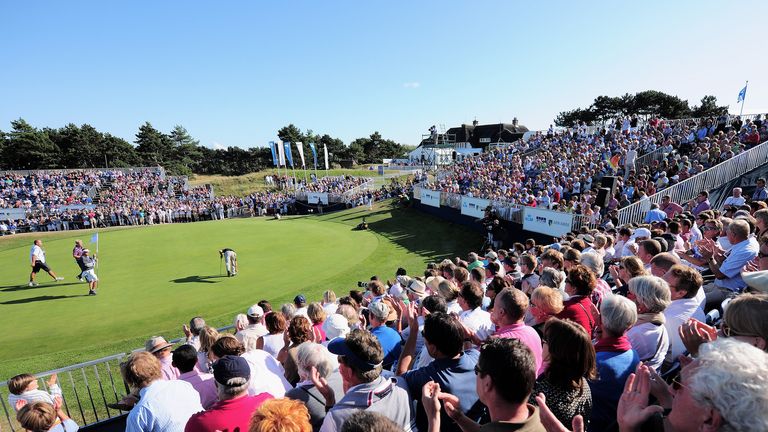 Sky Sports: First, how popular is golf in the Netherlands? Where would it rank in terms of most watched sports?
Ruben van der Zaag: Golf is definitely popular nowadays. In terms of members it's the third sport in the Netherlands (after football and tennis). I think we're close to 400,000 golfers. In watched sports it's a different story though. There is Sport1 that has a golf only channel, but I don't know how many viewers they get to be honest.
Sky Sports: How big will the crowds be this week?
Ruben: Crowds will be big. The KLM Open is one of the biggest tournaments on the European Tour spectator-wise. I think there are about 15,000 people every day.
Sky Sports: Can you describe the course. In terms of length, it looks very short but does it play that way?
Ruben: It's not too long indeed. But it is a links course and the wind is definitely a factor. Rough is deadly. I played there three weeks ago, and every time I hit it in the rough, I could only hack it out. That is if I could find it. Being straight off the tee is going to be a major factor. On the other hand, when the wind is down, it's easy to score.
Sky Sports: Simon Dyson has won both here and at Hilversum. So are there similarities between the two courses?
Ruben: Not really. The only thing is that you have to be straight off the tee on both courses. Dyson just has a thing for Holland, loves to play here and feels at home.
Sky Sports: Any theories on why British players do so well here (the four tournaments between 2006 and 2009 were won by Simon Dyson (twice), Darren Clarke and Ross Fisher)?
Ruben: Dyson, see above. Clarke and Fisher, just proper players. Obviously being able to play in the wind (Clarke, Portrush) is a big plus. Don't have any other theories really!
Sky Sports: Maarten Lafeber won this title in 2003 so, Ruben, can you takes us through the candidates for a home win this time.
Ruben: First, the established names....
Joost Luiten: Our best player at the moment. In pretty decent form. He's a real ball-striker, which helps on this course. If he has his week, he could win it. Said he has to be careful to keep his focus on his game, not too much on everyone who wants something from him this week.
Robert-Jan Derksen: Terrible track record in the Dutch Open. Think his best performance was a 12th place two or three years ago. Don't expect him to do well this year. Not in great form and has been struggling with some injuries recently.
Maarten Lafeber: His win was in Hilversum, not in Zandvoort. He likes the other course better than this one. Having a very bad season so far, and had te pull out with a bad back two weeks ago. He'd be happy to make the cut...
Ruben: Now, some of the younger guys who are playing on the Challenge Tour.
Wil Besseling: Normally he should have been playing in the Urkraine for the Challenge Tour event. Wants to get his European Tour card through CT top-15, but is not anywhere near that yet. Is playing this week because he wants to get attention of sponsors. Also hopes to have one good week that can help him out big-time budget wise.
Inder Van Weerelt: Former European Tour player. Studying to be a teaching pro now. Has had a decent year so far in national tournaments.
Xavier Ruiz Fonhof: Slightly unknown player, who's been having a great year on the National tour. I don't expect him to be able to compete at this level though.
Robin and Richard Kind: Brothers. Younger one Robin is having a good year on the German-based Pro Golf Tour (former EPD) and will play Challenge Tour next year. Richard was the best Dutch player last year and is playing the Pro Golf Tour as well.
Jurrian Van Der Vaart: He plays in the US on the eGolf Pro Tour nowadays. He has an 'okay' season, but is not in his best form. Check out his twitter! @jurvdvaart
Sky Sports: And, finally, Ruben, who is your tip this week?
Ruben: I think I would put my money on Colsaerts or Jimenez!