The Masters: Billy Foster on preparation, the key skills and his favourite memories
Last Updated: 27/03/14 9:25pm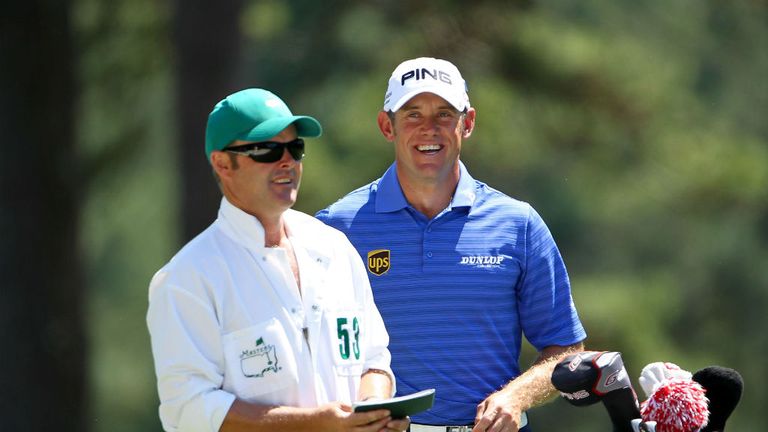 After missing last year's Masters with a knee injury, Billy Foster is thrilled to be heading back to the hallowed turf of Augusta National.
The caddie legend has twice gone close to tasting Masters victory with Lee Westwood in recent years and has built up an incredible vault of Augusta stories since his first visit in 1991 when he admits he was "taught" the way to navigate the course during epic seven-hour practice rounds with the great Seve Ballesteros 
Now back with old sparring partner Westwood, Billy is hoping he can experience the ultimate Masters thrill and celebrate victory on the 18th green.
Sky Sports: How excited are you to be back at The Masters?
Billy Foster: I'm just happy to be back caddying full-time, full-stop. Being back with the lads on tour is like being back with my second family. It's been tough, laying about doing nothing. The Masters is obviously a special event and I'm looking forward to getting back there. Last time I was there in 2012 Lee had a chance to win but the putter was cold that week. Bubba beat Louis Oosthuizen in a play-off but Lee had a great chance to be in that play-off but ultimately missed some putts coming down the stretch.
Sky Sports: Talk us through your routine from when you arrive in Augusta on Sunday night to tee-off on Thursday.
BF: I fly in from Houston on Sunday night and Monday, I would imagine, Lee will have a fairly quiet morning so that will give me the chance to go to the course, register and get the badges and stuff. Then I'll go to the caddyshack, sort my overalls out, sort the locker out and get my yardage books to see if there are any changes on the golf course. Then I'll probably have a walk out and scout around for a couple of hours. I'll scout around all day if Lee decides to have a day off on Monday but normally he would come up about 11 o'clock and practice and then he might play nine holes later in the afternoon and probably another nine holes on Tuesday. In the spare time that Lee's not practicising or playing the course, I'll be doing some homework, checking yardages and if there are any minute changes I'll go over and look at them. Wednesday, again Lee will probably play nine holes early and then he'll probably play the Par 3 Competition in the afternoon and normally someone else caddies for him, which is a little treat for somebody.
Sky Sports: Wasn't it Ant and Dec in 2012?
BF: Yes, so I'll take them to the locker room, sort them out with a uniform and put 18 bottles of water and five extra clubs in the bag to weigh it down and send them out there! During the tournament I'll go up about 8 o.clock in the morning (if it's a midday tee-time) and walk around the golf course and look at the flags, see where they're situated that day. Obviously I could stay in the locker room and look at the pin sheet and draw the dots in my book where I think the holes are and I'd be fairly comfortable with that. But I actually like to go out there and visualise the pin and see where it is and reassure myself about the areas that you're trying to put the ball in as there are obviously pin positions out there that you cannot afford to attack and you just have to box clever and find the areas that will leave you the easiest putts. Seeing it for yourself means that when you're making the ultimate decisions with Lee you're extra confident that you're saying the right things.
Sky Sports: Breaking down the game into driving, iron play, short game and putting, which skill-sets are most important for success at Augusta?
BF: I think you need to be 10 out of 10 for all of them. Being able to handle the greens is important but straightness off the tee is too. The thing about Augusta is that if you get the ball in the right positions on the fairway then it obviously puts you in the perfect spot to attack flags or control the spin of your second shot into the green which is vital. That's why Lee does well because he has been such a great driver and his iron play is great. If you're coming out of the trees or from the rough it's hard to control your ball and stop it quickly on the greens. Accuracy off the tee is very important.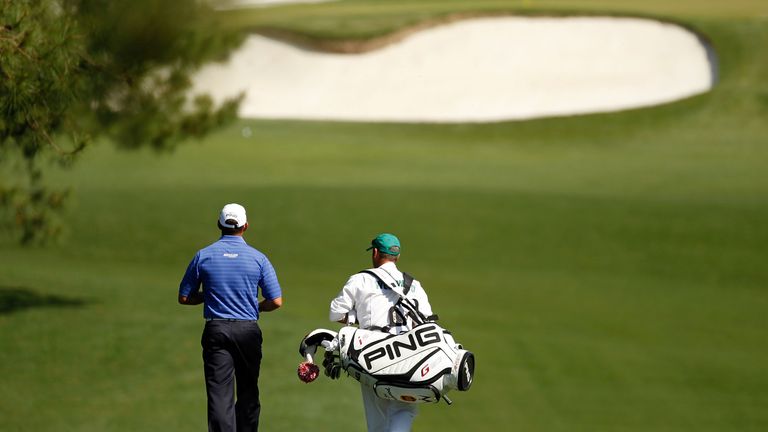 Sky Sports: There's always that sense at Augusta that everything is immaculate and everything has to be so precise so does that make it a tough week for a caddie?
BF: It's undoubtedly the toughest week of the year for players and caddies. Not only is it physically demanding with the undulations of the golf course, it's the most mentally demanding golf course we play all season because the margins for error are so severe. If you get the wrong side of a slope by a couple of feet you could be 80 feet away. So, for a caddie, you're absolutely mentally drained on a Sunday night when you're putting that pin in on the last green. You're just thankful that you've survived another week at Augusta. You can't wait to get to the 73rd hole, that's for sure! 
Sky Sports: The last four years the winning scores have been double digits under par (-10, -14, -16, -12) but back in 2007 Zach Johnson won with one-over. Before that week's tournament did you get a feeling it was going to be extra tough?
BF: It always plays its toughest when it's drier and firmer and faster. The firmer the greens, obviously you can't control the ball and stop it where you'd like and coming out of the rough you're struggling to stop it on the greens at all. Zach's very accurate, as we all know, and he's possibly the best wedge player on tour. He putts great too so when everyone was missing fairways that year, it played right into his hands. Obviously when it plays firm and fast, length off the tee isn't as important.
Sky Sports: What are the hardest holes on the course in your opinion?
BF: I would say 4, 7 and 11. Probably the 11th is the tougest with 4 and 7 very close behind. The 7th used to be a birdie hole when it was 70 yards shorter and you were hitting a wedge in. Now you've got to hit a driver through a real funnel of trees, it's a tight fairway sloping left to right and now you're hitting a six or seven iron, off sometimes a downslope, into a green that was built for a wedge because it's only 17 yards deep in the middle and it's only 12 yards deep on the right-hand side. And if it's firm you're not stopping it on the green if you're coming out of the rough, that's for sure. The bunkers are brutal around that green so, all of a sudden, you're suddenly seeing a lot of double bogeys on that hole now. It's a brute.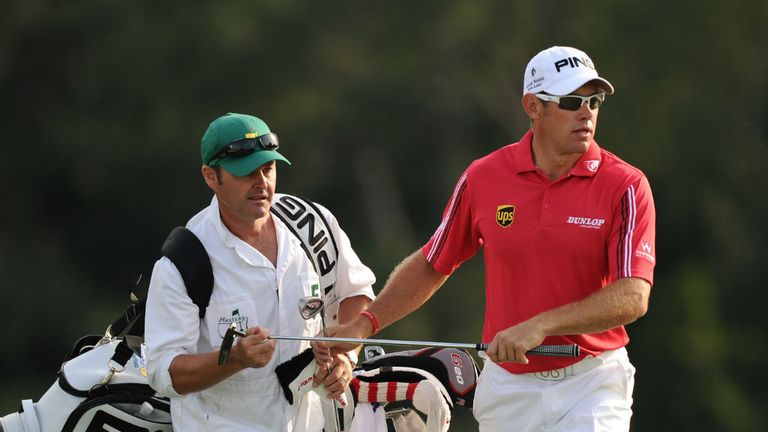 Sky Sports: We haven't had a British/Irish winner since Nick Faldo in 1996 so how would you rate their chances this year?
BF: It's pretty much the same as any other year. There's a couple of our lads not in the greatest form but Rory looks back to something near his best even though he hasn't closed one out yet in 2014. Augusta suits his eye and his game so I can see Rory featuring. As for the others Luke (Donald) is showing a little bit of form, Justin (Rose) is the US Open champion and Lee has a great track record around there and hopefully his game will come into shape and he'll give himself some extra confidence. There's every chance we could have one or even two of those lads featuring in the shake-up.
Sky Sports: How do you rate Tiger Woods' chances given his back problems and poor results this year?
BF: You can never rule Tiger out but it all depends on his back. If he's really struggling with the back spasms he might not even make it to Augusta. Golf is all about confidence and momentum and he hasn't got much of it going into the tournament so it will be hard. But it's Tiger Woods so you show him a chink of daylight and he'll charge through the door. He's been the best player of our generation so you can never rule him out.
Sky Sports: Is it still fair to regard Tiger as the man to beat to Augusta - especially as he hasn't won there since 2005? Should that mantle now go to three-time winner Phil Mickelson or defending champion Adam Scott, whose recent record in the majors is superb, or Rory?
BF: To be fair, I don't think you can say anyone is 'THE MAN' to beat. But I'd say there are half-a-dozen guys who you know who are going to be up there as Augusta normally brings the cream to the top of the milk... the class players will find a way to the top on such a demanding course.
Sky Sports: What's the most destructive shot at Augusta National when you're under pressure coming down that famous back nine?
BF: A lot of the tee-shots require a player to hit a strong drawer so if you overdo it there can be big trouble. At the 10th a big pull would hit the trees just 80 yards off the tee; at 13 if you pull it marginally you'll catch the trees and find the creak and azaleas down the left; at 14 a pull will hit the tall trees maybe 150 yards off the tee; at 17 a pull will leave you blocked out for the second shot and struggling to reach the green and 18 you don't want to be pulling it left either. So the big pull left is a dangerous shot on that back nine. 
Sky Sports: Finally, Billy, what are some of your favourite memories from past trips to Augusta?
BF: There are that many stories with Seve, I could write a whole chapter in a book! I remember when he went to rub his putter with a towel on the first tee in a parctice round to try and warm it up. He thought he could bend it a bit more upright and it snapped in half and he fell face first on the turf on the first tee at Augusta. Another funny one was Mark Calcavecchia on the 12th green en route to making an eight when he was doing well in the tournament. He was fumbling in his pocket for a coin to mark his ball but all you could hear were his tee-pegs rattling around as he couldn't find the coin. Anyway, he got that angry and frustrated that he ripped his pocket and split his trousers from his hip to his knee - a two-foot gaping hole and all the tee-pegs and coins fell on the green. So it's the funny stories that always spring to mind but the chances to win are some of my favourites too. The one that would really stand out above all others was if you were stood on the green after your man's just holed the winning putt. You never give up hope that one day that might happen.