Sir Mo Farah 'unconcerned' over injury scare ahead of 5,000m bid
By Press Association
Last Updated: 05/08/17 11:42pm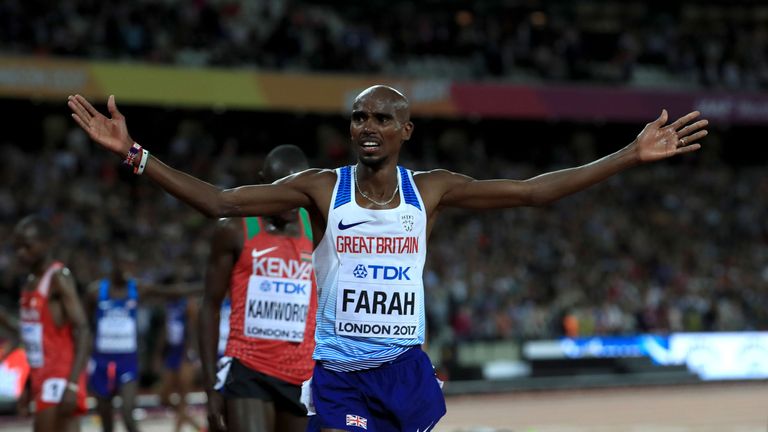 Sir Mo Farah has shrugged off his injury scare and warned his rivals he is as ruthless as ever as he closes in on a World Championship double.
The four-time Olympic champion won his 10th global title on Friday after a thrilling defence of the 10,000 metres at the London Stadium.
Farah won in a sprint finish ahead of Joshua Cheptegei and Paul Tanui to take the world crown for the third time in a row.
He was clipped twice heading into the final lap, suffering a cut after being caught by a runner's spikes, and also hurt his knee but declared he will be fit for Wednesday's 5000m heat.
Farah said: "It was quite a late one but I went through the whole system - doctors, scan and got a few stitches.
"But it's all good. It's nothing that concerned me and I've got enough days to recover, rest up, to be ready.
"It's just the three little ones [stitches]. I'm not worried about that. I'm more worried about the knee, it's just slightly banged up.
"I got spiked somewhere in the race. It's fine, it happens. But the knee was when I nearly tripped at the bell twice and I happened to catch my other knee. It's like when you're falling but catch it. It's just a bruise and puffed up.
"Have I had a race that hard and that banged up? No. It was difficult, it was hard, the guys gave it to me - each one of them. It felt like me against the whole world and it was, but at the same time they were working as a team.
"Being smart has helped me to get to where I am. I'm not as fresh as I was six years ago, five years ago. If you look in my diary from then, big difference.
"I just have to do a bit more here and there. There are days when you come to the track and you are knackered, nothing in the body. But if you want it, you have to do the work."
Farah takes it as a compliment his opponents ganged up to try to spoil his farewell party.
He said: "Yeah, that is good. For many years they've been saying how they're going to beat me and even some of the papers, particularly Geoffrey Kamworor, was like 'it's my turn, I'm going to beat him'. He didn't even get a medal.
"Yeah [they wanted to beat me] but at least back it up with something, I guess."
The 34-year-old will now focus on defending his 5000m title before retiring from the track for the marathon following the Zurich Diamond League final at the end of the month.
Farah is likely to use the home crowd during the race again after getting them going before and during the 10,000m as mind tricks to upset his rivals, and insisted his ruthless streak remains.
He said: "People take my calmness for weakness. If I was weak do you think I would have won? Don't judge people by the cover. I am who I am.
"I deal with things like Mo wants it, like I want to do it. A lot of times people say you are nice and try to take advantage, but you have to be ruthless on the track and off it sometimes.
"It was just spur of the moment stuff where I could see the crowd looking at me to see where I am. When you're not running that hard in a race, you are aware of a lot more.
"In the last six, seven or eight laps you're in the zone. So it was early on and I was trying to use the crowd to keep me going. I was thinking 'yeah guys, they are not cheering for you'."