Norovirus cases hit 2017 World Athletics Championships in London
By Mark Ashenden
Last Updated: 08/08/17 2:39pm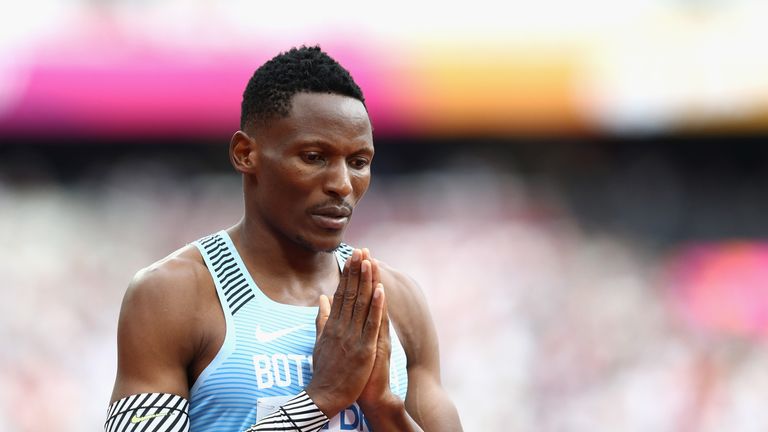 More cases of norovirus have been identified after an outbreak of illness at two London hotels at the World Championships.
Botswana runner Isaac Makwala was forced to pull out of his 200m heat on Monday night with organisers saying a number of teams had suffered gastroenteritis at their official hotel.
Several German and Canadian athletes staying at the Tower Hotel fell ill last week. German triple jumper Neele Eckhardt collapsed but was able to compete on Saturday, and recovered to take part in Monday's final.
A spokesperson for the Tower Hotel insisted it was "not the source of the illness".
Sky sources also confirmed on Tuesday afternoon that a second hotel housing athletes and staff attending the athletics championships had been struck by norovirus.
Public Health England London deputy director for health protection Dr Deborah Turbitt said: "PHE has been notified of a confirmed outbreak of norovirus among people associated with the World Athletics Championships.
"We have so far been made aware of approximately 30 people reporting illness and two of these cases have been confirmed as norovirus by laboratory testing.
"PHE has been working closely with the London 2017 organisers and the hotel to provide infection control advice to limit the spread of illness."
Norovirus, an unpleasant but rarely serious illness, is often caught through close contact or by touching contaminated surfaces or objects.
It was not immediately clear if Botswana runner Makwala was staying at the hotel in question but he revealed that other athletes in his accommodation had been suffering.
"According to IAAF medics I am apparently suffering from food poisoning which has affected several other athletes in the athletes' hotel," he wrote on Facebook.
"Lets hope they will allow me to run my final tomorrow."
Makwala is one of the favourites for the 400m and would normally be scratched from the final after pulling out of another event. As he missed the heats on medical advice, however, he would be able to run, if fit.
The 400m final takes place on Tuesday evening.
The Tower Hotel stated that environmental health officers had investigated the problem and the International Association of Athletics Federations (IAAF) had shown their establishment was "not the source of the illness".
The hotel said: "We have followed strict hygiene protocol, ensuring that those affected are not in contact with other guests and all public areas have been thoroughly sanitised."
Ireland's 400m hurdler Thomas Barr was also forced out of his semi-finals on Monday.
"I wasn't feeling great and later in the night I was hit with a bad bout of gastroenteritis," Barr said in an Athletics Ireland statement.
"My whole year has been focused on the World Championships ... and I'm gutted to have to withdraw."