NBA: Miami Heat's 13-game winning run on the line against New York Knicks
The top two teams in the Eastern Conference will go head-to-head when the New York Knicks host the Miami Heat on Sunday.
Last Updated: 02/03/13 10:14pm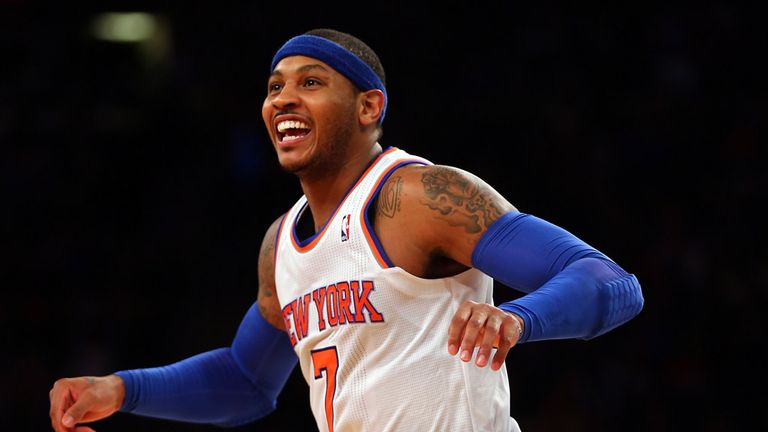 Defending NBA champions Miami, who top the conference and own the second-best record in the league, will be looking to extend their winning run to 14 games.
But they have been beaten by the Knicks in both of their previous meetings this season, New York gaining some measure of revenge for their play-off series defeat to the Heat at the end of the 2011-12 campaign.
Heat star LeBron James averaged 29.7 points, 7.5 rebounds and 7.8 assists per game throughout February and is on course for another run at the MVP award if he maintains that form until the end of the regular season.
But James had one of his worst scoring performances of the season in a 98-91 success over the Memphis Grizzlies last time out, finishing with just 18 points and shooting four of 14 from the field.
It is unlikely he will be off the boil for a second straight game but if he is, Dwayne Wade and Chris Bosh - the other two member of the 'Big Three' - will need to fill the void.
James is used to being the centre of attention but will be in an even brighter spolight at Madison Square Garden as he goes up against Knicks superstar Carmelo Anthony.
The pair's careers have always been intertwined, given they were drafted in the same year and were viewed as the new faces of the NBA at the time.
Anthony currently leads the league in scoring at 28.6 points per game and with reigning Defensive Player of the Year Tyson Chandler dominating again on the other side of the ball for the Knicks, hopes of ending a title drought stretching back to 1973 are being gradually raised.
Sunday will offer New York a chance to prove their credentials against the hottest team around while the contest will also give us the latest installment in the Carmelo and LeBron story.