Prosecution claims witness heard 'non-stop shouting' at Oscar Pistorius home during second day of bail hearing
A witness heard "non-stop shouting" coming from the home of Oscar Pistorius before his girlfriend was shot dead.
Last Updated: 20/02/13 1:52pm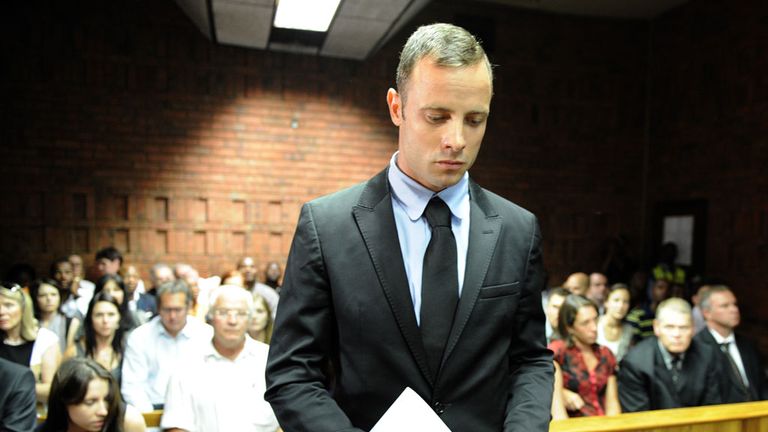 The Olympic and Paralympic star returned to Pretoria Magistrates' Court this morning for the second day of his bail hearing, which was delayed by more than an hour as people queued to get in.
Pistorius is charged with the premeditated murder of Reeva Steenkamp.
Magistrate Desmond Nair had ruled the case was the most serious 'schedule six' offence, meaning the defence will have to prove extenuating circumstances that would justify granting bail.
On Tuesday the athlete, via a sworn affidavit, denied murdering the model in the early hours of 14 February and claimed he had mistaken her for an intruder.
Gerrie Nel set out the case for the prosecution when the hearing resumed and said a witness had testified to hearing shouting between 2am and 3am.
But under later cross-examination by Pistorius's lawyer Barry Roux, investigating officer Hilton Botha admitted the woman who claimed she heard loud voices during that time lived 600m away.
Steenkamp, 29, was shot three times and the court heard that bullets hit her in the arm, hip and head.
Botha revealed unlicensed .38 calibre ammunition was found at the property and called for the Pistorius to be additionally charged with a weapons violation.
He also said that testosterone and needles were found in Pistorius' bedroom - but the defence claimed the substance was a legal herbal remedy and accused Botha of putting the "worst possible interpretation" on the evidence.
Under further cross-examination Botha admitted he could find no inconsistencies with the version of events put forward by Pistorius and acknowledged that the autopsy showed no signs of assault or of defensive wounds on Steenkamp.
The hearing continues.