UFC Fight Night 39: Roy Nelson knocks out 'Minotauro' Nogueira in Abu Dhabi
Last Updated: 12/04/14 5:22pm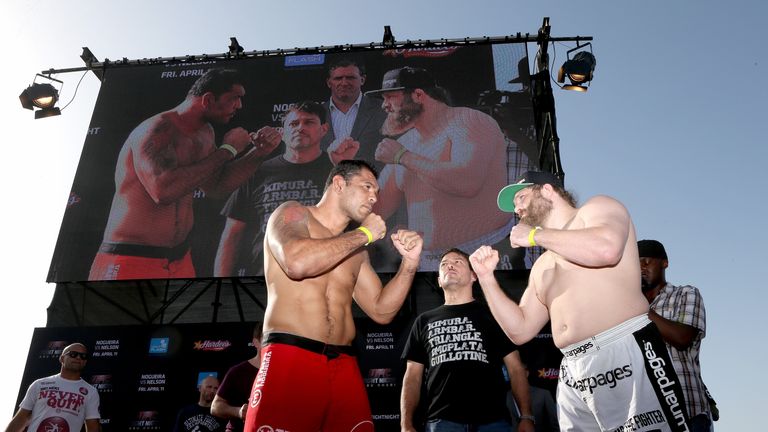 Roy Nelson flattened Antonio Rodrigo 'Minotauro' Nogueira in the first round after devastating him for three minutes of their heavyweight fight in Abu Dhabi on Friday night.
Two early knock-downs by Nelson set the tone and he ended the fight with an overhand right that crushed the Brazilian legend and raised concerns about his future in the sport.
For Nelson, it was a timely reminder of the power in his hands after two straight losses prior to this eye-catching return to the win column.
Nogueira was floored initially by an uppercut and overhand right combination but Nelson, eager to avoid grappling on the ground where his opponent is most comfortable, stood back and waited to resume the fight standing up.
More punishment awaited as Nelson threw his hefty frame into another overhand right that sent Nogueira flying. Wobbly on his feet as he feigned recovery, Nogueira was still badly shaken.
Stalking his prey in the desert, Nelson landed the fight-ending blow at 3:37 of the opening round and casually strolled off before his foe had crumpled to the floor.
Rarely had 'Big Nog' been dominated in his iconic career that boasts a remarkable 21 submissions and championship contests against a who's-who of MMA's elite. It also marks the first time he has lost consecutive fights.
Paying tribute to his fallen foe, Nelson said: "He's a legend
"If it wasn't for him, we wouldn't be fighting in MMA."