MLB: Los Angeles Angels topple Philadelphia Phillies to close in on Oakland Athletics
Last Updated: 14/08/14 6:55am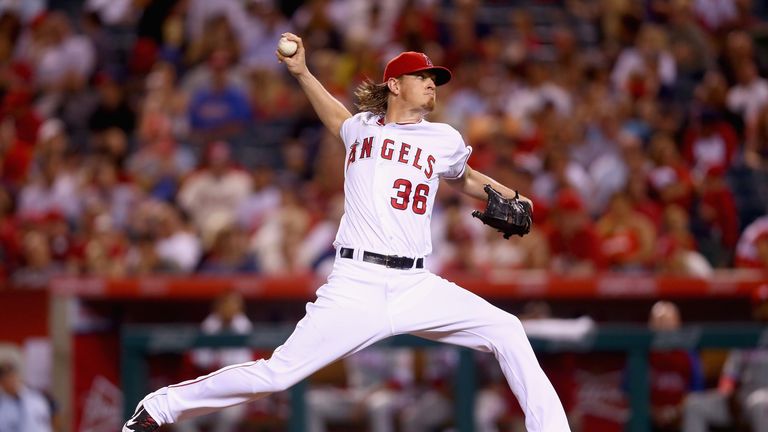 The Los Angeles Angels cut Oakland's lead in the American League West to 2.5 games with a 4-3 victory over the Philadelphia Phillies.
Howie Kendrick's two-run single sparked a three-run sixth inning for the Angels, and that was all Jered Weaver needed to earn his 13th win of the season.
And that allowed them to close the gap as the Athletics were shutout in a 3-0 loss to the Kansas City Royals, with Jason Vargas allowing only three hits in a complete game.
That keeps the Royals top of the AL Central, a half game clear of the Detroit Tigers, who kept pace by beating the Pittsburgh Pirates 8-4.
But while those races remain tight, the Baltimore Orioles have a commanding 7.5 game lead in the AL East after homers from Jonathan Schoop and Adam Jones lifted them to a 5-3 victory over the New York Yankees and the second-placed Toronto Blue Jays were shutout 2-0 by the Seattle Mariners.
Kyle Gibson allowed only one run in 7 2/3 innings as the Minnesota Twins beat the Houston Astros 3-1, while the Tampa Bay Rays teed off on the Texas Rangers to support Chris Archer, with Matt Joyce, Sean Rodriguez and Brandon Guyer homering in a 10-1 win.
There was little change in the National League races, although the the San Francisco Giants were able to take a little bite out of their deficit out west, moving to within five games of the Los Angeles Dodgers with a 7-1 win over the Chicago White Sox.
Rookie phenom
The Dodgers were edged out 3-2 by Atlanta after Braves closer Craig Kimbrel got himself out of a jam in the ninth inning.
Atlanta remain five games behind the Washington Nationals, who beat the New York Mets 3-2 with Asdrubal Cabrera hitting his first homer since being traded from Cleveland.
The Milwaukee Brewers could not take advantage of Pittsburgh's loss as they too went down, beaten 4-2 by the Chicago Cubs as rookie phenom Javier Baez stayed hot, clubbing his first Wrigley Field homer.
That keeps Pittsburgh 1.5 games back in the NL Central, with the third-placed St Louis Cardinals moving to within two games with a 5-2 win over the Miami Marlins.
The Arizona Diamondbacks and Cleveland Indians split a double-header, with Cleveland shading the opener 3-2 before Arizona won 1-0 in 12 innings in the nightcap.
Recent call-up Rymer Liriano hit his first Major League home run as the San Diego Padres beat the Colorado Rockies 5-3, while Mike Napoli's two-run shot helped the Boston Red Sox beat the Cincinnati Reds 5-4.