Christie moving on
Elise Christie returns to action at the ISU World Short-Track Championships on Friday, hungry for success after her Winter Olympic disappointment...
Last Updated: 13/03/14 3:48pm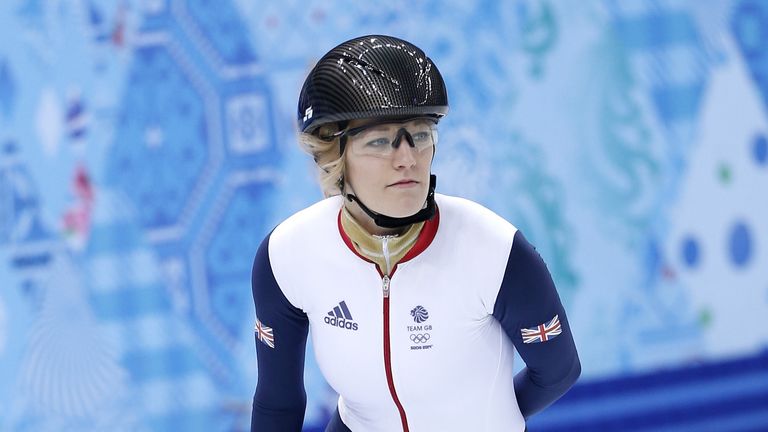 On Friday, three weeks to the day since Elise Christie's Olympic dream came crashing down in Sochi, the British short-track speed skater will be back in action at another major competition, the ISU World Championships in Montreal.
yIt is a very quick turnaround for the GB team and after the way things ended up Sochi, some may be surprised to see Christie preparing to don the skates again so soon.
However, the Sky Academy Sports Scholar believes she is in the best form of her life and is keen to have something to show for it after three penalties denied her that chance in Russia.
One person's opinion shouldn't take away an Olympic dream.
Elise Christie
"I know that I was in the best form of my life really at the Olympics," said Christie. "I've never been able to beat Seung-hi Park before and I skated round the outside of her in the 1000m – and she went on to win the gold medal. So I feel like I'm in good form so I'd like to go away and try and use that form to get something this time."
Understandably, the video referee's controversial decision to disqualify her from the 1000m semi-final still rankles for Christie and she remains confused by the fact that it was an out of date rule that was used to penalise her.
"Firstly, you don't often see both skaters from a crash getting a penalty, that's a shock anyway," she remarked. "Someone generally is to blame and obviously it is all down to opinion over who is to blame. That was the first thing.
"Secondly, the other decisions fair do's he's made a decision on the spot and I respect that he has to make a decision there and then and it's a tough call to make but his decision was terrible.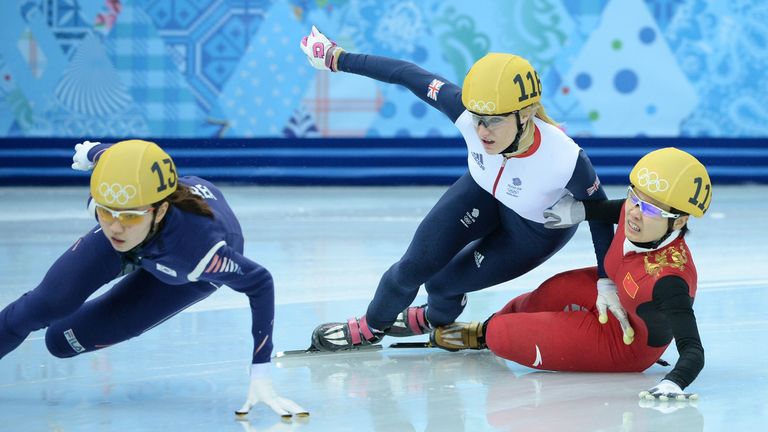 "It didn't really make any sense to what the new rules are. It would have made sense to the old rules in short-track, they changed quite recently."
"About three years ago there was a rule called cross-tracking which meant if someone went to come up past you, you couldn't change your direction to stop them basically. Also if you were going up the inside you had to have almost no contact whatsoever but they changed it because there wasn't enough overtaking going on.
Christie in Montreal
Friday - 1500m & 3000m relay heats
Saturday - 500m
Sunday - 1000m & 3000m relay final
"Now it's basically, if you're the overtaking skater and you equal to the other person then you have the right of way and cross-tracking got taken out of the rules because they didn't want to DQ people for trying to hold their ground basically.
"He DQ'd me down the straight for basically cross-tracking, it wasn't the word he used, but it was basically crossing-tracking."
The decision looked incredibly harsh even to the casual viewer but despite it coming on the back of two earlier penalties in the 500m final and the 1500m heats, the 22-year-old from Livingston doesn't hold it against the video referee – even if she believes he made the incorrect call.
"I'm not annoyed at the referee, it was his opinion that I was to blame but I don't agree at all," Christie added. "I got knocked off my feet, I think it was a definite advancement and 90% of people thought it was an advancement. Somehow it wasn't."
Christie was unable to appeal the decision and thinks that establishing an appeal system in future is something that needs to be looked at to avoid unnecessary controversy in the coming years.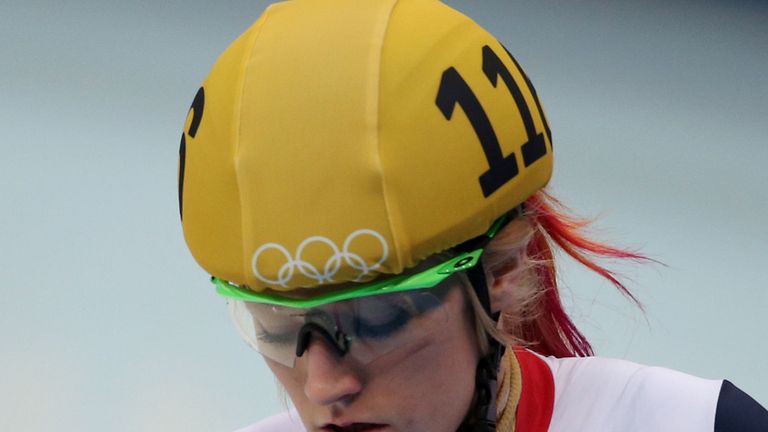 "It's a difficult one," she admitted. "I do think it should be the same referee all year, then there'd be more consistency.
"I think you should have the right to appeal because there are four referees on the ice and generally there's only one making a decision – well there are three standing on the ice and one video referee.
"At times he will go to the other referees and discuss it if he can't make a decision but it's not often that the other referees come into play – obviously if you have four people with different opinions then it's a problem.
"But I think you should be able to appeal and it should then go to all four referees and then they can decide between them. One person's opinion shouldn't take away an Olympic dream. That's how I feel but I can't change it now."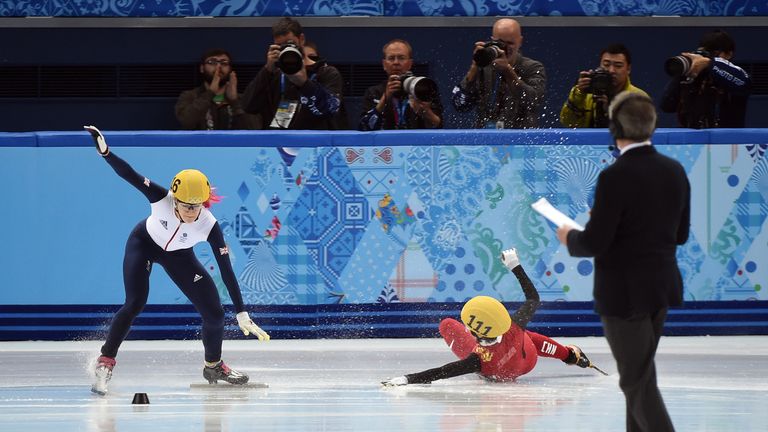 If there was a positive to be taken for Christie then it was the support the Nottingham-based skater received from the British public during the Games, something that she admits she only found out about through other people having taken herself off social media as a result of cyber-bullying in the aftermath of the 500m final.
"I don't think I would have made it back on top form for the 1000m without that," she said of the support. "I hit an ultimate low after the 1500m day because I'd had the two disqualifications and the cyber stuff and I kind of hit the lowest point of my career.
"I got on the ice for training and I skated terribly because I was thinking 'I don't love it anymore, it's killed me.' Then everyone back home, I didn't see a lot of it but I heard about it, I heard that everyone was behind me and I thought 'that's not who I am, I don't give up. I'm going to come back and try again.' Especially for the people who have gone out of their way to give me that support. I couldn't believe so many people had been so supportive."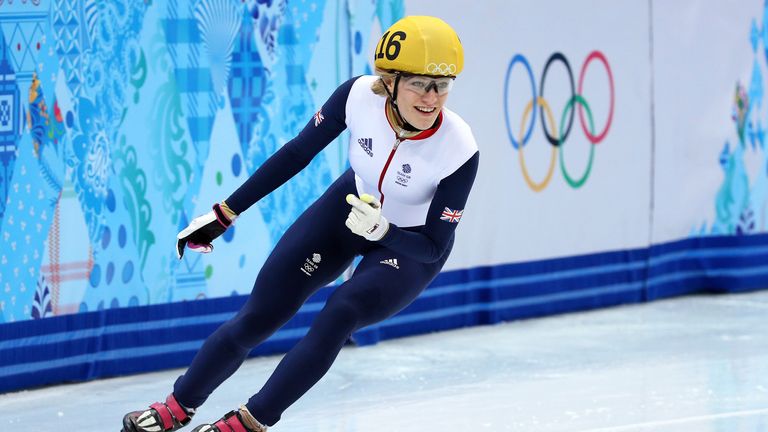 There will be plenty of time for Christie to try and repay those who have supported her and she feels that she is unlikely to peak until the next winter Olympic Games in Pyeongchang.
"It does take about 10 years to reach your maximum performance in short-track and have the experience levels that you need," explained the 1000m European champion. "Sochi was never my Games, as in the one that I had started my career for.
"Korea was always going to be the main one but I did hope that I could come away with some success (in Sochi) and build on that. I did come away with success in that I skated really well but unfortunately nothing went right.
"I think I've definitely learnt a lot from Sochi, even just media stuff and mentally controlling myself I guess – I probably won't be on social media when I'm at the Olympics next time – but definitely I feel ready to start another four years fresh and I will go out and try again in Korea."
It will be a long journey for Christie, and not without its difficulties,  but if she can finish a difficult season on a high in Montreal this weekend then the next Games in Korea will seem that much closer.