MLB review: Max Scherzer records 19th win of season as Detriot topple NY Mets
Detroit pitcher Max Scherzer racked up his 19th win of the season as he led the Tigers to a 3-0 win over the NY Mets.
Last Updated: 25/08/13 10:47am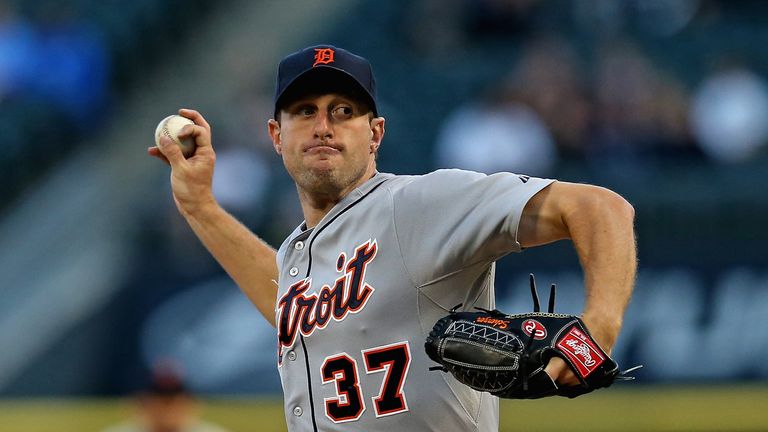 Scherzer pitched six scoreless innings - striking out 11 - as the Tigers retained their six-game lead in the American League Central.
Closest challengers the Cleveland Indians did their best to keep pace as Carlos Santana and Jason Kipnis each hit two-run homers in a 7-2 victory over the Minnesota Twins.
The Boston Red Sox and Tampa Bay Rays remain tied at the top of the AL East after wins for both, Boston beating the Los Angeles Dodgers 4-2 and the Rays seeing off the New York Yankees by the same score.
Coco Crisp's ninth-inning home run lifted the Oakland Athletics to a 2-1 victory over the Baltimore Orioles to stretch their lead in the wildcard battle, leaving Baltimore three games out.
Adam Dunn's two-run shot lifted the Chicago White Sox to a 3-2 victory over the Texas Rangers in the Civil Rights Game at US Cellular Field, while Jason Castro had two homers in an 8-5 Houston Astros victory over the Toronto Blue Jays.
Home run
Mike Trout's 22nd home run of the season helped the Los Angeles Angels beat the Seattle Mariners 5-1.
The Pittsburgh Pirates lost 6-3 to the San Francisco Giants to drop back into a tie with the St Louis Cardinals at the top of the National League Central.
The Cardinals moved level with a 6-2 victory over the Atlanta Braves, their fourth straight win completing a sweep of the NL East leaders.
The Cincinnati Reds retain a strong grip on a wildcard place for the post-season following a 6-3 victory over the Milwaukee Brewers powered by home runs from Chris Heisey, Ryan Ludwick, Zack Cozart and Joey Votto.
Darwin Barney had a home run and an RBI double to help the Chicago Cubs to a 3-2 victory over the San Diego Padres while the Washington Nationals won their fourth straight game, beating the Kansas City Royals 7-2 behind seven 2/3 strong innings from Jordan Zimmerman.
Jose Fernandez struck out eight in seven scoreless innings to earn his 10th win of the season as the Miami Marlins blanked the Colorado Rockies.
The Arizona Diamondbacks finally overcame the Philadelphia Phillies in 18 innings in a game lasting seven hours and six minutes, the longest in the D-Backs' history.