MLB: Francisco Liriano stars as Pittsburgh Pirates beat St Louis Cardinals
Francisco Liriano tossed eight shut-out innings to help lift the Pirates into a first-place tie in the NL Central.
Last Updated: 31/08/13 9:55am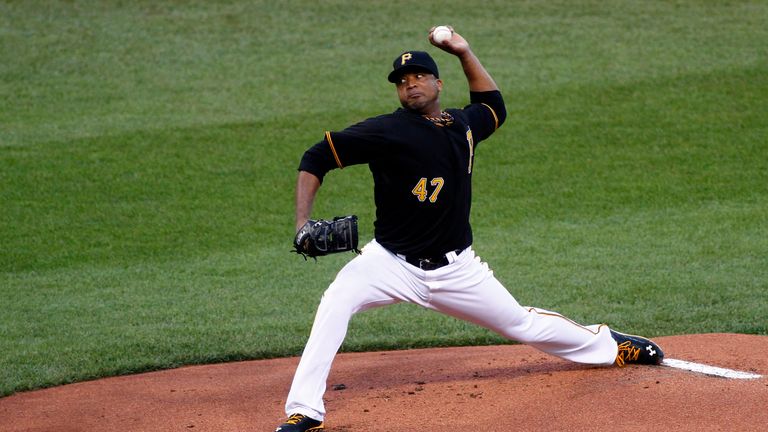 Liriano allowed just two hits, fanning six and walking two, while Garrett Jones drove in four runs on three hits including a solo shot to open the fourth. Russell Martin also homered off the very next pitch to go back to back with Jones.
David Ortiz busted out of a slump with a two-run single to power Boston Red Sox to a 4-3 win over Chicago White Sox.
Ortiz had been on an 0-for-23 skid before his hit in the fourth which gave Boston and Ryan Dempster, on the mound for the first time since earning a suspension for hitting Alex Rodriguez with a pitch 12 days ago, a four-run cushion.
They needed it too as the White Sox clawed three runs back off Dempster, including Avisail Garcia's homer in the seventh, until Koji Uehara shut them down with a four-out save.
Tampa Bay Rays lost ground in the American League East as they slipped to a 4-3 defeat at Oakland Athletics.
Kurt Suzuki's three-run homer in fifth did the bulk of the damage, but Jed Lowrie's RBI double in the eighth proved to be the decisive hit.
Homered
Chris Herrmann and Justin Morneau both homered in the seventh to lead Minnesota past Texas Rangers 3-2 after Yu Darvish had held the Twins hitless for six innings.
Kole Calhoun homered in the fourth and Grant Green smacked a bases-clearing double in the seventh as Los Angeles Angels beat Milwaukee Brewers 5-0.
Freddie Freeman's two-run homer in the first was all the offence Julio Teheran needed as he struck out eight in 6 1/3 innings of one-run ball to help Atlanta Braves overcome Miami Marlins 2-1.
Mark Buehrle hurled seven shut-out frames as Toronto Blue Jays edged out Kansas City Royals 3-2.
Dustin Ackley drove in four runs on four hits to lift Seattle Mariners to a 7-1 win over Houston Astros.
Ichiro Suzuki homered to lead a five-run fifth inning as New York Yankees rallied to beat Baltimore Orioles 8-5, while a two-run shot from Ike Davis in the fourth spurred New York Mets on to a 3-2 victory over Washington Nationals.
Detroit Tigers eased past Cleveland Indians 7-2 in a match shortened to seven innings because of rain and Philadelphia Phillies were 6-5 winners over Chicago Cubs.
There were also wins for Colorado Rockies - who got a pair of three-run homers from Todd Helton in a 9-6 victory over Cincinnati Reds - San Francisco Giants and Los Angeles Dodgers.