America's Cup: Ben Ainslie wants to bring Auld Mug back to Britain
Ben Ainslie has targeted winning the America's Cup with a British team after playing a pivotal role in Oracle's success.
Last Updated: 26/09/13 6:51am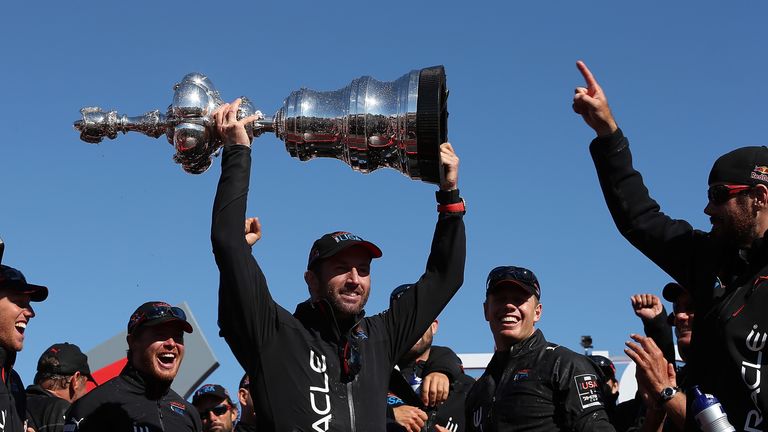 Ainslie was drafted in by Oracle after five races in San Francisco Bay, with Team New Zealand having already registered four wins.
And Ainslie's influence was gradually felt as Oracle overturned a two-race penalty and an 8-1 deficit to win 9-8.
No British boat has ever triumphed in the America's Cup, though, and that is something the four-time Olympic gold medallist is looking to change.
Ainslie, who formed Ben Ainslie Racing with a view to competing in the 35th America's Cup, told the Daily Mail: "It would be great to get out a British boat next time. We have the sailors; it's just about getting the money together.
"Hopefully the excitement of what we have done has generated interest. The feedback I've been getting is amazing. The event started in Britain and it's about time we won it."
Emotional
Ainslie dedicated the victory to fellow British Olympian Andrew 'Bart' Simpson, who was killed in a training accident in May.
"I looked up to the stars after it all settled down at the end and thought of Bart. In some ways this was for him," said Ainslie.
"He loved sailing and he loved the America's Cup. He would have been so excited about this series.
"It was emotional. It has been a hard few months with his death and all that followed it. He has been in my mind. Unfortunately, my mum and dad couldn't be here. My mum (Sue) is sick in hospital. It is nothing too serious but my poor dad (Roddy) has had to look after her. Hopefully this has put a smile on her face.
"This is the most amazing thing I have ever been involved in. When you are in the Olympics you are doing it on your own. You can enjoy the success but you can only let yourself down. This is more rewarding, doing it in a team. You can share this."