Oscar Pistorius breaks down under cross-examination at trial in Pretoria
Oscar Pistorius broke down in court once again after he was rigorously cross-examined by chief prosecutor Gerrie Nel.
Last Updated: 10/04/14 10:18am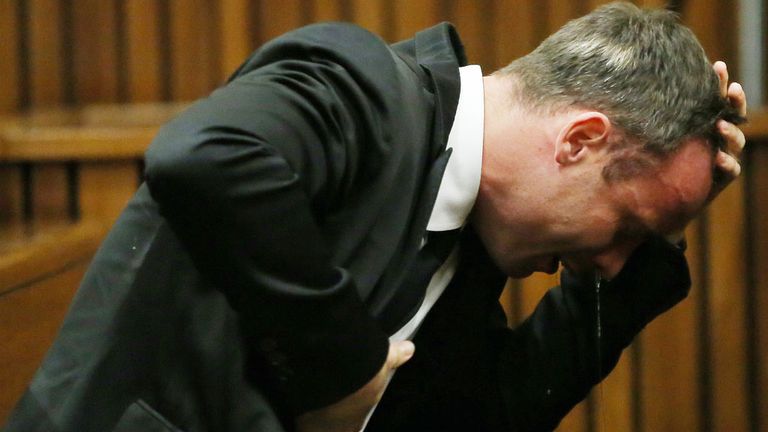 The South African Paralympian is on trial for the murder of his girlfriend Reeva Steenkamp but denies the charge and says he shot Steenkamp through a bathroom door because he mistakenly believed she was an intruder.
Pistorius was in the witness box for the third day on Wednesday but faced cross-examination for the first time from Nel, who adopted a confrontational approach.
After Pistorius said he "made a terrible mistake", Nel responded: "You made a mistake?
"You killed a person, that's what you did. You shot and killed her, won't you take responsibility for that?"
Nel added: "Let us get to the truth" and Pistorius responded: "I'm here to tell the truth, I'm here to tell the truth as much as I can remember,"
He added: "I'm human. I have sins."
Series of arguments
The day was punctuated by a series of arguments between prosecution and defence lawyers, leading to several adjournments.
Nel was eventually allowed to show a Sky News video which featured Pistorius shooting a watermelon on a firing range.
Nel told a distraught Pistorius: "You know that's the same that happened to Reeva's head."
And the prosecutor then showed the court a graphic photo of Steenkamp's bloodied head and tried to force Pistorius to look at it.
"Have a look there," he said. "I know you don't want to, because you don't want to take responsibility."
But a sobbing Pistorius replied: "I've taken responsibility but I will not look at a picture where I am tormented by what I saw and felt that night.
"As I picked Reeva up, my fingers touched her head. I remember, I don't have to look at a picture, I was there."
Shortly before the case was adjourned for the day, Nel grilled Pistorius about why he fired shots through the door and the defendant struggled to control his emotions once more.
"Was the discharge accidental?" Nel asked.
Pistorius said: "The discharge was accidental. I believed that somebody was coming out.
"I believed that the noise I heard inside the toilet was somebody coming out to attack me or to take my life.
"I did not mean to shoot anyone. I went to the bathroom so I could put myself between what I perceived as danger and Reeva. I did not have much time to think."
"Why are you emotional now the questions are difficult?" asked Nel later on and Pistorius answered: "My life is on the line."
Nel responded: "Reeva doesn't have a life because of what you've done, so please give us the truth."
Judge Masipais intervened to stop Mr Nel, pointing out that Pistorius had been emotional throughout the case, and court was adjourned soon afterwards.