Paul Heyman says he did not get Brock Lesnar to attack CM Punk
Did Paul Heyman sanction Brock Lesnar's vicious attack on CM Punk? Not according to Heyman...
Last Updated: 28/06/13 7:42pm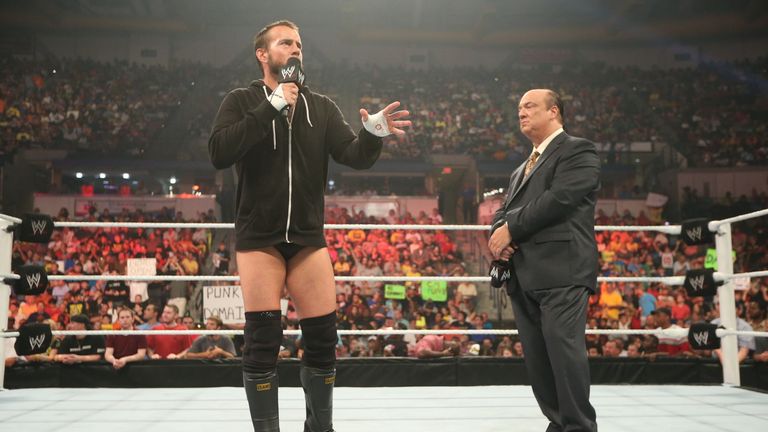 The former ECW head honcho delivered an impassioned speech to Punk on Monday Night Raw in Charleston, South Carolina, explaining that he would never wish to harm his best friend and insisting that Lesnar acted alone when he assaulted the Second City Saint a week earlier.
Heyman's claims gained further credence when another of his clients, Intercontinental Champion Curtis Axel, helped Punk fend off a beating from The Prime Time Players - though Punk, who had earlier bested Darren Young, seemed far from happy with the assistance.
Elsewhere, Daniel Bryan picked up a huge victory over Randy Orton in a high-octane, anything-goes Street Fight that spilled all over the arena, eventually forcing The Viper to submit to the No Lock whilst a cane was pressed against his face.
But the warring grapplers will square off again in the WWE Championship Money in the Bank Ladder Match on July 14 in Philadelphia, a clash that also includes Punk, Kane and the returning Rob Van Dam.
Jumped
Sheamus and Christian will also feature in the aforementioned encounter and gained momentum on Raw by defeating Cody Rhodes and Damien Sandow aka Team Rhodes Scholars in tag action, with Rhodes downed by Sheamus' Brogue Kick.
Chris Jericho beat World Heavyweight Champion Alberto Del Rio via disqualification after he was jumped mid-match by Ricardo Rodriguez, before he and Del Rio were levelled by Zig Zags from Dolph Ziggler.
Ziggler will battle Del Rio for his strap at Money in the Bank and The Usos will also fight for gold in Pennsylvania after knocking off 3MB and Tons of Funk to earn a shot at Seth Rollins and Roman Reigns' WWE Tag Team Titles.
Plus, Ryback hit The Great Khali with a spine-tingling Shell Shocked to record a pinfall victory, while Kaitlyn vanquished Aksana in Divas action - before being ruthlessly mocked by friend-turned-foe, AJ Lee, who appeared at the top of the ramp in a muscle suit.
Make sure you watch WWE Money in the Bank, from 1am, Sunday, July 14 (Monday morning) on Sky Sports 3 HD.