WWE Raw: CM Punk outwits Paul Heyman; John Cena slaps Daniel Bryan
CM Punk outwitted Paul Heyman - and battered Brock Lesnar - on the final Raw before SummerSlam.
Last Updated: 13/08/13 4:48pm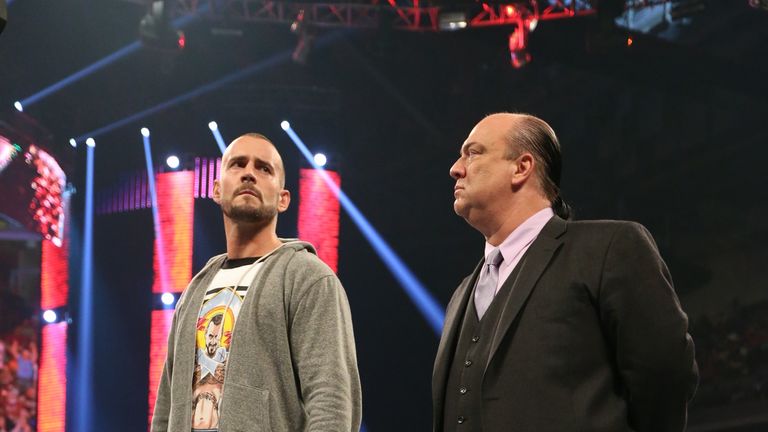 Heyman was scheduled to fight Punk in a singles brawl in Sacramento, California in the evening's main event, but quickly announced that the bout would be a two-on-one handicap encounter with both himself and Brock Lesnar battling the Second City Saint.
The ECW architect then beckoned his former best friend to ring to face his punishment - only for Punk to emerge from underneath the squared circle and launch a barbaric beat-down on Lesnar, the man he will combat in Los Angeles on Sunday night.
Click here to order WWE SummerSlam
The Chicagoan smacked the Anomaly with a steel chair and a ring camera but was thwarted by Curtis Axel when he attempted to attack Heyman, with the Intercontinental Champion rushing from backstage to aid his manager.
However, while Heyman - who severed his relationship with Punk when he prevented him from winning the WWE Championship Money in the Bank contract last month - escaped unscathed, Axel was not so lucky after being levelled by a face-crushing Go To Sleep.
Meanwhile, John Cena and Daniel Bryan clashed on a tense edition of MizTV and discovered that there would be a special guest official for their WWE Title match inside the Staples Center this weekend.
Bryan revealed on The Miz's talk show that it was customary for a wrestler in Japan to slap his opponent before a fight- but said he would not cuff Cena because the reigning WWE Champion was not a true "wrestler" and did not deserve it.
Cena objected to that claim and did not hesitate in clumping Bryan, though the submission specialist refrained from retaliating, opting to wait until Sunday to engage in fisticuffs.
Flooring
Bryan and Cena's duel will be overseen by Triple H after the WWE's Chief Operating Officer announced he - and not Vince McMahon's choice, Brad Maddox - would act as referee to ensure the match does not end in chaos.
And The Game concluded his speech by flooring Raw General Manager Maddox - who had earlier donned his referee's shirt to ensure Wade Barrett defeated Bryan - with a Pedigree.
Elsewhere, Damien Sandow lost to fellow Money in the Bank briefcase holder Randy Orton after being distracted by SummerSlam rival Cody Rhodes, and World Heavyweight Champion Alberto Del Rio vanquished Kofi Kingston courtesy of a knee to the gut and the Cross Armbreaker.
Kane knocked off Titus O'Neill - before evading an assault from The Wyatt Family - The Usos garnered revenge for their loss to The Real Americans seven day previously by besting Zeb Colter's duo in the Golden State, and Fandango and R-Truth's Dance-Off ended in a brawl.
AJ Lee and Big E Langston's preparations for their mixed tag-team showdown with Dolph Ziggler and Kaitlyn at SummerSlam took a hit as they were conquered by Natalya and the gargantuan Great Khali.
Plus, Rob Van Dam won a number-one contender's battle royal to earn a meeting with United States Champion Dean Ambrose at the SummerSlam pre-show - and then joined forces with Mark Henry and Big Show to fend off a battering from Ambrose and his Shield comrades.
WWE SummerSlam Booking details
WWE SummerSlam will be shown live on Sky Sports Box Office (channel 743) and in high definition on Sky Sports HD Box Office (channel 752) at 1am on Sunday, August 18 (Monday morning).
WWE SummerSlam will be repeated on Sky Sports Box Office (channel 743) - but NOT on Sky Sports HD Box Office (channel 752) - between 9am on Monday, August 19 and 9pm on Saturday, August 24. Repeat showings will last for three hours.
The event is priced at £14.95 for UK customers, €21.95 for customers in the Republic of Ireland.
You can order WWE SummerSlam from Friday, August 9 by pressing the Box Office button on your remote. Select 'sports & events' and follow the on-screen instructions.
Viewers will be able to call 08442 410 888 to book WWE SummerSlam from Friday, August 9. (There may be an additional charge for telephone bookings).
You can also book WWE SummerSlam online from Friday, August 9 by visiting this link: https://my.sky.com/orderboxoffice/
Cable customers should contact their local cable operator.