WWE Night of Champions: Read what happened in Detroit on Sunday
Did Randy Orton retain the WWE Title? Did CM Punk batter Paul Heyman? Click here to find out...
Last Updated: 17/09/13 12:31pm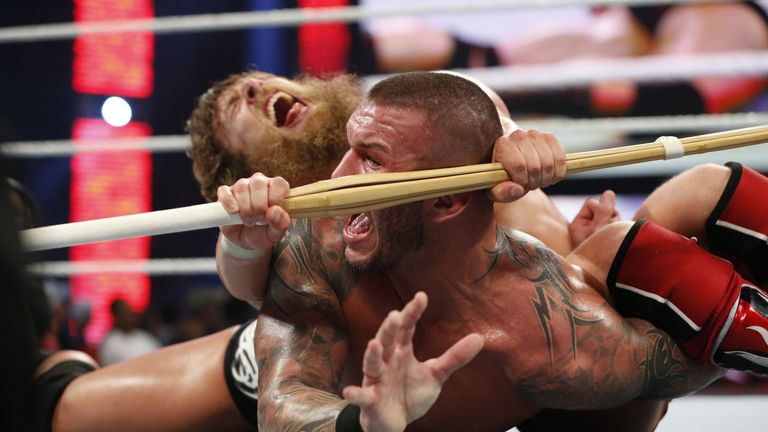 Daniel Bryan was robbed of the WWE Title at SummerSlam via a combination of Randy Orton and Triple H, but gained revenge at Night of Champions in Detroit by regaining the hallowed strap.
Triple H - whose shocking Pedigree to Bryan last month allowed Orton to cash in his Money in the Bank contract and poach the WWE Championship - revealed at the start of Sunday night's pay-per-view that there would be no outside interference in the evening's main event.
And Bryan profited from that most, countering Orton's RKO attempt, clattering the Viper with a roundhouse kick to the head and then kneeing his opponent in the face to secure a pinfall victory that sent the Joe Louis Arena crowd delirious.
Elsewhere, Alberto Del Rio maintained his grip on the World Heavyweight Championship - but only after getting himself intentionally disqualified in his match with the former ECW Superstar Rob Van Dam.
The Essence of Excellence refused to release his Cross Armbreaker after The Whole Dam Show had made it to the apparent safety of the ring ropes, leaving the referee no choice but to bring an early end to proceedings.
However, Del Rio's efforts to try and further punish RVD with a steel chair were quelled by his erstwhile ring announcer, Ricardo Rodriguez, who pinched the weapon from the Mexican Aristocrat's hands.
And the champion's night got even worse when a rejuvenated Van Dam leaped onto the turnbuckle and crashed a chair into his enemy's head courtesy of an eye-catching Van Terminator.
Prevailed
The Shield, meanwhile, remain laden with gold; Dean Ambrose bested Dolph Ziggler to retain the United States Title, while Seth Rollins and Roman Reigns overcame The Prime Time Players to keep hold of the WWE Tag Team Championships.
Plus, Divas Champion AJ Lee prevailed in her Fatal Four-Way with Brie Bella, Naomi and Natalya, and The Miz forced Fandango to tap out to the Figure Four Leglock in one of the show's two unadvertised matches.
Curtis Axel retained the Intercontinental Championship in the night's other impromptu clash, pinning Kofi Kingston in a bout sanctioned by Triple H after he had been irked by Paul Heyman's whining.
Heyman squealed later in the evening, too, when Axel was conquered by Punk in a two-on-one handicap encounter, leaving the mad scientist in the Second City Saint's firing line - until help arrived from an unlikely source.
Punk, as he had vowed to do beforehand, dished out a battering to Heyman, but just as the Chicagoan seemed set to toss his former friend through a table, Ryback rushed to the ring - and sent Punk careering into the table himself.
Booking details
WWE Night of Champions will be repeated on Sky Sports Box Office (channel 743) but NOT on Sky Sports HD Box Office (channel 752) between 9am on Monday, September 16 and 3pm on Saturday, September 21.
The event is priced at £14.95 for UK customers, €21.95 for viewers in the Republic of Ireland.
You can order WWE Night of Champions from Friday, September 6 by pressing the Box Office button on your remote. Select 'sports & events' and follow the on-screen instructions.
Viewers are able to call 08442 410 888 to book WWE Night of Champions from Friday, September 6. (There may be an additional charge for telephone bookings).
You can also book WWE Night of Champions online from Friday, September 6 by visiting this link: https://my.sky.com/orderboxoffice/
Cable customers should contact their local cable operator.