WWE Main Event: AJ Lee and Dean Ambrose successfully defend titles
AJ Lee and Dean Ambrose kept their titles intact on Tuesday night's edition of WWE Main Event.
Last Updated: 12/03/14 3:43pm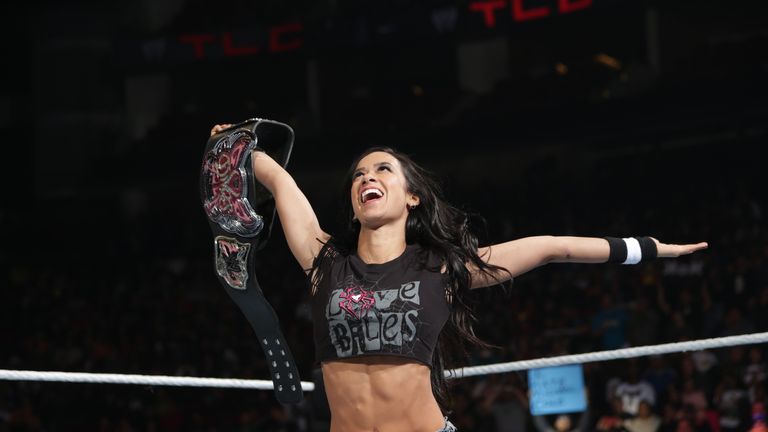 The New Jersey native extended her reign with the Divas Championship to 269 days after fending off the challenge of Hart Dungeon graduate, Natalya, on the latest edition of WWE Main Event.
Lee initially struggled with her opponent's technical acumen but collected the win when her henchwoman, Tamina, distracted Natalya, allowing the titlist to crack the Canadian with a knee to the face and then force her to tap out to the Black Widow.
United States Champion Dean Ambrose also put his strap on the line on Tuesday night - and like, Lee, emerged with his garland intact, courtesy of a triumph over The World's Strongest Man, Mark Henry.
The Lunatic Fringe was at a severe size disadvantage but targeted his gargantuan rivals knees and that - in addition to an assist from his Shield comrades, Seth Rollins and Roman Reigns - helped him prevail.
In the evening's opening, bout, however, two duos hoping to contend for The Usos' WWE Tag Team Titles squared locked horns, the bullfighting Los Matadores, Diego and Fernando, and former Paul Heyman guys, Ryback and Curtis Axel.
And in a battle of size and savvy versus speed, the masked marvels came out on top - though Ryback and Axel could take some solace from the fact that they will compete in the 30-man Andre the Giant Memorial Battle Royal at WrestleMania XXX.
WrestleMania XXX booking details
WrestleMania XXX will be shown on Sky Sports Box Office (channel 743) and Sky Sports HD Box Office (channel 752) at midnight on Sunday, April 6 (Monday morning).
WrestleMania XXX will be repeated on Sky Sports Box Office (channel 743) BUT NOT Sky Sports HD Box Office (channel 752) between 10am on Monday, April 7 and 10pm on Saturday, April 12.
Repeat showings will last for four hours.
The event is priced at £17.95 for UK customers, €24.95 for customers in the Republic of Ireland.
You can order WrestleMania XXX from Friday, March 28 by pressing the Box Office button on your remote. Select 'sports & events' and follow the on-screen instructions.
Viewers can call 08442 410 888 from Friday, March 28 to book WrestleMania XXX. (There may be an additional charge for telephone bookings).
You can also book WrestleMania XXX online from Friday, March 28 by visiting this link: https://my.sky.com/orderboxoffice/
Cable customers should contact their local cable operator.