Best of British 2012
We profile the 12-person shortlist for the highly-anticipated Sports Personality of the Year award
Last Updated: 30/11/12 9:39am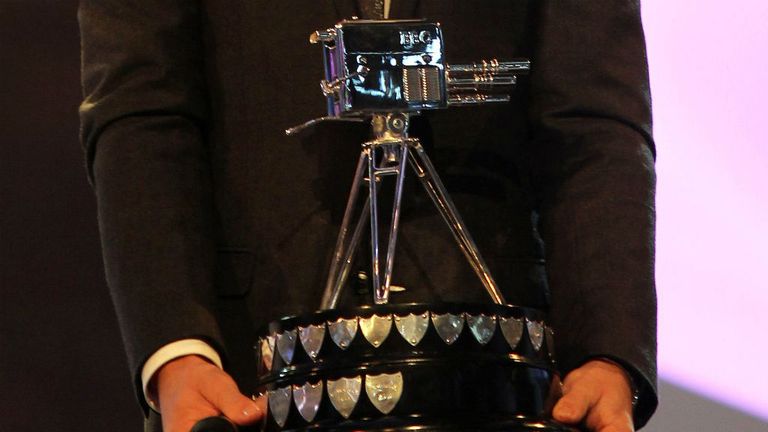 The 12-person shortlist of what promises to be the most eagerly-anticipated Sports Personality of the Year Awards ever has now been revealed.
After an unprecedented year of success, the selection panel and now the voting public have been thoroughly spoilt for choice.
With even some multiple Olympic gold medallists missing out on the shortlist, we take a look at those who have made the cut.
Nicola Adams - 250/1
2012 honours: Olympic gold medallist, won first ever women's Olympic boxing title
Born in 1982 in Leeds, Adams took up boxing training at the age of 12 with her first bout following a year later. She went on to become a three-time silver medallist at the world championships and is the reigning European flyweight champion.
Adams became the first English woman to win a medal in a major tournament with silver in the European Championships in Denmark in 2007.
She added world silver the following year before being sidelined by a back injury for almost a year.
Adams returned to training and fighting after a long lay-off and, in March 2010, was chosen as part of the GB squad aiming for London 2012, where women's boxing was making its debut.
She dominated the flyweight division and, in the inaugural women's gold medal bout, cruised to victory over China's Ren Cancan.
Ben Ainslie - 150/1
2012 honours: Olympic gold medallist, most successful sailor in Olympic history
Ainslie became the most successful sailor in Olympic history on the Weymouth waters this summer when he won his fourth straight gold medal.
Born in 1977 in Macclesfield, Ainslie grew up in Cornwall and began sailing aged eight with his family. His talent and skill could be seen from an early age, with the sailor becoming Laser Radial World Champion aged just 16.
At the 1996 Atlanta Olympic Games, the four-time ISAF World Sailor of the Year claimed his first Olympic silver medal in the Laser Class and he was still only 19 years old.
His first Olympic gold came at the Sydney Olympic Games in 2000, and it was following this that he changed from the Laser to Finn Class. The move was a success as he went on to win gold again at the 2004 Athens Games and 2008 Beijing Games.
Ainslie is now a 10-time Finn Class World Champion, and firmly etched his name in sailing history when he was victorious at London 2012.
His position within British sport was also highlighted in the build-up to the home Games as he was nominated to be the first person to run with the Olympic torch as well as later being Team GB's flag bearer for the Closing Ceremony.
Jessica Ennis - 8/1
2012 honours: Olympic gold medallist, World Indoor silver medallist
Born in Sheffield in 1986, the London 2012 poster girl was involved with track and field from a young age. At 11, she joined the City of Sheffield Athletic Club and her early teenage years were also when she met coach Toni Minichiello, who guided her entire career.
Ennis developed and improved consistently, making her breakthrough in 2005 when she won the European junior title. She faced frustration in 2008 when a stress fracture in her right foot ruled her out of the Beijing Olympics.
Despite this setback, the Sheffield athlete was back on the track the following year when she won the heptathlon at the world title in Berlin.
Her Olympic chance finally arrived in London and Ennis did not disappoint - winning heptathlon gold and setting a new British record for the 100m hurdles in the process.
Mo Farah - 4/1
2012 honours: Double Olympic gold medallist
Born in Somalia in 1983, Farah came to England as an eight-year-old and soon became involved with sport at school.
His PE teacher noticed his talent and the passion for running developed from there. He won the European junior 5,000m title in 2001 and made his senior breakthrough in 2006 with silver in the 5,000m at the European Championships.
He improved on that in 2010 when he achieved the 5,000m and 10,000m double at the European Championships.
Farah now splits his time between England and Portland, USA, where he is coached by Alberto Salazar.
He enjoyed doing his 'Mo-bot' celebration over the summer when he secured his double success.
Not only did Farah experience victory on the track but 2012 also saw his wife Tania give birth to twin daughters, Amani and Aisha, topping off a truly spectacular year.
Katherine Grainger - 250/1
2012 honours: Olympic gold medallist after three previous silver medals
Katherine Grainger became Britain's most successful female rower this summer and captured the hearts of the nation as she won her first Olympic gold medal in London.
Born in 1975 in Glasgow, Grainger now lives close to the Thames for training purposes with the GB Rowing squad. She first began in the sport of rowing in 1993 whilst at Edinburgh University and her love and talent for the sport grew from then on.
However, success did not come easily for Grainger. It was to be silver for the rower at the Olympic Games in Sydney 2000, Athens 2004 as well as Beijing 2008, with the coveted gold still missing from her collection.
That was until her home Games this summer.
After a long and frustrating 12-year wait, Grainger finally added Olympic gold to her extensive medal collection as she won the double sculls final at Eton Dorney alongside partner Anna Watkins.
With an Olympic gold medal sitting comfortably along with six world championships titles, Grainger has achieved a monumental feat in rowing. She became the first female British athlete to gain medals in four consecutive Olympic Games in any sport.
Sir Chris Hoy - 100/1
2012 honours: Double Olympic gold medallist, most decorated British Olympian ever
Hoy became Britain's most successful Olympian this summer as he won his fifth and sixth gold medals at the London 2012 Games.
Born in 1976 in Edinburgh, the legendary cyclist first began in racing BMX aged seven, in which he was ranked ninth in the world by the time he was 14. However, Hoy then switched his focus to the track and has not looked back since.
An essential member of Team GB, the Scot won his first Olympic gold medal in 2004 at the Athens Games in the Kilo event.
Hoy then continued to Beijing in 2008, where he completed a stunning triple, winning gold medals in the Keirin, Sprint and Team Sprint events.
It was following this that he was voted BBC Sports Personality of the Year in 2008, as well as receiving a Knighthood in the 2009 New Year Honours list.
As well as his Olympic accomplishments, Hoy is also an 11-time world champion and has won two commonwealth titles during his long career.
This summer saw him secure his status as a true cycling legend as he won two more gold medals in London - in the Keirin and Team Sprint- taking his Olympic tally to seven, with six gold medals and one silver.Rory McIlroy - 100/1
2012 honours: USPGA Championship, European and US money list winner, part of Ryder Cup-winning team
McIlroy was born in May 1989 and despite only turning 23 in 2012 he has already taken the golfing world by storm.
The Northern Irishman won his first European Tour event in 2009 and went on to finish in a share of third place at that year's USPGA Championship.
After a memorable collapse at the 2011 Masters he won his first major title at the US Open two months later and carried that momentum into an historic 2012 campaign.
The world No 1 hit top form towards the end of the season, winning the USPGA Championship before suring two victories in the FedEx Cup play-offs.
McIlroy was then an integral part of Europe's famous Ryder Cup victory in Medinah before rounding off the year with victory in the World Tour Championship and top spot on both the European and PGA money lists.
Andy Murray - 15/2
2012 honours: US Open champion, Olympic gold and silver medallist, Wimbledon finalist
Born in Dunblane in 1987, Murray left Scotland as a teenager to hone his game at the Sanchez-Casal academy in Barcelona.
He broke into the world's top 100 as an 18-year-old in 2005 and claimed a maiden ATP Tour title in San Jose the following year.
Despite winning at least two Masters Series titles in each of the next five seasons, success in the majors proved more elusive.
Murray lost his first four grand slam finals, to Roger Federer at the US Open in 2008, Australian Open in 2010 and Wimbledon in 2012 and to Djokovic at the Australian Open in 2011.
He hired Ivan Lendl - a man who also tasted defeat in his first four major finals before going on to finish his career with eight grand slam victories - as his coach at the start of 2012.
Lendl's influence became increasingly apparent as the year wore on and Murray responded to his Wimbledon final loss to Federer by returning to the same venue a month later to beat the same opponent in the Olympic final and followed up with the US Open title.
Ellie Simmonds - 66/1
2012 honours: Double Paralympic gold medallist, silver and bronze medallist
Ellie Simmonds secured her status as the nation's sweetheart in London this summer when she won four Paralympic medals and broke two world records at the same time.
Born in 1994 in Walsall, Simmonds was born with achondroplasia (dwarfism) and first took up swimming aged five.
It was after watching the 2004 Paralympic Games on television that the swimmer set her sights on competing in Beijing in 2008 and she went on to achieve much more than simply appearing at the Games in China.
She became the youngest Briton to win an Olympic or Paralympic medal at the age of 13 years and 9 months when she won two gold medals.
Following such unprecedented success, Simmonds won the BBC Young Sports Personality of the year in 2008. She also became the youngest recipient of the MBE aged 14.
After being the poster girl for the Paralympic Games in Britain, Simmonds went on to yet more success in London.
The four times Paralympic champion won gold medals in the S6 400m Freestyle and SM6 200m Individual Medley, with a silver in the S6 100m Freestyle and bronze in the S6 50m Freestyle.
The Swansea swimmer currently has five world records to her name and looks as bright a prospect as ever with Rio next on the horizon.
Sarah Storey - 200/1
2012 honours: Four-time Paralympic gold medallist, Britain's most decorated female Paralympian
Storey is now Britain's most decorated female Paralympian, having won 11 gold, eight silver and three bronze medals.
Born in 1977 in Manchester, Storey first began in professional sport as a swimmer. Having been part of Britain's swimming team for the Paralympics in 1992, aged just 14, she won an incredible two golds, three silvers and a bronze at the Games.
She continued in the pool and during the following 12 years she won three more Paralympic swimming golds, five more silvers and two more bronzes.
It was in 2005 that Storey made the switch to cycling after being forced not to swim following a series of ear infections.
Having competed in six Paralympic Games in an international career which has lasted more than 20 years, Storey has 22 Paralympic medals and 20 World Championship titles to her name.
Her outstanding performances in London added to such an illustrious career both in the pool and on the bike, as she topped the medal table for the British team with four gold medals from four events - two on the track and two on the road.
David Weir - 33/1
2012 honours: Four-time Paralympic gold medallist
Weir was born in Sutton in 1979 with a spinal cord transection, meaning he was paralysed from the waist down.
He first involvement in sport was with wheelchair basketball, however, there were no local teams so he tried his hand at wheelchair racing, entering the London mini-marathon aged just eight.
Coached by Jenny Archer, Weir - who is nicknamed the "Weirwolf" - has gone on to have a long and tumultuous career.
He competed at his first Olympic Games back in 1996 in Atlanta, when just 17, but did not enjoy the experience and ultimately lost all motivation to continue competing.
When forced to watch the Sydney Paralympics in 2000 from his home, he knew he had made a mistake and, from then on, his passion and drive for the sport was reignited. He qualified for Athens in 2004 and then, four years later at the Beijing Games, took home two golds, a silver and a bronze.
And he improved on that showing in front of a home crowd in London this year, with his quadruple gold haul showcasing his amazing range from 800m to the 26.2-mile marathon.
Bradley Wiggins - 2/5
2012 honours: Tour de France winner, Olympic gold medallist, Paris-Nice winner
Wiggins created history this year, achieving the Tour de France crown and Olympic gold double.
Born in 1980 in Ghent, Belgium, Wiggins started out in track cycling; having begun racing aged 12 at the Herne Hill Velodrome in London. In 1997, he won his first World Championship medal as a junior, claiming the Individual Pursuit title in Cuba.
However, the highly-acclaimed cyclist later switched to road cycling, after winning three Olympic gold medals and seven World Champion titles.
It was in 2010 that Wiggins joined Team Sky as the team leader, and from then on he consistently improved and developed to the point that for the 2011 Tour de France, Wiggins was one of the favourites to make the podium.
However, the British cyclist crashed on stage seven, breaking his collarbone which meant he had to withdraw.
The 2012 season was his major breakthrough, though, as he showed stunning form by winning both the Tour of Romandie and Paris-Nice one-week stage races.
The summer then brought outstanding success as Wiggins became Great Britain's most decorated Olympian when he won the gold medal in the men's time trial, the seventh medal of his career, following his other incredible feat- becoming the first Briton to win the Tour de France.
Sky Bet Sports Personality of the Year odds subject to change.