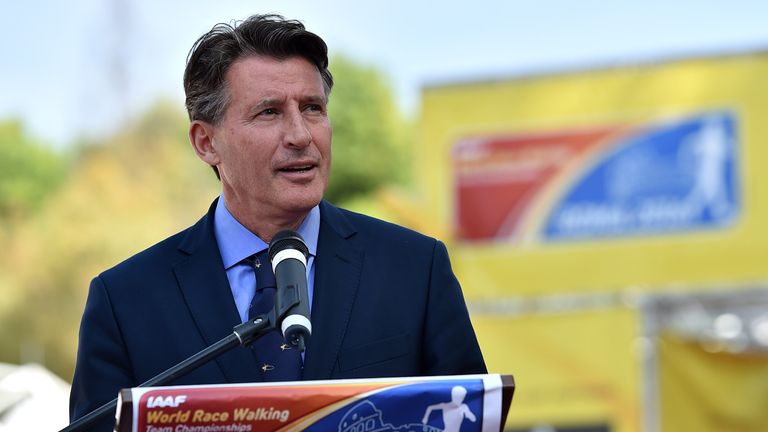 Lord Coe's chief of staff at world athletics' governing body has been sacked after he admitted lying about a 30,000 euro cash payment from the son of the former president.
Nick Davies, who was appointed chief of staff by Coe, received the cash in July 2013 from Papa Massata Diack, the disgraced son of Lamine Diack, in what was alleged to be an attempt to cover-up or minimise the impact of positive drugs test by Russian athletes ahead of the World Championships in Moscow.
Mr Davies initially denied receiving the money, but later admitted misleading an International Association of Athletics Federations Ethics Board investigation about the payment.
The Ethics Board ordered that he be expelled from his position with immediate effect.
The payment came to light after it was revealed that the Diack's had colluded in a cover-up of doping by Russian athletes, and in some cases attempted to extort money from competitors in exchange for concealing positive tests.
Both men have been charged with corruption offences by French prosecutors, and in November 2015 Russian athletes were excluded from IAAF competition, a ban that still stands.
Davies denies being party to the doping conspiracy and told investigators he lied "in panic at being drawn into matters of such seriousness when I had not been a party to the cover-up of of the doping tests or any other wrongdoing."
The IAAF investigation did not establish that the payment was corrupt in nature however, and Mr Davies was not banned from the sport. He will be permitted to work in athletics in other capacities.
His wife Jane Boulter-Davies, who held a senior position in the IAAF's anti-doping department and was given 5,000 euros by her husband, was suspended for six months. Both voluntarily stepped down over a year ago.
The payment came to light in December 2015, with the publication of emails between Davies and Diack Jnr, sent in July 2013, in which he discussed a media strategy to "minimise the impact" of a number of positive drugs tests by Russian athletes. This included opssibly delaying the naming of drug cheats until after the Moscow World Championships.
Davies received 30,000 euros in cash from Diack Jnr in July 2013, and gave 5,000 to his wife, who deposited it in their joint account. Davies banked the remainder in his personal account, and initially lied about receiving it.
After a request to disclose his bank statements however he admitted lying.
In a statement the IAAF acknowledged the ethics board report and said that while Mr Davies would not be re-employed, Mrs Boulter-Davies would return to work this week for a six-month probationary period.
IAAF chief executive Olivier Gers said: "We thank the Ethics Board… for the detailed investigation and would like to acknowledge the Ethics Board's findings that none of the individuals had any case to answer with regards to corruption and all three were commended on their efforts to ensure cheats in the sport were properly identified and bought to justice."
Mr Davies' expulsion is a blow to the IAAF's credibility as Lord Coe denied misleading a Parliamentary select committee about when he learned of the scale of corruption within the IAAF.
Coe told the Culture, Media and Sport select committee in December 2015 he was "not aware" of specific allegations of corruption by the IAAF leadership in relation to Russian athletes.
The committee today published an email between Coe and Michael Beloff QC, chairman fo the IAAF Ethics Board, in which he forwarded allegations of corruption relating to Russian marathon runner Liliya Shobukhova.
Forwarding a document sent to him by London Marathon promoter Dave Bedford Coe, wrote: "I have in the last couple of days received copied documentation of serious allegations being made by and on behalf of the Russian female athlete Shobukhova from David Bedford.
"The purpose of this note is of course to advise you that I have now been made aware of the allegations...but would be grateful for your advice."
In a four-page letter to committee chairman Damian Collins, Coe denied that he had misled the committee, stressing that he had not opened the attachment because he was on holiday when it was forwarded and had not seen the email, instructing his office to forward it to Beloff.