The Showdown starts
James Booth saw John Hopkins star with a double victory as the British Superbikes Showdown got underway at Donington Park.
By James Booth
Last Updated: 13/09/11 9:50am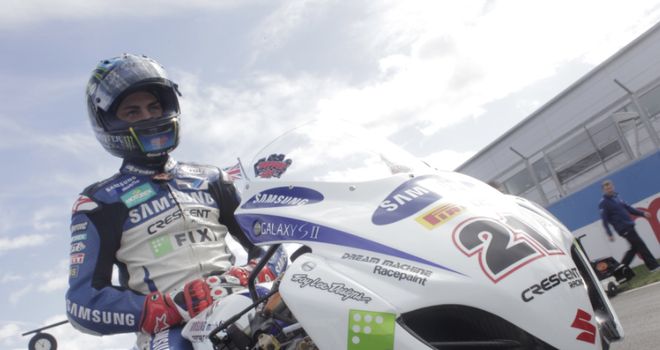 British Superbikes is the most exciting motorsport in the world. There, I said it. But it's not just me: ask any of the 50,000 fans or so who made the journey to Cadwell Park the other week or the 43,000 at Donington Park over the weekend. They'll tell you, as will the millions watching it on TV and/or catch-up: some 14 million of them in 2009. BSB is becoming big business and it's starting to attract some serious brands.
Why do I beat this drum? Well motorcycle racing, as witnessed during the main two races of the weekend, is edge-of-the-seat stuff; it's impossible to watch without your hands somewhere near your face to prop up or stifle a gasp, or perhaps bury your eyes in, as an involuntarily moment of panic grips you. It is that exciting.
And it's 'Showdown' time: the top six riders have earned their places, the points have been reset, the podium credits added, and the fighting has properly kicked off. We are in for some real treats in the remaining month before the champion is finally crowned. It will be full-on, balls-out racing of the type that F1 can only dream of.
Donington is a wonderful circuit. As the oldest purpose-built bike track in the UK it boasts many fans, riders and spectators alike. Sweeping curves, undulating slopes and tight hairpins test the riders and their machines to the full; it is a very fast circuit, perfect for dropping the gauntlet and getting the final showdown races underway. And on a day when the world was pointing to the US and sharing in the memory of those terrible events of 9/11, someone from over there arrived back to do battle over here.
Absent due to a MotoGP injury sustained recently as a wildcard guest, John Hopkins, the charismatic American star, returned to the BSB stage determined to put his title bid back on track following Tommy Hill's incredible performance at Cadwell Park. But qualifying once again went the way of the Swan Yamahas: Hill achieving pole, with team-mate Michael Laverty next to him.
Hopkins had this to say about his return and his qualifying position: "Qualifying is just one aspect of the weekend, we've also been working very hard on our race set-up and I'm confident we've got the package to do the job tomorrow. Adrenaline will deal with any niggles my third finger might want to bring, so for me it's not an issue. And don't be confused, this was just the warm up, the fight comes tomorrow."
Racing is different - it's fair to say that this weekend we were treated to a display of world-class motorcycling riding at its best, from a MotoGP star with a broken hand. The leading pack settled in quickly but it wasn't long before places were exchanged as the pressure mounted. Hopkins set himself up behind the leader Hill and waited, saving his tyres until the time was right to nip past the Swan Yamaha star, before pulling clear to take victory. Third and fourth places went to Laverty and HM Plant Honda's Shane Byrne; both riders also in championship contention. Throughout the race, close, aggressive riding dominated, with electrifying passing the order of the day. This was a race to remember and incredible to watch.
The second race's grid positions are decided from the quickest laps delivered during race one. It is for this reason that riders will often try to get back on to a bike after an incident; they might not earn points from their final race position but they can certainly improve on a grid place in the following race, and often the incentive of fighting back to the front of the pack results in some pretty fast lap times. With his win, Hopkins also secured pole position for the second race.
Race two kicked off aggressively. Byrne and Laverty, determined to find better form and secure a front-running place, came together at the first corner, the result of which saw them both ditch into the gravel and watch the entire pack pass by before they could right their bikes and rejoin the race. Hopkins was soon leading, having passed Hill within the first four laps; this advantage he extended lap by lap until he won with ease to take the double. Team-mate Jon Kirkham, who has recently found exceptional form thanks to a bike set-up that finally works for his style, did a perfect job of acting as spoiler, putting distance and places between Hopkins and the other top-six protagonists. The manner in which Kirkham mastered his race to a third position, almost catching Hill in the process, should worry the non-Samsung Crescent Racing riders; he's likely to be a serious problem in these final, deciding rounds.
Hopkins said: "It's extremely special for me to win both races on a day of remembrance back home in America. It was a shame to see Shakey and Michael crash out but that is racing. I got out there and had the pace to really put the hammer down. I passed early in the race but that one was more painful than the first but we come away from here with the lead and that is what we needed."
Unpredictable and exciting, Donington was a truly memorable opening to the 2011 BSB Showdown. Silverstone is up next and the battles are certain to be increasingly hard-fought as time and opportunity passes. Donington belonged to Hopper but do not write off Hill or Byrne, they will be there and ready, that's for sure.