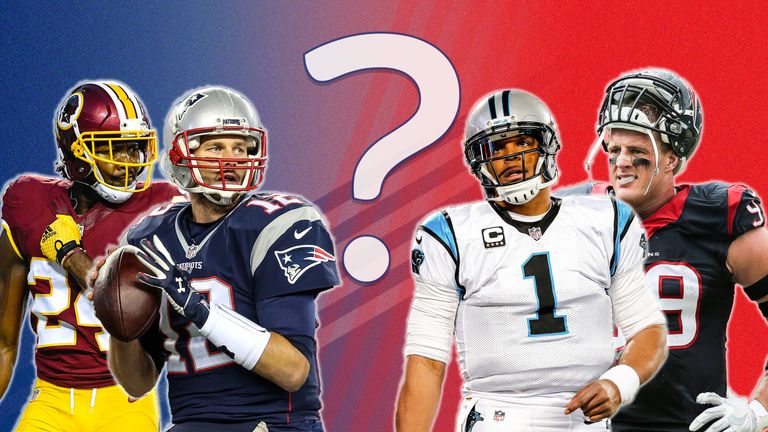 It was another dead heat in week six as both Sky Sports reporter Richard Graves and Philadelphia Eagles fan Stuart Dick posted 9-6 records.
Going into week seven, Richard now faces Gary Beeson, who runs the @UK_Patriots twitter account, hoping to get his second win of the season. 
Richard's 2016 Results
| | | | |
| --- | --- | --- | --- |
| | Richard | UK Fan Base | Season Record |
| v Jaguars | 10-6 | 11-5 | 0-1 |
| v Bengals | 10-6 | 7-9 | 1-1 |
| v Redskins | 5-11 | 9-7 | 1-2 |
| v Raiders | 8-7 | 8-7 | 1-2-1 |
| v Vikings | 9-5 | 10-4 | 1-3-1 |
| v Eagles | 9-6 | 9-6 | 1-3-2 |
Chicago Bears @ Green Bay Packers (Friday, 12.30am Sky Sports 1)
Richard: Two weeks ago few would have said the Green Bay Packers were anything but firm favourites for this game. However, injuries and a worrying drop off in production from their offence might lead some to question the outcome of this game. Of course, it was only last season when the Bears went to Lambeau Field and pulled off an upset win and they'll be desperate to repeat that performance against their NFC North rivals. 
The Packers' receivers are struggling to get open while quarterback Aaron Rodgers hasn't been playing with the same efficiency or accuracy as we've become accustomed to seeing - he's completed just 58.1 per cent of his passes since leading Green Bay to a 6-0 start last season. That's the worst in the league over that time span! Combine that with injuries to running backs Eddie Lacy (ankle) and James Starks, who is out for four weeks, prompting a trade for Knile Davis from the Kansas City Chiefs.
Of course the Bears have had offensive problems of their own but the play of backup QB Brian Hoyer means Jay Cutler's return as starter, is no longer a forgone conclusion. This is a team which has won just one game all season and although they are ranked sixth in total offence, they're ranked 31st in scoring offence with fewer than 17 points per game. Defensively, they've been plagued by injuries at every position and that may explain why they haven't been able to close out games - most notably this past Sunday when they surrender a fourth quarter lead to the Jacksonville Jaguars. Packers
@UK_Patriots: The Packers are certainly not the high-powered offence we imagined they would be, but they are definitely the superior football team when compared to the hapless Chicago Bears. Hoyer seems to be an improvement from Cutler and Jordan Howard looks like a capable NFL running back, but the Bears are not leaving Lambeau Field with a win. Packers
Buffalo Bills @ Miami Dolphins (Sunday, 5.30pm Sky Sports 2)
Richard: Miami secured only their second win of the season last week and it was due, in no small part, to the play of British running back, Jay Ajayi. Prior to Sunday, Ajayi had never had a 100 yard rushing day in the NFL. In the win over Pittsburgh he ran for 204 yards and two touchdowns - an impressive audition to win the starting job full time!
The Buffalo Bills are in a rich vein of form though. Their comprehensive rout of the San Francisco 49ers included 312 total rushing yards and made it four wins in a row. Now they sit just a win behind leaders, New England. Their defence is also playing well - 12 takeaways is tied for second best in the NFL this year and conceding around 17 points per game is fifth best. Rex Ryan has this Bills team paying at the top of their game right now and even though the Dolphins are coming off of that morale boosting win over the Steelers, they'll have to step it up again to overcome their AFC East rivals. Bills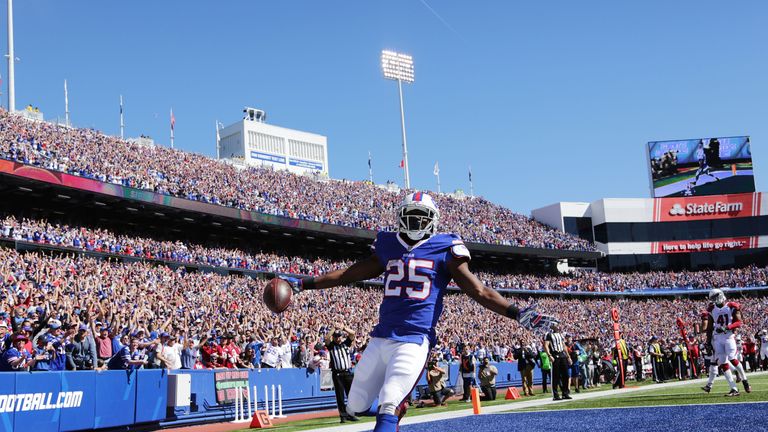 @UK_Patriots: LeSean McCoy and Tyrod Taylor have been playing brilliantly since week two and Rex Ryan has had his defence firing on all cylinders. Despite their surprising win against Pittsburgh on Sunday, the Dolphins are an incomplete team, and will be brought back down to earth this Sunday. Bills
New England Patriots @ Pittsburgh Steelers (Sunday, 9.15pm Sky Sports 2)
Richard: Tom Brady back and playing as well as ever. Ben Roethlisberger sidelined with a knee injury. Those two statements in themselves suggest this is likely to be a one-sided affair. 
Even before the Steelers confirmed the loss of their starting QB for a few weeks, they'd been frustratingly inconsistent - irresistible at home but suffering bad defeats at Philadelphia and Miami on the road. Now with Landry Jones under centre, expect running back Le'Veon Bell to get an even heavier workload on offence. 
In the Patriots' last road game, they scored 33 points. Admittedly that was against the Cleveland Browns but they followed that up with 35 points in the win over Cincinnati, a game in which Brady became the fourth player in NFL history to reach 5,000 completions. Tight end Rob Gronkowski also had a career day in the win over the Bengals, scoring a touchdown and having 162 receiving yards. In short, the Patriots will have too much firepower for the Steelers in this one. Patriots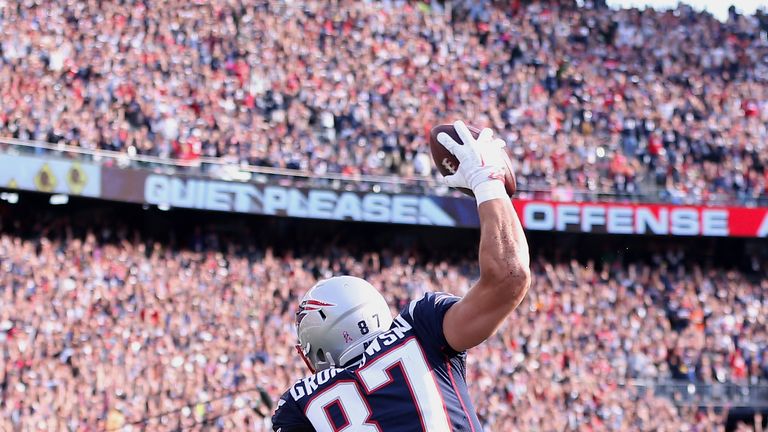 @UK_Patriots: Things are not looking good for Pittsburgh. Big Ben has been ruled out after suffering an injury against the Dolphins on Sunday, Rob Gronkowski is back to his best and Tom Brady is back with a vengeance. The tight end tandem of Bennett and Gronkowski is proving to be a match up nightmare for defensive coordinators around the league, and that trend will continue Sunday. Patriots
Seattle Seahawks @ Arizona Cardinals (Monday 1.15am Sky Sports 2)
Richard: Seattle's Legion of Boom caused uproar with their physical play to clinch a hard fought win over the Atlanta Falcons but this is their identity and it's a style which has brought great success in recent years. The Cardinals are no strangers to physicality though and this match-up has all the makings of a game, fitting for prime time viewing. 
Arizona sit just a game behind the division leading Seahawks and after claiming the NFC West for themselves last season, they're not keen to relinquish their crown. Running back David Johnson had his best game of the year on Monday night, rushing for three scores in their emphatic win over the Jets, and the Cardinals offence looks much more potent with starting QB Carson Palmer back under centre. 
Seattle's defence had an uncharacteristic lapse, conceding 21 points to the Falcons in the third quarter but the manner of their response - on both sides of the ball - to get the win suggests this team is somewhere near its best. This is a coin flip game and one sure to be incident packed and full of drama. Seahawks
@UK_Patriots: A much needed win against the Jets on Monday night will boost the morale in Arizona, but that could be short-lived. Russell Wilson is becoming healthier each week, and running back Christine Michael is proving to be a suitable replacement for the now retired Marshawn Lynch. Cardinals QB Carson Palmer left the Jets game early with a thigh strain and, if he plays, will face a pass rush that has been nothing short of spectacular this season. Seahawks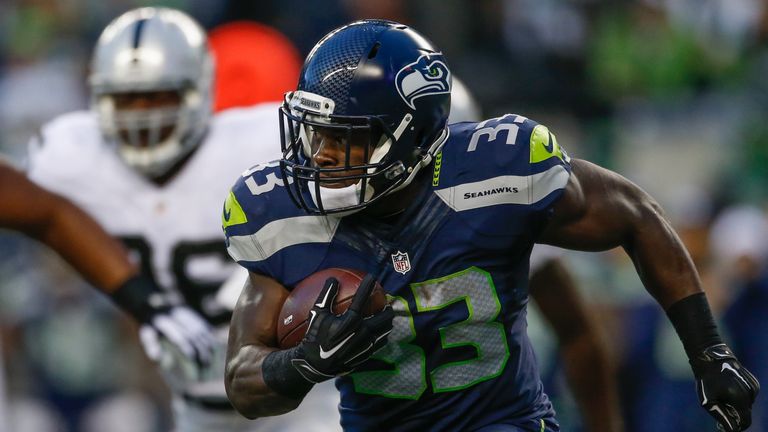 Houston Texans @ Denver Broncos (Tuesday, 1:15am Sky Sports 1)
Richard: The return of Brock Osweiler to Mile High. At the moment though Osweiler's form has been somewhat underwhelming and John Elway's decision to let him leave for Texas rather than offer him a $70m contract is looking wise. 
Despite their late rally to overcome the Indianapolis Colts in overtime, Houston's highly paid, revamped offence has largely misfired and it's tough to see how they find a way to outfight this Broncos defence. That being said, Denver have hit a road bump themselves, losing their last two games. Head coach, Gary Kubiak indicated that explosive rookie RB Devontae Booker will see more action and its hoped that QB Trevor Siemian will be healthier on the back of 10 days rest to fire up their offence. 
The Broncos defence will feel they have a point to prove as well and what better way to do it than by shutting down a QB who left them with a Super Bowl winners ring at the end of last season! Broncos
@UK_Patriots: Brock Osweiler is not going to have a happy return to Denver. Even after two consecutive losses, the Broncos have to be considered an AFC powerhouse this season. The Broncos defence is arguably the best in the NFL, and Trevor Siemian is proving to be a steady hand under centre. The Texans however, have been somewhat disappointing. Osweiler is not the quarterback Houston were hoping for, and the defence is noticeably far less formidable without J.J Watt. Broncos
NFL Predictions - Week Seven
| | | |
| --- | --- | --- |
| | Richard | UK_Patriots |
| Bears @ Packers | Packers | Packers |
| Giants @ Rams | Giants | Rams |
| Bills @ Dolphins | Bills | Bills |
| Saints @ Chiefs | Chiefs | Chiefs |
| Vikings @ Eagles | Vikings | Vikings |
| Colts @ Titans | Titans | Titans |
| Redskins @ Lions | Lions | Redskins |
| Browns @ Bengals | Benglas | Bengals |
| Raiders @ Jaguars | Jaguars | Raiders |
| Ravens @ Jets | Ravens | Ravens |
| Chargers @ Falcons | Falcons | Falcons |
| Bucs @ 49ers | Bucs | Bucs |
| Patriots @ Steelers | Patriots | Patriots |
| Seahawks @ Cardinals | Seahawks | Seahawks |
| Texans @ Broncos | Broncos | Broncos |
You can watch Chelsea v Man Utd, plus England's tour of Bangladesh and the US Grand Prix on Sky Sports. Upgrade now and enjoy six months at half price!