Eli Manning says he has a great relationship with New York Giants team-mate Odell Beckham Jr
By Allan Valente
Last Updated: 19/10/16 4:13pm
Eli Manning has dismissed suggestions he is tired of the antics of New York Giants receiver Odell Beckham Jr. 
In a radio interview on Monday, Manning gave an answer that seemed to indicate that was the case after the wide out was flagged for an unsportsmanlike conduct penalty for taking off his helmet following a winning 66-yard catch and run in the 27-23 victory over the Baltimore Ravens.
The extra 15 yards gave Baltimore a better field position for their final drive, which reached the Giants 24-yard line, but the veteran quarterback said there is no problem between him and the 23-year-old who caught eight passes for 222 yards and two touchdowns in the win.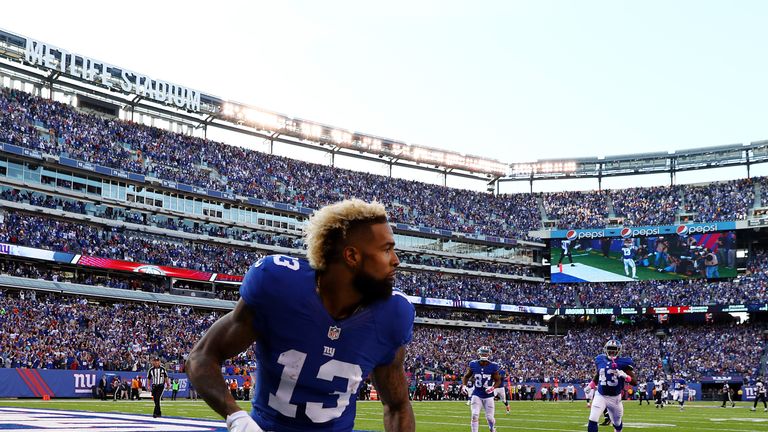 Manning said he gets asked about Beckham every time he talks and insisted the tired remark referred to the media being tired of writing every week about Beckham's emotions, rants, tiffs and interactions with the kicking net on the Giants sideline after big plays.
"I'm fine with it," said Manning, who threw for 403 yards and three touchdowns in the win. "He's doing a lot of good things and playing the game the right way. He just has to make sure the celebrations and what's going on aren't hurting the team in any way.
"Odell and I have a great relationship. We talk about a lot of things. We're on the same page. He knows that I'm always looking out for him and understands that you can say things that can get taken one way.
"Odell and I are on the same page. I get asked multiple questions about him every week."
Beckham could face a tough opponent this week as the Giants (3-3) get ready to play the Los Angeles Rams (3-3) in London. The teams met two years ago, and the Rams tried to bully Beckham.
"That's everyone," Manning said. "We have to understand that we have to be smart and play football.
"We don't need the extracurricular activities. We just have to go out there and do our job. Keep it about football. Shouldn't be that hard.
"I want him to have celebrations and dance. I'm fine with that. I want the team to go out there and win games. It's fun. That was a fun locker room after the [Ravens] game. Exciting locker room. It should be all positive stuff.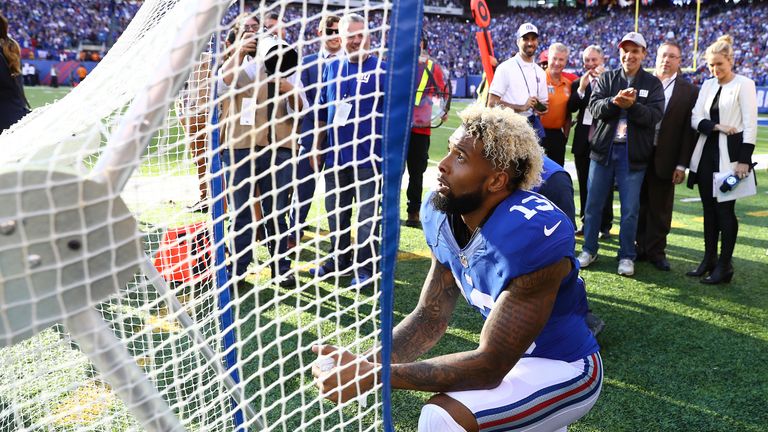 "For him to go out there and have his best game, maybe of his career, 200 yards in receptions and then afterwards, to be kind of a bad spin on things. You don't want that. He should be happy about that and celebrating, not have to deal with the side drama of it."
The Giants have altered their schedule to get ready for the London fixture. Once they finish practice on Thursday, most of their game play will be done. That usually does not happen on road games until they travel on Saturdays.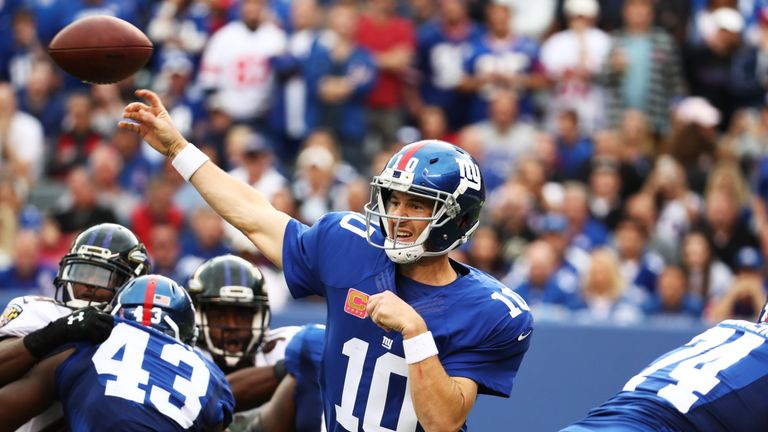 "Friday and Saturday will be different," Manning said. "Just get your sleep and get back to some of your studying. Should keep basically the same schedule as we have all year from a preparation standpoint."
You can watch Premier League football, plus England's tour of Bangladesh and the US Grand Prix on Sky Sports. Upgrade now and enjoy six months at half price!