As the Green Bay Packers snapped a four game losing run, Aaron Rodgers returned to his best - in time for the play-offs?
The quarterback was at the heart of Green Bay's offence, putting up his best performance of the season. The stats will read that Rodgers completed 30 passes from 39 attempts, for 313 yards and two touchdowns, but there was a clinical element in the 27-13 victory over the Philadelphia Eagles that goes beyond the numbers.
Rodgers clearly has a relationship with all of his receivers and, though Jordy Nelson is a reliable favourite, he utilised four different pass catchers on the opening drive which led to a Davante Adams touchdown score.
It was Adams' second touchdown, which came on the first play of the second quarter, which really showed Rodgers' eye for a pass. Tightly marked by Nolan Carroll, Adams sprinted to the back of the end zone where Rodgers picked him out through the outstretched arms of Carroll.  
Adams was the beneficiary of Rodgers once more in the third quarter as the 12 year veteran threw a 50-yard pass, his longest of the night, with supreme accuracy over Adams' shoulder and into the receiver's outstretched arms.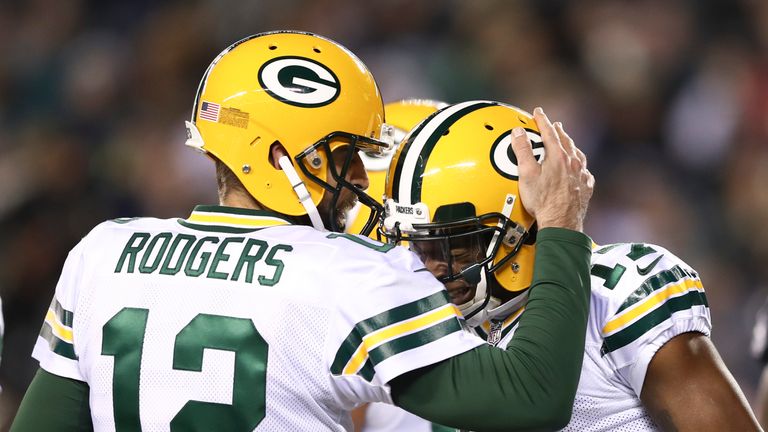 Throughout the game, the Green Bay captain showed excellent pocket presence, avoiding sacks and extending plays, managing the clock to keep Philadelphia off the field. 
The concern comes if Rodgers can't stay healthy. He appeared to be suffering late on with a hamstring injury, and head coach Mike McCarthy will have to manage that if the Packers are to make it through to January NFL.
Green Bay are now 5-6, but face a relatively favourable run if they are to make the play-offs. They now host the Texans and Seahawks, followed by three divisional games to close out the season. A road game against the Chicago Bears is followed by a home match-up with the Minnesota Vikings, before playing the current NFC North leader Detroit Lions in week 17.
With Rodgers coming into form at the right time, the Packers shouldn't be scared about taking anyone on. If they can put together a winning run to close out the season, Green Bay will be a tricky opponent for anyone in the NFC.
To see all of Rodgers' highlights, including the two touchdown passes to Adams, click the video above.