Minnesota Vikings: Rick Spielman's recruitment key to team's success
"We grade every NFL player every year. If a guy has been in the NFL 10 years, we have 10 years worth of reports on him"
By David Currie
Last Updated: 05/12/17 7:23am
The Minnesota Vikings have quietly put together a string of eight straight wins to see themselves occupy the second seed in the NFC playoff picture.
'Quietly', because in comparison to the NFL-best Philadelphia Eagles, the defending champions New England Patriots, the remarkable rise of the Los Angeles Rams, the somewhat unfashionable Vikings are often forgotten.
The reason they're unfashionable; Minnesota are currently winning games with a third-string quarterback, Case Keenum, they lost their star rookie running back Dalvin Cook for the season in Week Four and their starters at wide receiver are 2015 fifth-rounder Stefon Diggs and undrafted Adam Thielen.
But, it's precisely their personnel, paired with a ferocious defense - ranking in the top five in both yards and points per game allowed - that is the driving force behind their success.
Vikings general manager Rick Spielman spoke with Sky Sports during the summer about the team's recruitment process.
"We grade every NFL player every year," Spielman said. "If a guy has been in the NFL 10 years, we have 10 years worth of reports on him.
"That means that when we get into the offseason, trying to address our needs - improve in the areas we need to improve in - we first evaluate our roster, then have a meeting to discuss all of the available free agents and guys in that year's draft class.
"Let's say that maybe in free agency there are only two offensive linemen we like, compared to 10 in the draft class - we say, let's sit out the free agency market, maybe grab one guy, but go more aggressive in the draft.
"It could also be the opposite. There could be better personnel in free agency than in the depth of the draft at that position, so we'll attack free agency to fill our need."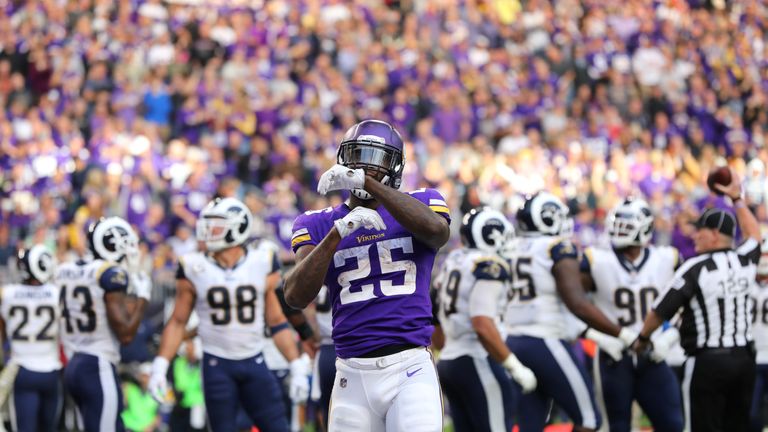 Spielman and his staff's historical grading has helped the team add quality to their roster at good value, with their depth at quarterback and running back serving as evidence.
Latavius Murray - a free agent addition from the Oakland Raiders during the offseason - is one half of an impressive one-two punch with Jerick McKinnon at running back, helping cover the loss of Cook.
Murray is only two years removed from a 1,000-yard year with the Raiders, and showed his value with two rushing scores in Sunday's win over the Rams.
Most notably though, it's the success of Keenum at quarterback which has stood out. The sixth-year QB arrived in Minnesota off the back of nine-TD and 11-interception strong season with the Rams, where he was replaced by rookie Jared Goff as starter midway through the forgettable campaign.
The Vikings saw something they liked though, enough to bring him in to back up original season starter Sam Bradford, who was acquired in similar fashion in 2016 - a supposedly 'washed-up' quarterback fresh from a poor year with the Philadelphia Eagles - to cover the loss of Teddy Bridgewater, who went down with a potential career-threatening leg injury in preseason.
"We were going to call the Green Bay Packers first, see if they wanted to deal Aaron Rodgers," joked Spielman. "That phone call would have been pretty short!
"But, within an hour of Teddy's injury, as shocking as that was, we had to get back to work right away.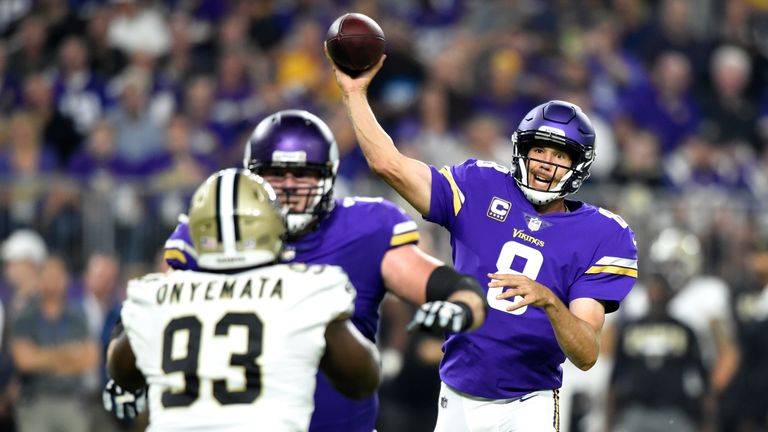 "I got our Pro Personnel department together, to see who had maybe an excess of quarterbacks and see who would be willing to trade one. Once we narrowed that list down, we then decided which from that list were worth trading for, that can give us the best chance to win.
"Fortunately for us, we were able to work something out with Sam."
As has sadly been the case for much of his NFL career, Bradford has been kept out through injury, for all but two starts this season.
Up stepped Keenum. He has guided the Vikings to eight of their 10 wins, and relieved Bradford as starter in a ninth, on Monday Night Football against the Chicago Bears earlier in the season.
Keenum has thrown 16 touchdowns to just five picks, and even with the feel-good story that Bridgewater is now back as an active member of the roster, there are no signs a change will be made in the immediate future.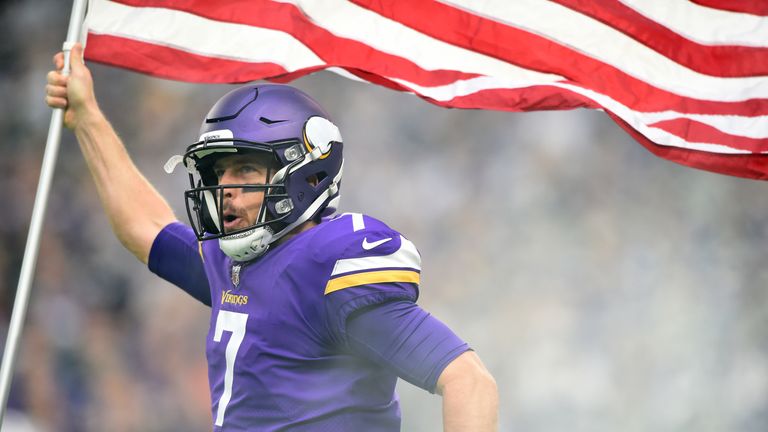 When pushed on whether Bridgewater would see the field in 2017, head coach Mike Zimmer recently said he had 'belief that he will'.
It would be mad for Minnesota to change their winning formula at this point. But, the very fact they even have a choice to make is more than most are afforded. Green Bay minus Rodgers, Arizona Cardinals without Carson Palmer, the Deshaun Watson-less Houston Texans and the rudderless Buffalo Bills, to name a few.
This Vikings team's constant evaluation of their roster and the teams around them, means they've acquired depth, perhaps better than anyone else in the NFL.
Could it end up being a key contributing factor to Minnesota becoming the first team to play a Super Bowl in their home stadium? With Spielman at the helm, it won't be for the want of trying.
Follow the 2017-18 NFL season with us on Sky Sports and through our website skysports.com/NFL also our app for mobile devices and iPad, or follow our Twitter account @SkySportsNFL.