Olympic Panel - Day 16
Throughout the Games, the Sky Sports News Olympics Panel will bring you analysis across a wide range of sports. Here's what our experts had to say on the stories coming out of London today...
Last Updated: 13/08/12 9:23am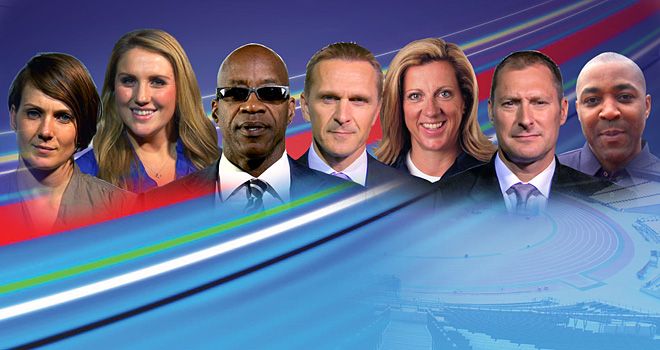 Darren Barker on boxing gold medallist Anthony Joshua
"He has on the back foot for most of the fight and in the last round he was three points down so he decided to step forward a bit more and he did that and it paid off. I am over the moon for him.
"He has only been boxing for a few years and he is a relative novice if you like. To do what he has done is absolutely fantastic and a star has been born. We are going to hear lots and lots of his name.
"The world is his oyster now and I have no doubt he will turn professional and make millions of pounds and hopefully win world title for Great Britain. He is a fantastic talent, a great athlete and a great personality. It is brilliant for British boxing as a whole, whether it will be amateur or professional boxing."
Edwin Moses picks his stars of the Games
Mo Farah - "He is everybody's star. He did what he needed to do in the 10,000m and the 5,000m. To come back and win the 5,000m was spectacular in front of home town support. The stadium was alight last night and that is one of the big moments in track and field because he joins an elite group of champions."
David Rudisha - "The 800m gold medal is fantastic but the kicker is the world record. It is unbelievable. To be done in the Olympic Games after two previous rounds is unbelievable. Everybody was stunned, Lord Coe is stunned, I'm stunned and everybody who knows what it takes to run 800m is very impressed."
Nicola Adams - "My personal favourite. I think it is a great story for young women in sport here in the UK. Being a non-traditional sport, she started young and was determined she wanted to be a boxer. She has fantastic personality and won the gold. It is great for women's sports."
Sir Chris Hoy - "Hi two golds took his medal tally to seven in total. He is not a young pup anymore - he is 36 years old - and to come back and win medals at that age, especially at a sport like cycling is very tough."
The volunteers - "My surprise pick would be the volunteers. The volunteers all over the city have done a fantastic job. They are wonderful. They have spent a lot of their personal time, for litte compensation, and they have made it a great experience for everyone who has come anywhere near an Olympic venue."
London - "I have always said that London had a lot to offer in terms of presenting the Games. I knew the venues would be tight and correct and the organisation would be correct but the city of London is a fantastic city. They have put on the best possible face and it has been a great year for the United Kingdom in general with the Jubilee and everything else that has been going on. I believe a lot of people will come back to the city and a lot of people will put London on their destination map."
Click here to watch Ed Moses' stars of the Games
Kelly Sotherton picks her stars of London 2012
David Rudisha - "He was world champion and it is not very often that you get a world champion that becomes Olympic champion and breaks the world record in the race. It was a race where eighth place would have won the last four Olympic Games. It was a poignant moment. That was the stand-out race of the Olympics."
Mo Farah - "I was speechless which doesn't happen very often. To go through the pressures and rigours of being Olympic champion and then going on to win another race with his wife heavily pregnant must have been immense for him."
Alison Felix - "She had been to the Olympics two times previously and not won an Olympic individual medal. She has won numerous world titles but Veronica Campbell Brown has always denied her of the gold and this time she finally got her gold medal in the 200m, and she also won the 4x100m in a world record and the 4x400m just outside a world record."
Ben Ainslie - "He has been winning medals since 1996 in Atlanta. He has won five medals, four golds, and is our most decorated sailor and a legend. He is an inspiration for many and will have hopefully started a new generation of sailors."
Michael Phelps - "He probably wanted to win more golds at this Games but he has won 22 Olympic medals in the pool in total over three Olympic Games. He was the star of the Games in the pool."
Click here to watch Ed Moses' stars of the Games
John Regis on Mo Farah becoming a double Olympic champion
"When I saw the race unfold I thought to myself he can do this. He looked so comfortable, so confident. He knew exactly where to position himself. He started off very slowly and then he slowly wound it up and the last two laps he was in absolutely and total control. I am lost for words.
"From a British perspective this is absolutely massive. He is the best long distance athlete in the world comfortably. He has taken on the might of the African nations and dominated them. He changed his training a couple of years ago and it worked. He has worked tirelessly to get to this point.
"He got gold in the world championships last year that showed he had the ability and talent. And he has come here in front of his home fans, who have helped him along the way with all the roars and cheers, . It is absolutely outstanding. It was the perfect race for an absolutely gentlemen. I am so, so happy for him.
"He dominated and controlled it and I think he can do that for some years to come."
Sally Gunnell on Farah's remarkable triumph
"It is an enormous achievement. To think that before we came to these Games we were looking at one or two gold medals and Mo has come away with those two gold medals himself is a massive achievement. I can't see anyone coming anywhere near for a number of years.
"It was hard. It was not easy for him. The 10,000m was the one that he was a bit smoother with. They were kicking him all over the place, there were elbows out and they were shoving him off that track in the last 200m.
"Not so long ago he was a school boy who was going around on the cross country circuit with a bit of talent that we were all watching is now a double Olympic champion. And what that does for British athletics is enormous. To finish these Games with four gold medals is an enormous high and we hope it has inspired so many young people.
"I didn't feel comfortable watching him I must admit and the first couple of laps I was thinking, "hang on a minute there is something wrong". And then he did a surge to say he was in the race and in control. But it was a very tactical race.
"It is just an amazing achievement and I am so happy for him because he wanted two gold medals for his twins."
Jon Ridgeon on the magical atmosphere in the Olympic stadium
"I have been really privileged this week. I was in the stadium on Super Saturday when Britain won three gold medals and then last night again. It was like a slow Mexican wave - actually it was not that slow as the athletes were going so quickly - but as Mo tracked round those 12 and a half laps the crowd rose all the way around the track as he went. It was just brilliant. I am not sure people really believed he could come back and do the double so it made it extra, extra special last night."
Jon Ridgeon fears Usain Bolt could lose interest in athletics
"As an athletics fan I would like to see him go on forever because he is so important for us. He has single handedly over the last four years taken athletics to a wider audience. He is so important to the sport. But four years is a long time and he has got a back problem now and he will start to have motivation problems now he has defended the treble. I think we will definitely see him in the next couple of years on the athletics circuit. But I think he will start to do other things. I would be surprised to see him in Rio but I hope we do. He is a remarkable man."
John Regis hails the Jamaican sprint relay team
"To beat that hallowed grail of 37 seconds - and not only break it, they smashed it - it was a dominant performance. This was the big boys in the ring. The best two sprinting nations in the world going head to head - there was only one winner and that was Jamaica. They looked unbelievable."
Carl Froch on gold medallist Luke Campbell
"Luke Campbell has that range and that south-paw left cross and he utilised that. He kept him at range and made him walk on to his shots. In the last round John Joe Nevin was getting desperate and fighting like a desperate man, walking into shots. That is why he got put down. He was off balance reaching in and Luke Campbell did what he had to do.
"To execute that in an Olympic final and fight the way he did is just unbelievable. He probably won't hang around after becoming an Olympic champion. That is the pinnacle for the amateur boxers so for him, if he wants to, he will probably turn professional. Unless he has aspirations to stay amateur for another four years but I very much doubt it."
Marlon Devonish with more praise for Bolt
"I've not seen an athlete who was 95% fit and be able to compete like that. So to do that and have the mental capacity to hold his focus, you can only put him in legendary status. It is absolutely fantastic what he has done and he is amazing for the sport."
Look back at what our experts had to say on day 15
Look back at what our experts had to say on day 14
Look back at what our experts had to say on day 13
Look back at what our experts had to say on day 12
Look back at what our experts had to say on day 11
Look back at what our experts had to say on day ten
Look back at what our experts had to say on day nine
Look back at what our experts had to say on day eight
Look back at what our experts had to say on day seven
Look back at what our experts had to say on day six
Look back at what our experts had to say on day five
Look back at what our experts had to say on day four
Look back at what our experts had to say on day three
Look back at what our experts had to say on day two
Look back at what our experts had to say on day one