British Olympic star Alex Danson eyeing lasting legacy in hockey
Hockey star Alex Danson is hoping the London 2012 legacy will live on in hockey as things finally start to settle down.
Last Updated: 09/01/13 9:42am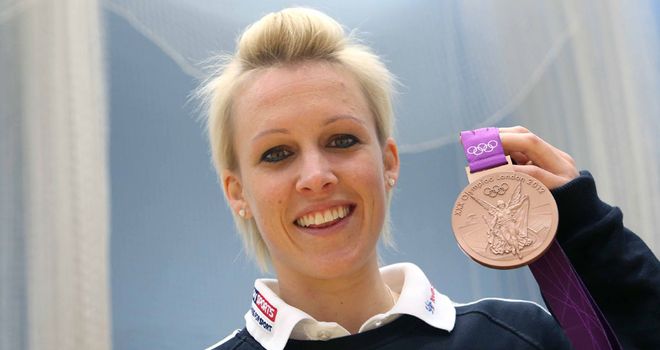 Danson, who is a Living for Sport mentor, spoke to Sky Sports as she promoted the Super Sixes Finals event which will take place at Wembley at the end of January, about life after the Olympics and how she hopes hockey will move forward.
How has life changed for you since the London 2012 Olympics where you won the bronze medal?
Life hasn't really changed for who we are at all, but we dreamt for four year of trying to stand on that podium so the moment we did it felt amazing and we felt a sense of accomplishment. The best thing about The Games is how much the nation got involved in sport and what we did. I have spent a number of hours, days and weeks, as the rest of the team, going out into schools to get as many young people involved in our sport and many other sports as possible. I would say that is the biggest change is the enthusiasm and excitement that The Games have given us. It is such a great platform as a nation to capitalise on.
What were your highlights from the whole event?
Without a second thought the moment that as a team we stood on the podium with that medal round our neck would be the highlight from the Olympics. We dreamt for so long about becoming Olympic medallists, and although it wasn't quite the colour we dreamt about, the atmosphere in that stadium of 16,000 people, was electric. Actually for one moment it could have been empty because standing on that podium and looking at my team mates and the representation of 32 athletes that we were, with the feeling that we had achieved something was just something I will never forget.
Since the Olympics, what are your views on the Olympic legacy? Can you see it in action already?
It is amazing the magic a medal does to school; I have never experienced anything like it. I do a lot of work with Youth Sports Trust on a project with Sky Sports: Living for Sport. We go into schools and use sport as a tool to engage and motivate and inspire young people. It is so easy when you have had a Games at home and everybody has watched it and has their own experience of it. It now gives us that tangible hook to use to try and engage these young people. With the experience I have had it is a privilege to go into schools as I am yet to find a school that the kids do not love what we do and that makes me feel very proud.
The Maxifuel Super Sixes Finals are coming up in January at Wembley Arena. Have you played in this event before? If so, how do you find it compared to other tournaments?
It is one of the highlights of our calendar year. With 6,500 spectators and the best clubs there are performing indoors, the atmosphere is electric. Indoor hockey is such a fast athletic game where tons of goals are scored. For the past two years we have made it to the Maxifuel Super Sixes Final and lost out in the last match. Fingers we are going to be there again this year and fingers crossed we can do one better.
Do you prefer playing indoor hockey, such as at the Maxifuel Super Sixes Finals, or outdoors? What are the main differences?
The best thing about indoor hockey is the speed in which it is played. The ball can go from one end of the court to the other end in a matter of seconds.
With outdoor you look at a clock with 30sec to go and you know the final score but with indoor you can still score two or three goals. If you get yourself to Maxifuel Super Sixes we can promise a fast athletic fantastic day out. It is going to full of supporters with an incredible atmosphere around the games and hopefully some fantastic performances.
Alex is currently playing in the Maxifuel Super Sixes, a supercharged indoor hockey tournament. Get tickets to the final at Wembley Arena on 27th January from www.englandhockey.co.uk/maxifuelsupersixes