Golden dreams for Weir
David Weir switched his focus to the pursuit of his second gold medal after taking the T54 5,000 metres title.
Last Updated: 03/09/12 11:54am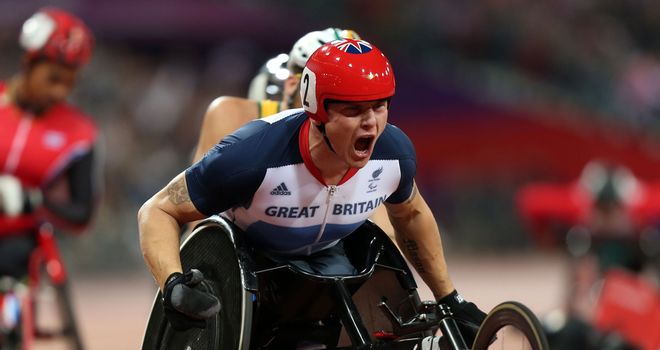 David Weir switched his focus to the pursuit of Paralympic gold medal number two on Monday and the further enhancement of his status as the world's best wheelchair racer.
The 33-year-old was propelled down the finishing straight by a roar to rival that which urged Mo Farah to glory in the Olympics Stadium less than a month ago as the took the T54 5,000 metres title on Sunday night.
He surged into the lead on the final lap and came home in 11 minutes 07.65 seconds.
The Londoner's success took the hosts' athletics medal haul for the day to two golds and three silvers as they swept past their meagre Beijing gold total - Weir's two had been the only ones four years ago - on just the third day of competition.
However, he had little time to enjoy his triumph with the heats of the 1500m following on Monday morning, and the 800m and marathon still to come.
Praise
He said after the race: "I've got a tough start; I've got to be out my room by seven in the morning.
"I just hope I can get to sleep because it's a tough, tough heat. I'll talk to the doctors and see if they can knock me out a little bit."
Weir's win earned the Twitter praise of no less than Usain Bolt, the six-time Olympic champion describing it as "incredible", while four-time Olympic champion Bradley Wiggins referred to him as a "British superstar".
Weir himself paid tribute to the 80,000 screaming fans who cheered him round the track.
"It's indescribable what it does to you," he said. "It's the best feeling ever, isn't it?"
Addicted
His success added to a discus gold for Aled Davies, taking the British total to four, while there were also silver medals for long jumper Stef Reid and sprinters Libby Clegg and Graeme Ballard.
Davies admitted he felt "addicted" to the crowd after he threw a new European record to land the F42 discus title, his second medal of the Games after winning shot put bronze.
The 21-year-old from Wales was already guaranteed the title and had a tear in his eye when he stepped into the circle for his final throw, while he appeared to be welling up again when presented with his medal by the Duchess of Cambridge.