Oscar Pistorius will not be deserted by commercial sponsors and partners, agent reveals
Oscar Pistorius will not be deserted by commercial sponsors and partners, the Paralympian's agent has revealed.
Last Updated: 18/02/13 7:46am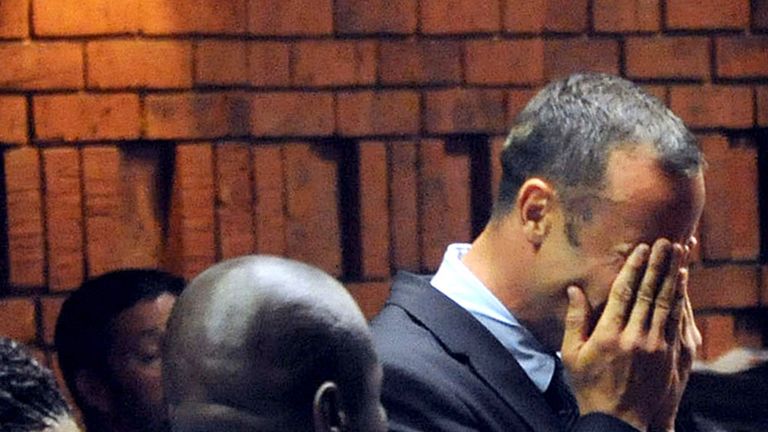 The 26-year-old South African, known as the 'Bladerunner', is preparing to mount a vigorous defence against his murder charge following the death of girlfriend and model Reeva Steenkamp.
Peet Van Zyl, from Pistorius' management company, visited his client on Sunday at Brooklyn Police Station in Pretoria and insisted the runner would still be supported.
The company's statement read: "Regarding sponsors and partners, I can confirm that at this point in time, all parties are supportive and their contractual commitments are maintained.
"They have said they are happy to let the legal process takes its course before making any change in their position.
"On Oscar's behalf, we, as his management company, would like to formally thank the thousands of people who have sent supportive messages which have come from all over the world."
Pistorius remains in police custody with an application for bail postponed until Tuesday. Prosecutors intend to pursue a "premeditated murder" charge, while the accused disputes the charge in the "strongest terms".
The agent's statement added: "The nature of my visit was two-fold. On a personal level I wanted to offer my support to Oscar, who I have known and worked with for the last seven years and consider a friend and a great professional athlete.
"Secondly, I wanted to briefly discuss racing matters given that his key focus is defending himself against this serious charge.
"Following these tragic events we have no option but to cancel all future races that Oscar Pistorius had been contracted to compete in, to allow Oscar to concentrate on the upcoming legal proceedings and to help and support all those involved as they try to come to terms with this very difficult and distressing situation."
Pistorius, double gold and silver medalist at the 2012 London Paralympics, was contracted to compete in the Manchester City Games on 25 May, following Qantas Tour races in Australia (9 and 16 March), and meetings in Rio de Janeiro (31 March) and Iowa (26 April).