Rio de Janeiro in race to be ready to host 2014 World Cup and 2016 Olympics with building work behind schedule
Rio de Janeiro are struggling to be ready to host the World Cup and Olympics with plans said to be "last minute".
Last Updated: 19/11/12 11:10pm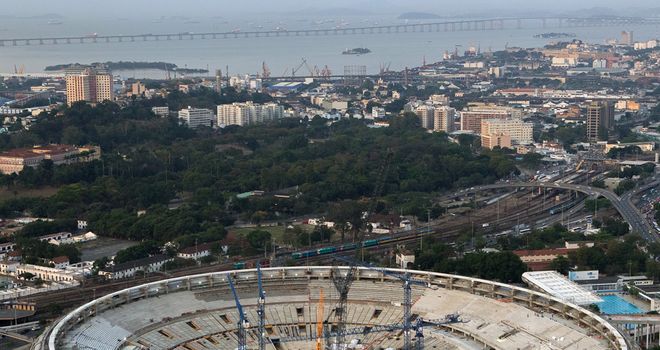 Sky reporter Orla Chennaoui is in Brazil for the official debrief of the 2012 Games where London Olympic organisers, led by Sebastian Coe, are among around 500 people present,as well as IOC members and Rio 2016 president Carlos Nuzman.
The four-day debriefing will involve London 2012 staff sharing their knowledge and experiences with representatives from Sochi 2014, Rio 2016, Pyeongchang 2018 and the three candidate cities for 2020, Istanbul, Madrid and Tokyo.
It is taking place until Wednesday in the Barra district of Rio where most of the venues for 2016 are located. The group will also take time to digest and discuss the results of the London Games.
Although most cities struggle to keep within the tight deadlines for building projects in the build-up to hosting sporting events such as the Games or World Cups, Sky Sports have seen close-up the problems the Brazilian city is facing.
The stuttering construction of the Olympic Park is a growing concern, and with 18 months to go to football's World Cup, the building of the main airport and the Maracana Stadium is far from complete.
"Building work at the Olympic Park began in the summer, but there are concerns about some venues, with Rugby 7's still without a home, and work yet to begin on the first Olympic golf course," Chennaoui reports.
"As with London, transport is a major pre-Games concern. Neither of the city's two metro lines lead to the Olympic Park, and work to upgrade the road network has been painstakingly slow."
Professor Chris Gaffney from Fluminense University has witnessed the delays and told Sky Sports: "It's already last minute. It's four years to go the Games and we don't have a project for the Olympic Park.
"It's 18 months until the World Cup and we don't have an airport."
A baton was handed by Coe to Nuzman on Monday to mark the opening of the debriefing.
After the cermony, one of the IOC's directors Gilbert Felli said: "The spirit of this debriefing must be one of open and frank interaction. We all must search for information and ask questions to soak-up the experience of the London team present here."