GB duo edged out
Nyree Kindred and Hannah Russell won silvers for Great Britain on the first night in the pool.
Last Updated: 30/08/12 6:18pm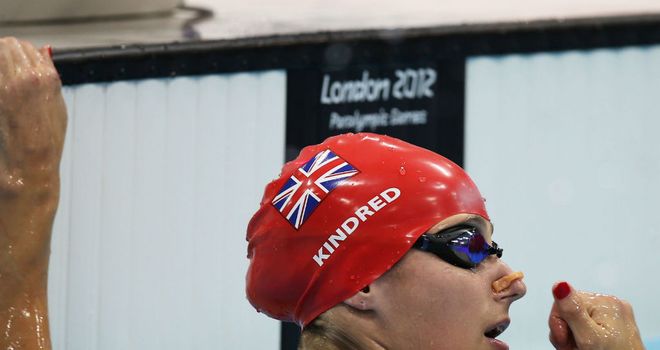 Nyree Kindred won Great Britain's first medal in the pool when she was second in the S6 100 metres backstroke with a world record from China's Lu Dong needed to beat the Briton at the Aquatics Centre.
The 32-year-old won this event in Athens in 2004 before being edged out by Holland's Mirjam De Koning-Peper four years later.
Kindred was the fastest qualifier into the final in a new Paralympic record time in the heat this morning when she lowered the mark set by De Koning-Peper in China four years ago.
Despite that, the Welsh swimmer had been cautious after the race, pointing to the quality of her rivals, no doubt with the memory of Beijing still clear.
Lu led from start to finish after a superb kick off the wall with Kindred some way back before moving through the field to turn in third.
The Briton was coming back with each stroke of the second length but the Chinese swimmer held on to touch in one minute 24.71 seconds with Kindred second in 1min 26.23secs, just 0.04secs outside the old world record.
Kindred's race was the second of the session with Zheng Tao having claimed the first gold in the pool of London 2012 when he won the S6 100m backstroke in a new world record of 1min 13.56secs.
Duel
Hannah Russell picked up Britain's second silver of the session when she fought out a superb duel with Oxana Savchenko in the S12 400m freestyle.
The Briton only turned 16 recently and showed no fear at all on her Paralympic debut, going stroke for stroke with the Russian.
Russell led after 250m but her opponent overhauled her on the subsequent length and was never headed despite the home swimmer coming back at her on the final 50m.
Savchenko touched in 4:37.89, 0.71secs ahead of Russell.